1. Chevrolet Equinox
The Chevrolet Equinox is a series of 5 door mid- size SUV, later introduced as a compact crossover SUV from Chevrolet. It was first as a 2005 model in 2004. The engine oil recommended for the Chevrolet Equinox is 5w- 30 dexos1, synthetic blend oil and the 3. 6- liter takes 6 quarts and the 2. 4- liter takes 5 quarts. Older models of the Chevrolet Equinox has lots of problems but the new 2021 Chevrolet Equinox is a good compact SUV.
Common Chevy Equinox Problems
• Engine Problems.
• Excessive Oil Consumption.
• Engine Stalls, Dies While Driving
• Check Engine Light On
• Lost Power/ Stabiltrack Needs Servicing
• Engine Jerks
• Fuel In The Crankcase
• Running Rough
Over the years, Chevrolet Equinox has improved very considerably. It is now referred to as the beat car model from Chevrolet alongside the Chevrolet Tahoe. The 2020 Chevrolet Equinox has a perfect predicted reliability rating of five out of five from J. D. Power. If you are not actually interested in the Equinox model from Chevrolet, these models may be perfect to choose from.
Rear view of the Chevrolet Equinox
• The Chevy Trax
• The Chevy Equinox
• The Chevy Blazer
• The Chevy Traverse
• The Chevy Tahoe
The 2019 Chevrolet Equinox has a Manufacturer' s Suggested Retail Price (MSRP) starting at $24, 795 for a front- wheel- drive base L model. The LS model comes at $26, 795 and the LT model starts at $28, 095.
2020 Chevy Equinox Colors
• Summit White
• Cayenne Orange Metallic
• Chocolate Metallic
• Iridescent Pearl Tricoat
• Cajun Red Tintcoat
• Midnight Blue Metallic
• Mosaic Black Metallic
• Nightfall Gray Metallic
Overview
Manufacturer: General Motors
Production: 2004– present
Model years: 2005– present
Body and chassis
Class: Mid- size crossover SUV (2004– 2017)
Compact crossover SUV (2018– present)
Body style: 5- door SUV
Layout
Front- engine, front- wheel- drive, all- wheel- drive
Chronology
Predecessor
Chevrolet Tracker
Chevrolet Blazer
Chevrolet TrailBlazer
Chevrolet Captiva
Chevrolet Captiva Sport
Successor
Chevrolet Blazer
Starting at 24, 795 dollars MSRP, the Subaru Forester is a compact crossover SUV that' s been manufactured since 1997 by Subaru. The Sabaru Automobile Company manufactures the 2020 Forester compact SUV at the main plant in Japan. The car has become the number one selling model in the world. The Subaru Forester is undeniably a good car. It' s safe, reliable and just a great car to drive.
The best Forester model years to buy used.
• The 2019 Forester
• The 2018 Forester
• 2016 Forester
The main problems associated with the Subaru Forester in the 2017 model include the car stalling while accelerating, the excessive oil consumption and the car having unintended acceleration
The Most Common Subaru Problems
• Denso Fuel Pump Failure
• Unintended Acceleration
• Brake Light Switch Defect
• Cracked Windshields
• Subaru STARLINK Problems
• Lineartronic CVT Reliability
• Rodents Chew Subaru' s Soy Wires
• Legacy and Outback Headlights Burn Out
Side view of the Sabaru Forester
The major reasons why Subaru reliability has dropped is due to the problems that the Outback and Legacy have had with in- car technology.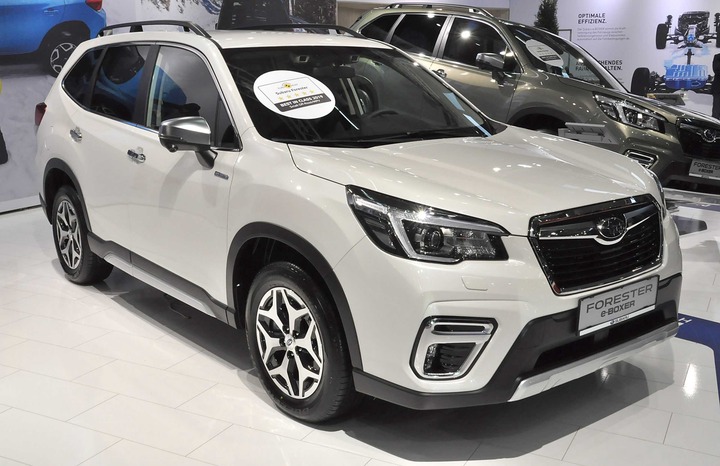 Overview
Manufacturer
Subaru: Production
Model: 1997– present
Body and chassis
Class: Compact crossover SUV
Body style: 5- door SUV
Layout: Front- engine, four- wheel drive
Related: Subaru Impreza
Chronology
Predecessor: Subaru Bighorn
Content created and supplied by: Beautiful_Vero (via Opera News )