If you own or posses a car, any car at all, whether it is a supercar, a hypercar, a Crossover SUV, a AWD SUV, compact car or a luxurious car you are prone to have problems with your car. The reliability of your car doesn' t matter because anything can happen at anytime. A lot of bad things can happen to your car but the worse of them is your car catching fire. Yes fire. Cars catching fire is very unusual but there may be many factors that may lead to that.
Picture of a Lamborghini Gallardo
We know car crashing with other cars or a pole can catch fire but how often does that happen. Another reason why some cars catch fire is because of the drivers. Some drivers have reduced mental capacity who probably think they could make their steeds fly. According to reports released by the Federal Emergency Management Agency, a total of 400 cars burst into flames daily. In actual sense, they are trying to say in every 3. 6 minutes, a vehicle catches fire and burns down.
Today SuperCars features two of the cars which can catch fire easily with just a blink of an eye. Don' t forget to follow us for more interesting articles on cars and please don' t forget to like, comment and share.
1. The Ford Pinto
The Ford Pinto is a subcompact car that was manufactured and marketed by Ford Motor Company from the 1971 to the 1980 model years. It was manufactured in North America and it the first subcompact vehicle produced by Ford in North America. Even though the Ford Pinto made history as the first ever subcompact car by Ford, am not sure the Ford Motor Company will ever dare to bring back or reintroduce that model back in the market. This is because the car became so notorious during it' s time in the world market.
Rear view of the Ford Pinto
When a car is produced, before it is brought out for sale, the vehicle has to be crash tested to see if the car is safe enough to be sold to consumers. If the car should past that test, it is now introduced in the market for sale. When it was time for the then Ford Pinto to go for the crash test, you won' t believe what happened. They crash tested the car 40 different times and each time the car was rear ended at speeds above 35mph, it caught fire. How weird is that? And yet still it was brought out for sale.
Side view of the Ford Pinto
The Ford Motor Company analyzed the benefits they will gain from the sale of the Ford Pinto and ignore the human rights for the sake of earning profit thus ignoring the safety of their customers. They introduced something they called safety plate which was meant to help stop the car from catching fire. The average price of a Ford Pinto is $9, 585 and the safety plate came at an extra cost of 1 dollar.
About 2. 5 million Ford Pinto cars sold to costumers, report says that 180 people died from the car catching fire but I don' t believe that. If a car can just catch fire in few seconds and 2. 5 million were sold, it means a lot of people died but they covering up.
Overview
Manufacturer: Ford
Also called: Mercury Bobcat
Production: September 1970– 1980
Model years
1971– 1980 (Pinto)
1974– 1980 (Bobcat)
Assembly: United States
Designer: Robert Eidschun
Body and chassis
Class: Subcompact car
Body style
2- door sedan
2- door sedan delivery
2- door station wagon
3- door hatchback
Layout: FR layout
Related
Mercury Bobcat
Ford Mustang II
Powertrain
Engine
1. 6 L Kent I4
2. 0 L EAO I4
2. 3 L OHC I4
2. 8 L Cologne V6
Transmission: 4- speed manual
Dimensions
Wheelbase: 94. 0 in
Length: 163 in
Width: 69. 4 in
Height: 50 in
Curb weight: 2, 015– 2, 270 lb
Chronology
Predecessor: Ford Cortina (captive import)
Successor: Ford Escort / Mercury Lynx
They call it the Lamborghini Gallardo, I call it the car that burns when the sun is too hot. Yes. Introduced in 2004 to replace the Lamborghini Huracán, the Lamborghini Gallardo is a sports car built by the Italian automotive manufacturer Lamborghini from 2003 to 2013. It will surprise you that the Lamborghini Gallardo is the Lamborghini' s best- selling model. Before we move on, I will like you to take a look at this picture.
Picture of a Lamborghini Gallardo catching fire out of nowhere
It is a picture of a Lamborghini Gallardo catching fire just few hours after a man paid a total of approximately 14 thousand dollars for servicing. The 14 thousand dollars is not the car' s selling price but he went to service the car. I will show you different pictures of different Lamborghini Gallardo' s catching fire at different places. The price of the car is around $311, 100. 00 USD. It is true when they say the bigger they are, the harder they fall. when it comes to cars we will also say the faster they are, the quicker they burn as well.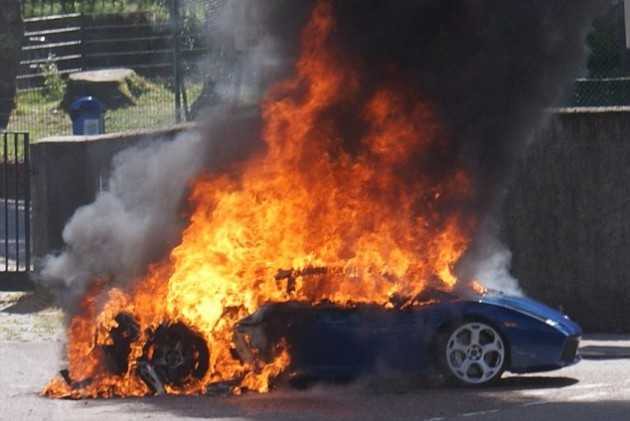 Picture of another Lamborghini Gallardon in flames
This Lamborghini Gallardo catched fire just after hitting a pole
If you are someone who really doubt stuffs, you can just Google Lamborghini Gallardo incidents and you will even realize more than I said.
Overview
Manufacturer: Lamborghini
Production: 2003– 2013 (14, 022 produced)
Model years: 2004– 2014
Assembly: Italy
Designer: Fabrizio Giugiaro, Luc Donckerwolke, Walter de Silva
Body and chassis
Class: Sports car
Body style
2- door coupé
2- door convertible (Spyder)
Layout: Longitudinal, mid- engine, all- wheel- drive
Rear mid- engine, rear- wheel- drive
Related
Audi R8 Type 42
Lamborghini Sesto Elemento
Lamborghini Egoista
Powertrain
Engine
5. 0 L firing V10
5. 2 L Lamborghini V10 (2nd Generation)
Transmission
6- speed manual
6- speed e- gear automated manual
Dimensions
Wheelbase: 2, 560 mm
Length: 4, 300– 4, 386 mm
Width: 1, 900 mm
Height
Coupé: 1, 165 mm
Spyder: 1, 184 mm
Kerb weight: 1, 558 kg
Chronology
Predecessor: Lamborghini Jalpa
Successor: Lamborghini Huracán
Content created and supplied by: Beautiful_Vero (via Opera News )