Genesis G70 Vs Kia Stinger, Which Is A Better Choice?
1. Genesis G70
Hyundai Motors and Kia Automobile Company have been in the production of some of the most popular cars in the world. In 2015, Hyundai Motors Cooperation decided to create a new luxurious car brand in addition to Kia Motors so the Genesis Automobile Company was established. The main reason why the Hyundai Motor Cooperation decided to establish the Genesis Automobile Company is because they wanted a new luxury brand to battle the likes of BMW, Lexus and Mercedes- Benz.
Side view of the the Genesis G70
The Lexus car company was named the best luxury car in 2019 and the Genesis company was named the best luxury car company in 2020whuch means Hyundai Motors have really tried. Genesis, Kia and Hyundai are all under the same roof. The Genesis G70 is a four door compact executive sedan manufactured by the Korean luxury automaker Genesis, a subsidiary of Hyundai. The Genesis G70 in general comes in three trim levels but the 2019 comes in five trim levels in total. The G70 level trims are 2. 0T, 2. 0T 6- Speed Manual, and 3. 3T and the 2019 Genesis G70 trim levels are Advanced, Elite, Prestige, Dynamic, and Sport.
Front view of the Genesis G70
If you are looking for a luxurious car, I will say the Genesis G70 is a great choice. The Genesis vehicle comes packed with driver assistance features, and its agile handling is worthy of a sports sedan with a potent V6 engine option. The car is also very reliable which is the most important thing. A hyundai genesis should last over 200, 000 miles if you take good care of it.
The 2021 model of the Genesis G70 sedan starts at $36, 000 with a destination charge of $1, 025.
Overview
Manufacturer: Genesis (Hyundai)Motor
Production: 2017– present
Model years: 2018– present
Assembly: South Korea
Designer: Peter Schreyer
Body and chassis
Class: Compact executive car
Body style: 4- door sedan
Layout: Front- engine, rear- wheel- drive, all- wheel- drive
Related: Kia Stinger, Genesis GV70
Powertrain
Engine
Petrol:
2. 0 L Theta II T- GDI I4
3. 3 L Lambda II T- GDI V6 twin‑turbo
Diesel:
2. 2 L R II CRDi VGT I4
Transmission: 6- speed manual, 8- speed Hyundai A8R40/A8R50 automatic
Dimensions
Wheelbase: 2, 835 mm
Length: 4, 685 mm
Width: 1, 850 mm (72. 8 in)
Height: 1, 400 mm (55. 1 in)
Curb weight
1, 595– 1, 705 kg
1, 690– 1, 800 kg
1, 705– 1, 795 kg
2. Kia stinger
The Kia Stinger is a mid- size liftback manufactured by Kia since 2017. The 2022 model of the Kia Stinger is yet to be launched on 1st April, 2021. The Kia stinger is a good car as it comes with more spacious interior, good predicted reliability, balanced handling, and zesty engine performance. The 2019 model of the Kia Stinger is equipped with the 3. 3L twin- turbo engine. The car is able to reach a top speed of 167 miles per hour and offers a 0- 60 mph time of fewer than 5 seconds at 4. 7 seconds flat.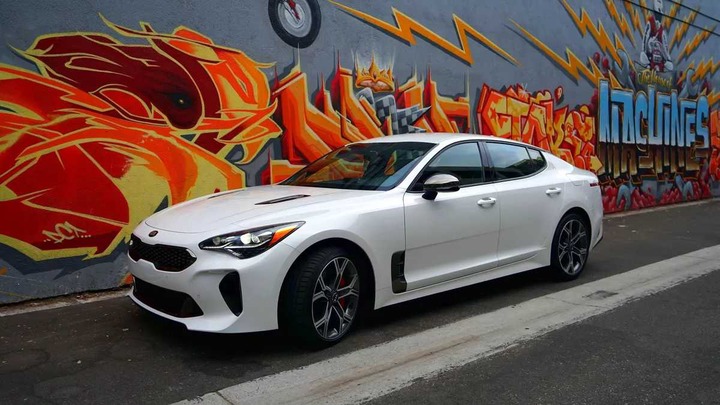 Rear view of the Kia Stinger
This extraordinary car sold a total of 13, 861 cars in 2018 and 16, 806 in 2019.
It is expected to last a total of 40, 000 miles. 2021 Kia Stinger comes at a starting price of $33, 090
Overview
Manufacturer: Kia Hyundai
Production: 2017– present
Model years: 2018– present
Assembly: South Korea, Russia
Designer: Peter Schreyer, Gregory Guillaume
Body and chassis
Class: Mid- size car
Body style: 5- door liftback
Layout: Front- engine, rear- wheel- drive, all- wheel- drive
Related: Genesis G70, Genesis GV70
Powertrain
Engine
Petrol:
2. 0 L Theta II T- GDi I4
2. 5 L Smartstream FR G2. 5 T- GDi I4
3. 3 L Lambda II T- GDi V6
Diesel:
2. 2 L R II CRDi I4
Transmission: 8- speed A8LR1/A8TR1 automatic
Dimensions
Wheelbase: 2, 905 mm
Length: 4, 830 mm
Width: 1, 870 mm
Height: 1, 400 mm
Curb weight: 1, 638– 1, 913 kg
Content created and supplied by: Beautiful_Vero (via Opera News )