Today is another exciting Week and champions league first leg just finished, but there's good news. I have in collaboration with other incredible sources provided some fixed odds for you. I have decided to do some good to my followers once again, I'm giving away free odds. This is to help to my followers gain some cash in hand.
Dear reader, this ticket is from a very good and reliable source. We had to do a lot before we got it.
All I want from you in return is to press the follow button at the top right corner, like and share this article for others to also make profit. Sharing is caring.
All the teams in the ticket desperately need wins. Sources have confirmed the ticket and is 99% safe. This ticket is for betway users whereas betpawa users are below.
X


Draw10 Minutes - 1X2 From 1 To 10 (From 1 To 10) Wolverhampton v Leeds Utd
1.17


X


WolfsburgMatch Result (1X2) Arminia Bielefeld v Wolfsburg
1.66


X


Cagliari or Torino FCDouble Chance Cagliari v Torino
1.34


X


Wisla KrakowMatch Result (1X2) Wisla Krakow SA v MKS Pogon
2.71


X


Burnley/Draw & over 1.5Double Chance and Overs/Unders (Total 1.5) Burnley v West Brom
1.78


X


ChelseaMatch Result (1X2) Southampton v Chelsea
1.74


LiverpoolMatch Result (1X2) Liverpool v Everton
Dear reader, before you proceed to read this article. Please click on the follow button at the top right corner to follow me. Thank you for your understanding.This is ticket is for betpawa users.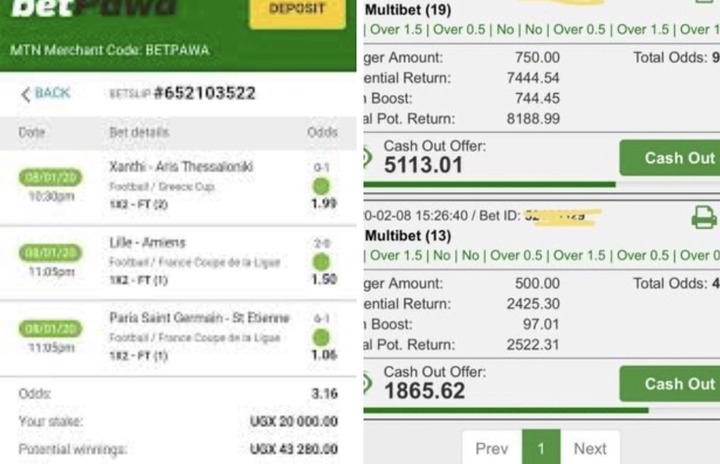 Arminia Bielefeld - Wolfsburg 
Both Teams To Score - FT (Yes) 
1.87 
Brest - Lyon 
1X2 - FT (2) 
1.47 
Southampton - Chelsea 
1X2 and Totals - FT (1.5) (2 - Over) 
2.15 
Lazio - Sampdoria 
1X2 - FT (1) 
1.63 
Borussia Monchengladbach - Mainz 05 
1X2 - FT (1) 
1.54 
Eintracht Frankfurt - Bayern Munich 
1X2 - FT (2) 
1.75 
Atletico Madrid - Levante UD 
1X2 - FT (1) 
1.50 
Liverpool - Everton 
Total Score Over/Under - FT (2.5) (Over) 
1.59 
Schalke 04 - Borussia Dortmund 
1X2 - FT (2) 
1.30 
Real Valladolid CF - Real Madrid 
Total Score Over/Under - FT (1.5) (Over) 
1.25 
Barcelona - Cadiz 
HT / FT (1/1) 
1.51 
Rangers - Dundee United 
1X2 - FT (1) 
1.12 
Arsenal - Manchester City 
1X2 - FT (2) 
1.50 
Manchester United - Newcastle United 
1X2 - FT (1) 
1.27 
Ajax - Sparta Rotterdam 
1X2 - FT (1) 
1.11 
Paris Saint Germain - AS Monaco 
1X2 - FT (1) 
1.64 
Dear Reader, I hope you have enjoyed reading this article. kindly like, comment below and share this article. Don't be stingy. Share for others to also benefit. Good luck.
Content created and supplied by: currentnewss (via Opera News )