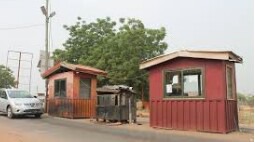 Taabere is a popular and busy community because of the presence of he toll booth in the middle of the road.
The toll both workers include the hawkers who sell various goodies around the point of collection of the tax.
On Sundays, these hawkers do not hawk around the toll booth even though those who collect the ax still remain at post.
The reason is that they rest on Sundays. On normal days these women who hawk around the booth sell various goodies which includes bread, doughnuts, boiled egg, Apples and drinks.
Even though is surprising that they do not sell yogurt at the point they sell pie and chips.
The workers run on shifts during the normal days ensuring that travellers get whatever they want to buy.
It is however only on Sundays that the hawkers rest. This means the township is very quiet on Sundays.
When they do not run shifts on Sundays too but they all do not come is a mystery
Please comment with your thoughts and share to friends
Follow for more
Content created and supplied by: Evalisa (via Opera News )