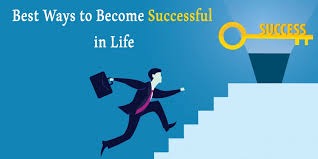 Successful people are simply those with successful habits.
While there's no denying that a college degree can prove very valuable in today's world, it isn't always a guaranteed path to success. In fact, a surprising number of the world's most successful people never graduated from college.
If you want to reach your professional goals without a degree, though, you are going to need two things: hardwork and plan of action.
Here are 5 tips to help you out.
1. Choose the right career.
You don't need a university degree to be successful, but you do need a degree to pursue a certain careers.
Becoming a surgeon or a chemist without earning the appropriate degree simply isn't possible. But there are many high-paying careers that don't require any college degree at all, including starting your own business.
If you want to reach your goals without a college degree, it's essential to choose a career path where a degree is not required.
2. Learn how to sell and negotiate.
No matter what career you choose, knowing how to sell and negotiate well get far almost any professional pursuit. Plus these skills are essential if you plan on starting your own business.
Thankfully, being an effective salesperson is something you can easily learn without having to attend business school. From the time you get up in the morning until the time you go to bed at night, you are continually negotiating, communicating and influencing. Trying to get people to cooperate with you to do the things you want them to do.
Selling just like anything else is a learnable skill - so read the best books, and study the best salespeople in the world.
3. Network with people in your desired field.
Networking offers an incredible amount of value, no matter what career you are pursuing and regardless of whether or not you have a college degree. There's is an old adage that says, it isn't what you know, but who you know. While what you know is certainly important - who you know plays a huge role in your professional success as well.
Attending networking events in your field is an excellent way to give your career a boost. It gives you the chance to show off the strengths that you bring to the table in person rather than being judged by just information that you are able to fit on your resume. Which is something that can be a big help if your resume is lacking a college degree.
4. Learn by doing
Attending a university isn't the only way to learn the skills and knowledge you need to build a career. In fact the internet has now made it easier than ever to access wealth of information, making it entirely possible to attain an education that can rival what you would be taught in college. In addition to going online to learn new skills and information, there is also a wide range of other ways to learn by doing. For example, applying for an internship or apprenticeship is an excellent way to get valuable hands-on experience, and is a great way to get your foot in the door at your dream company. Internships are much easier to attain than most entry level positions and provide a way for you to expand your experience.
However you go about it, adopting a process of continual learning is essential if you want to reach your professional goals.
A college education may not be required, but education in some form is absolutely necessary.
5. Get started on the path to your professional goals.
If you've decided that attaining a college degree is not the right path for you, take heart in the fact that there are plenty of other ways for a person to achieve high levels of success and build a very lucrative and rewarding career. With that said, achieving this level of success without a college degree requires right approach.
By choosing the right career, taking every opportunity that have availability to network with other professionals in your field, learning how to sell and negotiate and communicating to earning education by doing. You can set yourself on a path to success that bypasses the University route.
If this article was useful to you don't forget to like, comment and share
Content created and supplied by: Pascal90 (via Opera News )