According to Dr Dipo on his Twitter handle here are the best ways we can confront interview questions and come out successfully.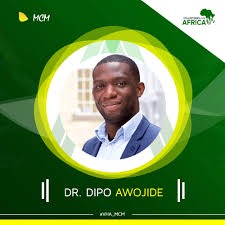 These are the most ask questions we are mostly confronted in an interview.
Sadly, we tend to fail due to how we answer the questions.
Fortunately, Dr Dipo has analyzed 5 best ways to confront such questions.
1. When asked to talk or tell about yourself. Mostly, we add both the relevant and non relevant things about ourselves.
According to Dr. Awojide, this is what you need to know when you are confronted with such a question: This is an opportunity to sell yourself and highlight your career success stories. He added that you should talk plenty it should be between at 2-3 minutes.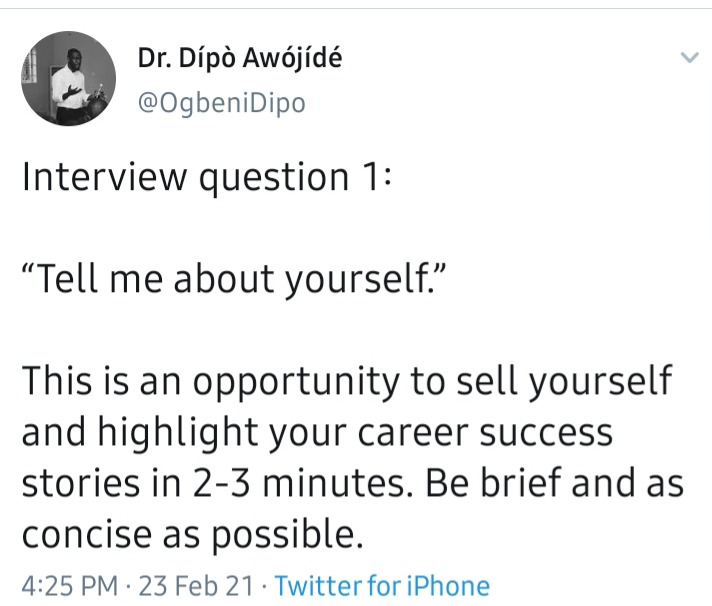 The second question that also comes to mind according to him is when you are asked when things didn't go well that is to say when you failed.
This is how you should go by it; Demonstrate how you learnt from your mistake or failure and how that helped you grow professionally. Don't go and brag and lie. Be smart and be specific. In as much as we are humans, we will fail in one way or the other but, the best way is how you use that failure to grow to become successful.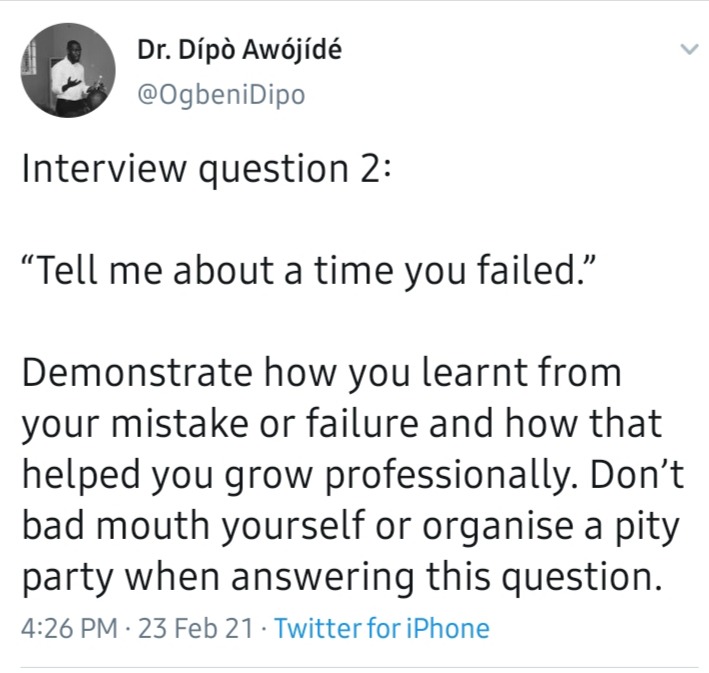 3. Each of us have goals. The company or place that you're seeking for job likewise. So how do you relate you're goals to suite what the company is seeking for? When asked what are your short and long term goals?
Dr. continued that, you should be able to demonstrate that you are a goal - driven professional. Then , relate your response to the company interviewing you.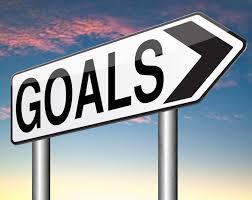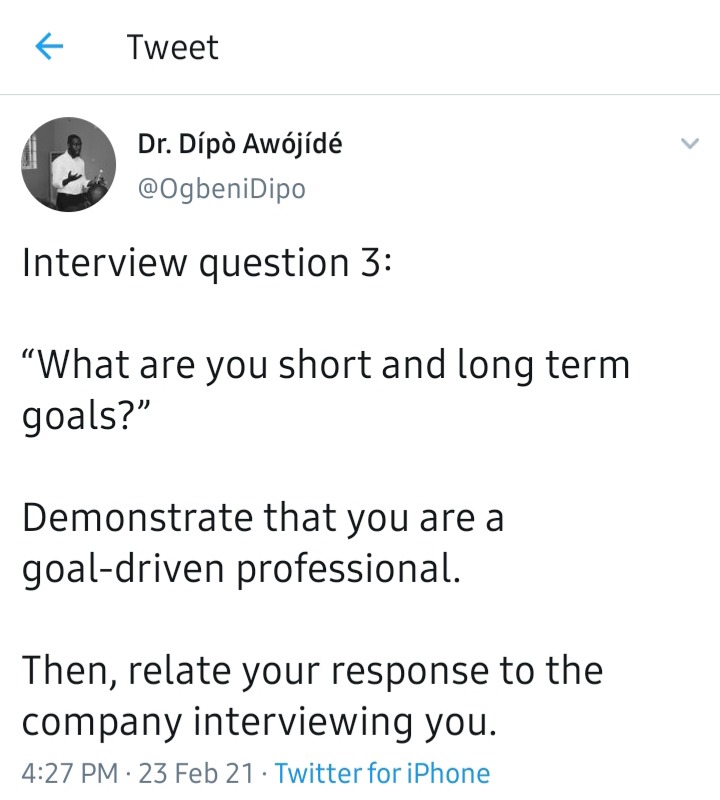 4. When asked, why should we select you among the numerous? Don't go and beg and plead. This is not the time to narrate your problems and family issues.
Show class and confidence that you indeed qualify and you will deliver good results.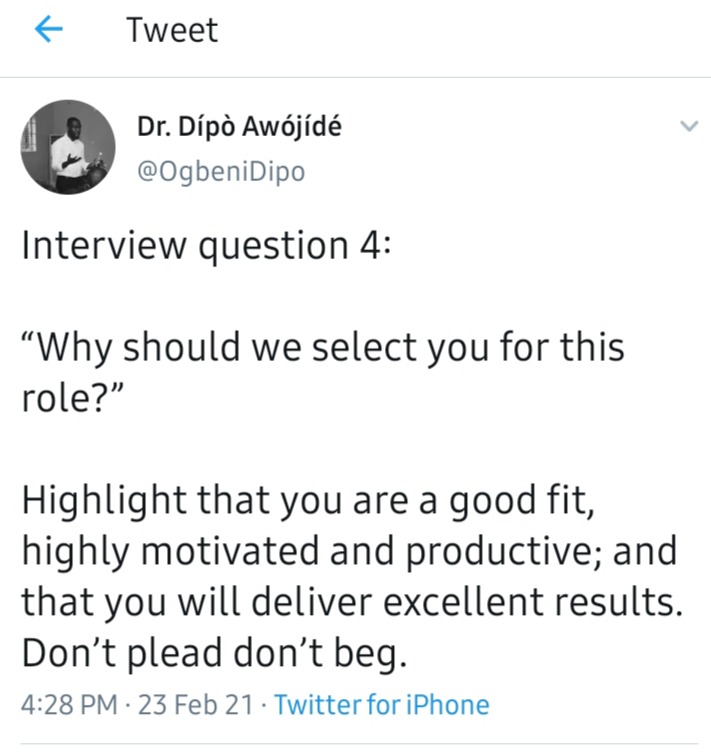 5. In the course of work stress will set in so will you handle it when it happens? Here, show how you have handle stress in the past and how stress can even boost you to be productive.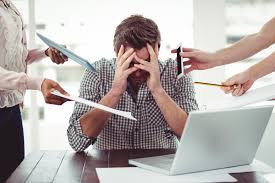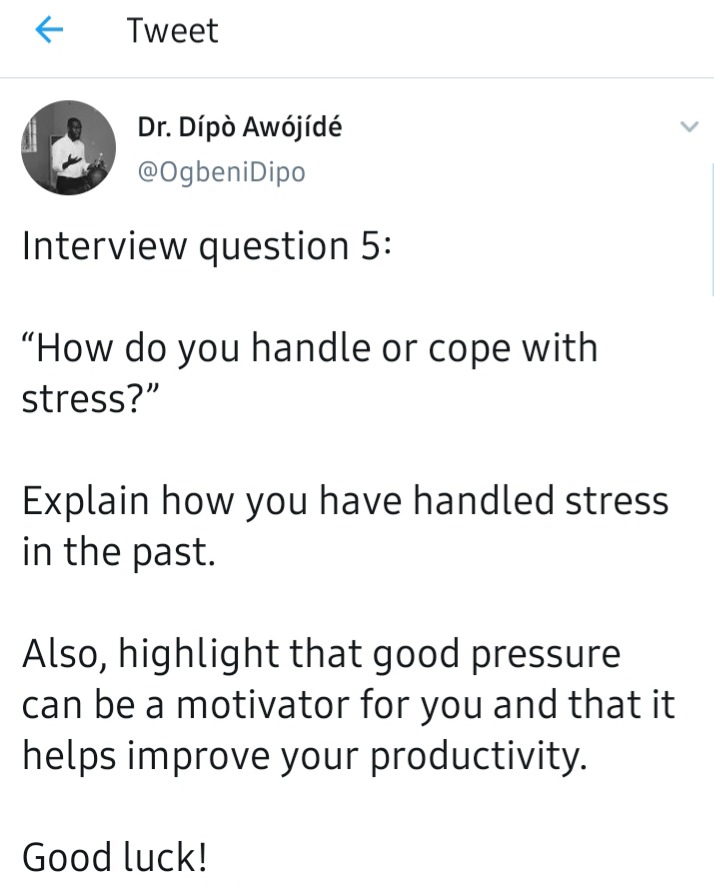 Y
Content created and supplied by: Meek24meek (via Opera News )