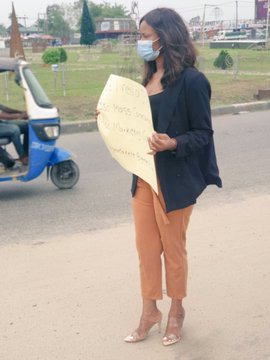 The frustration of job seeking after school nowadays is very alarming. Imagine what this beautiful and gorgeous lady is going through after studying hard to attain these two certificates. From the placard she was holding, she has acquired Bsc Mass Communication and Msc Marketing Communication. Before a lady of her caliber will be bold enough to go on the street to seek for job in this manner means that she has tried every legitimate means but cannot find job.
Politicians will always come out with figures that they have created numerous jobs but the truth of the matter is the most youth have searched from north to south, east to west but cannot find any job. Now seeking of job after going through long years of studies have turn into whom you know. People with less or no education background are occupying high positions because they know politicians.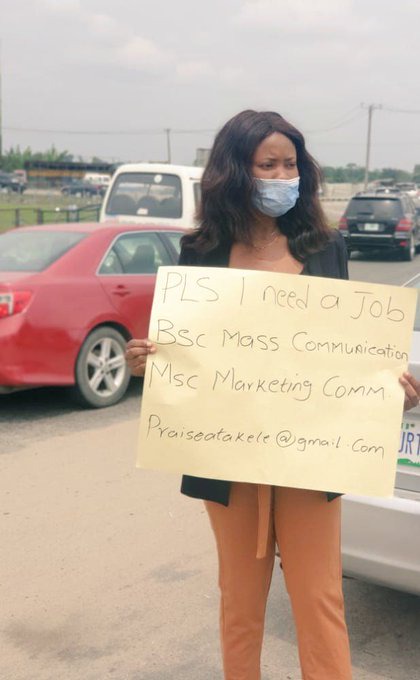 Some of the ladies are forced to bed with directors and CEOs before they are being offered a job after school but this lady here seems not to be convenient with that option. She will prefer forgetting all the olds of criticism, shyness and seek jobs on the street than to sleep with men for job. This beautiful was captured on the street of Warri, Nigeria and the photo was shared by a twitter handle @chrisishiguzu.
The lady was actually dressed in a manner that she was looking for job and was holding a placard with the inscription, "Please, I need a job. Bsc Mass Communication and Msc Marketing Communication. Email: [email protected]".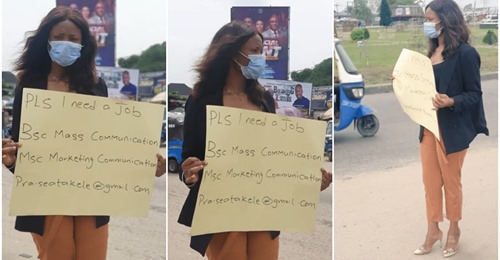 The man who posted this said that he was touched by her seriousness and eagerness of seeking for a job on the street and she want people to help the lady get a job.
This is what the man wrote on twitter, "SEE THIS! I stumbled upon this online & was really touched by how far she could go. We all need jobs, But I appeal to everyone on twitter, please let's HELP Rt this, please find a job for her. Her email: [email protected]".
Content created and supplied by: Ferdinandnews (via Opera News )