If you haven't read part one of this kindly follow me and get access to part 1 before reading this so you'll understand well..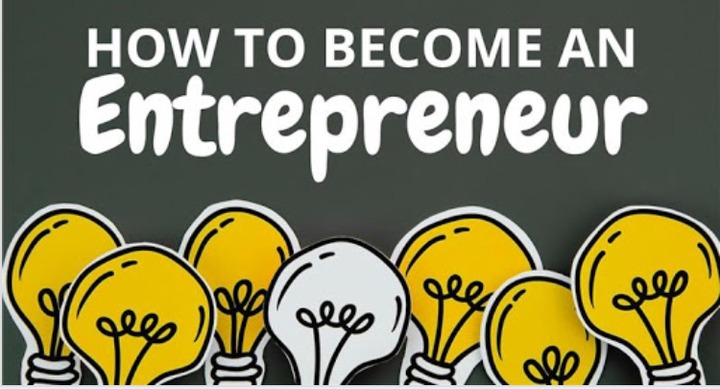 REASONS WHY YOU SHOULD BECOME A STUDENT ENTREPRENEUR
 1. Being a student entrepreneur prepares you for financial success after school. You won't have to wait for a job and a salary before making money. 
2. No one can fire you from the business you start as a student. Being an employee after school is not secured because it puts you at the mercy of your employer's favour. 
3. Being an employee after school makes you exchange the most valuable years of your life for "salary.'' 
4. Becoming an employee makes you become a leverage for your employers to create wealth. They succeed in converting your time, talent, knowledge, skills, and energy to corporate and personal wealth. 
5. Most companies have "SUCCESSION PLANNING'' which make them see every employee as overhead and replaceable entity. 
They can replace you at any time after getting all they can from you. 
 NOTE: Your time as a Tertiary Student is not just for lectures. You can start a profitable business. 
 Start a business early as a student. Make mistakes, learn from them and keep on. You'll be better off than your colleagues who will be waiting to start a business sometime in the future. 
 WHO ARE STUDENT ENTREPRENEURS AND WHAT DO THEY DO? 
 The word 'Studentpreneur' simply means a student who is engaged in a profitable simple business that brings income. 
 Simple businesses are businesses that require little or no capital to start. They are easy to start. 
 It could be based on your gift, skill, experience or an idea. 
 It's possible to be a business owner even when you are in school. 
 In our day and age, you don't need to finish school before starting a business. 
 Most often, they are businesses that are related to your passion or a skill you have learnt, acquired or mastered. 
 Some skills are monetizable skills that bring in cash on a daily or weekly basis apart from your salary. 
 In this article, We want to share with every Tertiary student 15 simple skills or businesses that require little or no capital to start. 
 If you possess any of these skills, you can easily attract money on a daily basis. 
 For the purpose of this article, let's say your goal as a 
STUDENT ENTREPRENEUR is to start a business that requires little or no capital and can make you an extra income of GHC100 a day as a student. 
 If the number of days in a month is 30 days, that will be GHC3000 Monthly. 
 Now ask yourself these questions: 
 Can what I am offering (product/service) bring in GHC100 daily? 
 How can I improve my value, price or reach more people? 
 How many people must buy my products daily to hit my daily income goal? 
  DEAR STUDENT, DO YOU HAVE MONETIZABLE SKILLS? 
 I want to share with you fifteen (15) monetizable skills and businesses you can start today with little or no capital. 
1. Smartphone Graphic Designing 
 2.Digital Products Creation 
 3.Digital training 
 4.Affiliate Marketing 
 5.Social media marketing/management 
 6. Editing services(Project works&books) 
 7.Professional Consulting 
 8.Freelancing 
 9.Mini - Importation 
 10.Organizing skills acquisition workshops 
 11.Copywriting 
 12.Relationship Coach/Counselling 
 13.Laundry Services 
 14.Network marketing 
 15.Forex/Crypto Investor 
Now let me explain these 15 skills or businesses as brief and practical as possible. 
 Your life and finances can't be the same after reading this article. 
 SMARTPHONE GRAPHIC DESIGNING (BUSINESS 1)
 Requirements: 
-Your SmartPhone(Android/iPhone) 
-creativity skills 
-ability to consistently post on social media 
 Estimated time to expect results: 
One-Two weeks 
 You can be making some money from your smartphone by using it for catchy graphic designs. 
 You can make stunning designs from the Canva App. 
 Download it and try it out. It's amazing so you can start designing instantly. 
USE THIS APP TO MAKE DESIGNS FOR YOUR SOCIAL MEDIA POSTS.
Your friends and family will begin to know that you can make beautiful designs and so will need your services. 
 The more graphic services you render, the more money you'll make. 
 Below are some strategies you can use to make at least GHC100($20) daily from smartphone graphic designing. 
HOW TO START: 
1. Download the App (Canva or desygner): These are available on Google Play Store or App Store. 
2. Familiarize yourself and practice designing with the App to know how it works. 
3. Make some stunning designs which you are going to be using for the advert. 
4. Join as many Business and Advert groups as possible on Facebook and WhatsApp. You can join up to 10 Groups. 
5. Start advertising your graphic designing skills by posting to the groups or putting your stunning design on your Whatsapp status. 
-Create your own Facebook post in the groups, and it will be approved. Don't put it under people's post or the comment section. 
-Note that if you post to more than two (2) groups at once on Facebook, your account may be blocked. This is a new trend facebook devised to curb spammers so to avoid being blocked, post to each group after every 2minutes. 
6. Offer to design for free to at least 21 people on your friend list and in the groups and ask that they mention and recommend you stating that your designs are for as low as GHC50 ($8). 
-Charge as low as GHC30($5)-GHC50($8) to design one stunning flyer, and you will see people will rush you for it. 
-You could even offer it at GHC100($16) for three (3) different designs for brands. 
7. Consistently advertise your graphic works (Not one day on one day off). 
-If you are consistent, you could be making up to GHC100($16) daily from your first week of starting out. 
After you have raised some money and wants to go professional in graphics designing, you can buy a laptop and take some graphic designing courses online. 
These sites offer free and paid courses on graphics designs. 
Skillshare 
Udemy 
Coursera 
Alison. Etc. 
You should know that a lot of brands and individuals needs finely designed graphics daily to show off their brands or events. 
It could be an e-flyer, poster, cover photos or even e-business cards. 
You could also make birthday cards or invitation cards on demand. 
Have I told you that some of the things people pay for are actually what they are ignorant about? Now you know. 
DIGITAL PRODUCTS CREATION (BUSINESS 2): 
One of the most common skills to generate daily streams of income is selling digital products in the form of eBooks, audios and videos. 
What are Ebooks? 
 An eBook is a book that is available in an electronic format (hence the name!) This means your book can be downloaded and delivered online, via email, websites and other platforms. 
 Whatever you download online or use online is a digital product. 
 That Joe Mettle's mp3 you dance to, the eBooks on your phone that you read, the funny Instagram videos you watch – they are all digital products. 
 Now, the digital product business angle happens when you start selling these kinds of stuff. 
 When You Package Useful Information into A Digital Product People Would Buy. 
 But people don't buy every type of ''Useful'' information. 
 For instance, I'm sure you will not want to buy a piece of information on how to cook indomie. But you will buy an eBook on how to manage diabetes if you have diabetes or you know someone close to you who does. 
 So What Kind of Information do people buy THE MOST 
 Just three... 
 These are the ones most likely to sell. If you apply the right marketing, it could sell like hot cake. 
 Here they are; Topics on: 
✓ Money 
✓ Relationship 
✓ Health 
 What you need to do is to pick one of these three topics. 
 You don't have to be an expert in it now. 
 There's something you know right now that the world should be paying for IF only you can learn how to articulate your thoughts in a profitable manner, package it into a digital product and sell them effectively.
I'm not kidding you when I say that there's something you know right now that ought to be bringing you an extra income of at least GHC100 daily without doing anything more than just marketing it. 
 It could be a SKILL. 
 It could be a STORY. 
 Selling digital information in the form of eBooks, audios, videos, podcasts, and other transferable formats can give you daily income. 
 There are a lot of sites where you can compile and sell private label rights eBooks. pdfdrive.net is one. 
 There is so much information on the internet to rewrite. 
 There is nothing new; we are all just using different words. 
You can write your own eBook on your smartphone and sell. 
I started writing this eBook on my smartphone. 
In less than a week with the help of the WPS app, I changed it from word to PDF in seconds. 
Turn your knowledge into an eBook. 
You don't have to be a master to write a book; you just have to be one step ahead of the crowd... 
WHY YOU SHOULD CREATE DIGITAL PRODUCTS: 
I want to show you how to generate an income from Creating digital products, specifically eBooks. 
Chances are, you've bought an eBook or downloaded a free one at some point. From self-help to career development, fictional stories to recipes – there's an eBook for everything. And there's a reason for that – it's so simple! 
Getting started with and creating your first eBook is super simple. 
eBooks are popular products for online entrepreneurs because they're so simple to create, even if you have zero writing skills. 
You can hire a ghostwriter to create your book. 
You could also use content that is available in the public domain and repurpose it for your ebook. 
But please, never ever steal content from someone else to create your ebook! 
Of course, if you're confident in your own writing skills, there's nothing like writing your own ebook – especially if it is on a topic you're very knowledgeable about, or it is a subject you're passionate about. 
What should your ebook be about? 
Well, anything you want pretty much. 
Think about it; there's a book (like a real book) on almost any subject, even pretty niche areas – right? So ebooks are the same. In fact, with ebooks, you can probably go pretty deep into niches because they're online and it's easier to reach more targeted audiences. 
Why You Should Write and Sell eBooks Online: 
Let's talk about why you should write an eBook at all. Why are eBooks such a popular option for many bloggers and entrepreneurs? Here are the top reasons: 
1. Your own product: 
An eBook that YOU create and sell yourself is 100% yours. It's your product, and no one else's. This means, when you make a sale, you get to keep 100% of the profits. 
Plus, if you already have an audience (through a blog or other business), they already know and trust you and your knowledge about a certain subject. So when you put out an ebook, they're more likely to buy it from you because they trust you to be an expert in the area. 
Affiliate marketing for other people's products is great (we recommend it) but if you could do more than just make a commission from selling someone else's products, wouldn't that be great? 
2. No barriers to publishing and selling: 
We love ebooks because there's no one to stop you from putting it out there into the world. With traditional books, you would have to find a publisher who would publish your books, and then get bookstores to sell it, do book tours and so much more! 
With ebooks, you write and publish, completely DIY-style, and you can sell it in so many ways online. From your own website to Amazon to several other platforms which we will discuss below – there's no one getting in the way of getting your book to your audience. 
3. Constant income 
A good ebook, one that provides value to your audience and/or is interesting and unique has the potential to become a constant source of passive income from you.
For many ebook creators, once they do the initial work of creating and setting up their ebook for sale, they can continue to make money selling ebooks and earn a passive income from it. So all you have to do is put in the initial work, set up your marketing and your ebook could become a source of constant income for you as well. 
4. Makes you look like an expert 
When you write an ebook on a topic you're knowledgeable about; it becomes very obvious you are an authority on the subject. I mean, you obviously know a lot to write a book on it, right? 
An ebook is a great way to boost your credibility and authority in your chosen field/area. As the author of an ebook, you may find yourself turning into a bit of an influencer, which is great as it will not only lead to more ebook sales but will build up your audience for your blog or other businesses you may be running. 
5. Help people 
Finally, most people will create an ebook to fill a knowledge gap. Meaning, there is a need for people to learn more about a certain topic, and you the ebook author, step in with your knowledge and expertise to help educate them more. 
Ebooks that help people and fill a genuine need are always the ones that sell the most. When you create a good book with valuable content, your audience will read it and be able to use it to make their lives better. This alone is often a fantastic motivation to create an ebook – you get to help people! 
6. Boost your business and career brand: 
A book (whether hard copy or ebook) is a Universal hot product that can turn your business & brand around. 
Whether you are in the service industry or a product-based industry, your book can turn around your business. 
Writing a book has proven over the years to be the fastest way 21st-century Entrepreneurs use to skyrocket their sales and dominate the market place of their niche. 
When you write a book, it shows that you are credible. 
Have you wondered why they call someone who publishes a book an AUTHOR? It means he is an AUTHOR (ITY)... 
You can package your book as a marketing tool. 
Anybody who reads your book falls in love with your vision and joins your movement. 
It's a magnet. 
In today's saturated business world, books are the new business cards. 
Don't go and print complimentary card. Print a simple 5-page book and see the magic it does to your brand and sales. 
You need to know that your business or brand cannot succeed without Followership. 
And the easiest way to get and maintain the attention of your target market is by creating more relevant content. 
Have you realized that most global pastors are authors? 
I got to know of Pastors like Oyedepo, Myles Munroe, T.D Jakes, Benny Hinn, etc. first through their writing materials. 
When you want to get followers, you must establish your credibility and authority in the marketplace. 
The easiest way to do that is to become an author. 
No matter what you do and who you are, you can also write a book because you started your business based on the passion you have for that industry or the solution you are providing. 
You need to actually tell your story, so people understand your passion for what you're offering them. 
If you are passionate about the health of children, write a book about it. 
But I advise that you write about your passion or an experience you had in a profitable way. 
Write with your target market in mind. 
Your readers should be the target market for your business. 
Writing a book will help explain the vision and mission of your business to your target market. It provides a clear understanding of why you started that business or project. 
7. Your book will go places you may never go yourself and attract clients/ attention to your brand from people you may not have physically met. 
8. Even when your business is no more, the book you wrote will leave a lasting legacy. Your book helps you make a valuable contribution to your world. 
9. Your book is part of the profitable asset for your business/brand. Its value exceeds the monetary value.
10. Your book can inspire many others to live their dreams. 
That's how you can make money through digital products. 
HOW TO CREATE & MONETIZE YOUR DIGITAL PRODUCTS CREATION SKILLS IN 15 EASY STEPS: 
The average eBook has 7,000-10,000 words. 
1. You can write your first eBook in 7days if you decide to write 1,000 words daily or in 14days if you write 500 words daily. 
After getting your content(7000words) ready. 
2. Edit it with the Grammarly App. 
3. Design your book cover using the Canva App. 
4. Download the WPS App on your phone. 
5. Use the WPS App to turn the document into Ms Word or PDF 
File. 
6. Save and protect your eBook on Google drive to prevent thieves from pirating and forwarding it. 
7. Plan to publish it for free on Amazon kdp to make some dollars. 
8.Set the price for your eBook. 
9.Design promotional flyers stating the price of your eBook and launch date(if you're doing an online launch). 
10. After payment, let buyers forward their email addresses to you, so you forward the eBook to their email. 
11. Consistently post about your eBook on Facebook and your Whatsapp status. 
12. Track your book sales, and keep financial records. 
13. Make plans to print some few copies with the money you make from the eBook sales. 
14. Start writing your next eBook. 
15. Charge others and create eBooks for them on any topic or content they have ready. You can charge as high as GHC300($50) to create a complete eBook for someone who has his content ready. All you'll do is to edit, format and design book covers and promotional e-flyers for him. 
-Repeat the process and keep making money. 
PRACTICAL: 
If you have an Ebook (digital product) which is sold at Ghc10, you need ten (10) people to buy to make GHC100 daily. 
Find them on your WhatsApp groups, status and your contact list and let them buy. 
If you help three (3) people to create their first eBook and you charge them GHC300($50) each, you'll be making GHC900($150) monthly. 
DIGITAL TRAINING (BUSINESS 3): 
Another daily income stream is organizing digital training. 
Everyone has something to teach. 
You don't have to be a master; you just have to be one step ahead. 
A friend recently took a digital training course from one of my mentors Dzigbordi. 
People are making it big on digital trainings. 
She charged $100 for this training, and even today I am sure someone bought it again. 
She has created the video, and she will keep selling without running out of copies because it's virtual.
To be continued later in my subsequent article so kindly follow me and also don't forget to like and share.
Content created and supplied by: real_kingly (via Opera News )
Opera News is a free to use platform and the views and opinions expressed herein are solely those of the author and do not represent, reflect or express the views of Opera News. Any/all written content and images displayed are provided by the blogger/author, appear herein as submitted by the blogger/author and are unedited by Opera News. Opera News does not consent to nor does it condone the posting of any content that violates the rights (including the copyrights) of any third party, nor content that may malign, inter alia, any religion, ethnic group, organization, gender, company, or individual. Opera News furthermore does not condone the use of our platform for the purposes encouraging/endorsing hate speech, violation of human rights and/or utterances of a defamatory nature. If the content contained herein violates any of your rights, including those of copyright, and/or violates any the above mentioned factors, you are requested to immediately notify us using via the following email address operanews-external(at)opera.com and/or report the article using the available reporting functionality built into our Platform See More