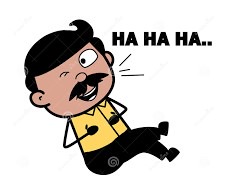 1.An uneducated father with his educated son went on a camping trip. They set-up their tent and fell asleep. Some hours later, the father woke his son up.
Father: Look up to the sky and tell me what you see.
Son: I see millions of stars , Father: And what does that tell you.
Son: Astronomically, it tells me that there are millions of galaxies and planets.
Father slaps the son hard and says, "cant you see someone has stolen our tent" .
MORAL OF THE STORY: Education can spoil our common sense.
2.A man checked into a hotel. There was a computer in his room, so he decided to send a mail to his wife. he accidentally typed the wrong email address, and without realizing he sent the mail to a widow who has just returned from her husband's funeral.
The widow decided to check her mail expecting condolence messages from relatives and friends. After reading d first message she fainted. The son rushed into the room, found his mother on the floor and saw the computer screen which read:
'To my loving wife, I know u are surprised to hear from me, they have computers here and we are allowed to send mails to loved ones. I have just been checked in. How you and the kids, the place is really nice but I am lonely here. I have made necessary arrangement for your arrival tomorrow. Expecting you darling. I ca not wait to see you.
Thank you.
Content created and supplied by: SpArK_OJ (via Opera News )