Everyday, when you go to bed with, fix your uniform and hang it up on the opposite of your bed.
When you get into bed, look at that uniform and ask yourself, what happens if I don't ware this uniform and try to enter any army installation...??
The answer is far from the saluted. You will be stopped at the gate and questioned!
And if another person wares this uniform and walks pass the quarter he will get a salute.
So the salute was not for you, it was for the uniform hanging on the wall, which made you what you were but remember its not going to be yours forever. It will go away one day.
So prepare your self for it!!
May I ask you??
What are you using with your uniform today??
Are you using them to bring people down or show them where power lies??
Are you using them to help friends and cronies even when it is not their time and just because they salute you every morning??
Are you using them to divide rules and create enemies??
What are you using them for?
Remember the person you are today using your uniform to destroy may be the person that will tomorrow survived your children, nephews and so on.
How will you feel if same thing repeatedly happens on all these people??
Use your uniform to promote the betterment of all.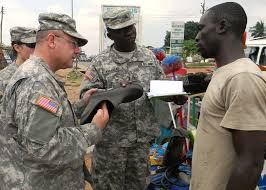 Content created and supplied by: Supercowboy (via Opera News )