A Qur'anic story (68: 17-33) of a few spoilt children who would not follow the righteous way set before them. Their father was a pious man, who spent plentifully on the poor and destitute at the time his orchard was harvested. His sons thought he was not in his right mind to be spending so much on others. When he died, they decided they will not give to the poor who were sure to show up while the harvesting is in process. One way to escape them was to harvest early in the morning and leave the place before they would arrive. But Allah knew their nightly intentions and morning plans. Late at night, with they were deep in sleep, He sent a thunderstorm over the orchard. In minutes it lay in ruins: its fruit scattered, its branches in shreds and its trees barren of leaves.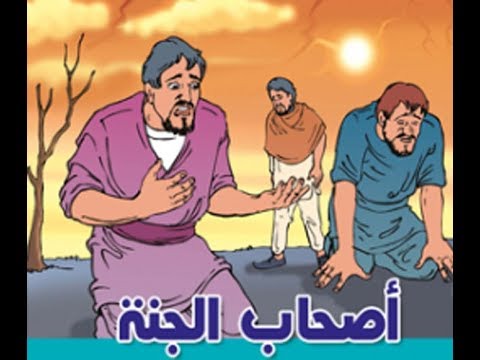 The young men went cracking down, before dawn, moving hastily, joyfully, but stealthily. Arriving at the destination, initially they thought they had lost their way. Were they at the wrong place? But soon they realized that it was their own smiling orchard in that ghastly state. They began to, as usual at failures, blame each other. Some were repentant. But it was too late, and may be, they were not too sincere.
Story of Nations
Nations think they are in full control, and hope to harvest a rich economy. But the work of several generations is wiped out in a night. By morning the economy is in ruins. One unexpected day (Sept. 18, 2007) in the USA, the leadership was told by the chairman of the Federal Reserve Bank, "Unless we act within days, the financial system will melt down." They did act, but Divine Action overtook them and within days, the worst meltdown in recent history started. As-Hab Al-Kahf
One of the lessons of the story is that wealth ultimately belongs to the people, with the most distant person having a share in it, more or less, with the present owner only its custodian, with his own share in it, the value of it depending upon his own needs, and those of others.
It is also the story of unbelieving nations. The day's situation looks good to them. They are in full control and hope to harvest a rich economy. But the work of a whole season, of several generations, is wiped out in a night; by morning the economy is in ruins. One unexpected day (September 18, 2007) in the USA, the leadership, Republicans and Democrats of Congress (are told by the chairman of the Federal Reserve Bank, the most important central bank in the world): "Unless we act within days, the financial system will melt down." They did act, but Divine Action also took place, and, within days, the meltdown did happen:
كَذَٰلِكَ الْعَذَابُ ۖ وَلَعَذَابُ الْآخِرَةِ أَكْبَرُ ۚ لَوْ كَانُوا يَعْلَمُونَ‎
"That is how the Divine chastisement is; but the chastisement of the Hereafter is greater, only if they knew." (The Qur'an, Al-Qalam: 33)
Content created and supplied by: [email protected] (via Opera News )