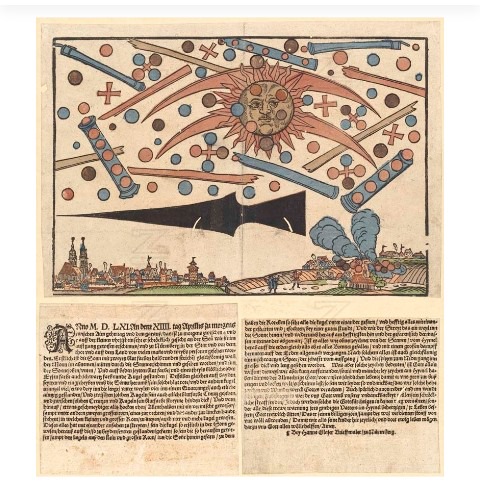 Imagine walking up to see the day,only to find out that unknown and mysterious subjects were fighting in the sky, and instead of seeing a bright-yellow sun, you see a red one.
The imagery that popped into your head is what occurred on the 14th of April in 1561 at Numberg, a small Germany city.
The incident is popularly known as the "1561 celestial phenomenon over Numberg" or "UFO battle over Numberg". It is also one of the strangest days in human history and this is why.
It was around dawn that day and the people of Numberg saw the strangest item on the sky. These items consisted of various shapes, lines, and sizes-circles, cylinders, spheres and every other thing that seemed odd. And it looked like those objects were wrestling- they suddenly launched and bounced around the sky.
The people described it as an "aerial battle" with the appearance of a huge black triangular object. It is known that there was a huge crush outside the city as well.
At that time, the term "UFO(Unidentified Flying Objects)" was not popular and so the ancient was extraordinarily weird. There were other observations like the shapes forming globes and crosses, with 2 lunar crescents as well.
The strangest thing about the sky was the sun. At the time between 4a.m and 5a.m, the sun had turned blood-red. The people saw it as 2 red arcs at the center of the sun, and at the button part of it, as well as above it was a dark, black and red colour.
In that same month, the news was released about the rare and strange incident- a broadsheet text by Hanns Glaser which measures 10.3(26.2cm) help to illustrate and describe the phenomenon in detail. The historical piece is kept in the prints and drawings collection at the Zentralbibliothek Zürich in Zürich, Switzerland.
Content created and supplied by: zarooo (via Opera News )