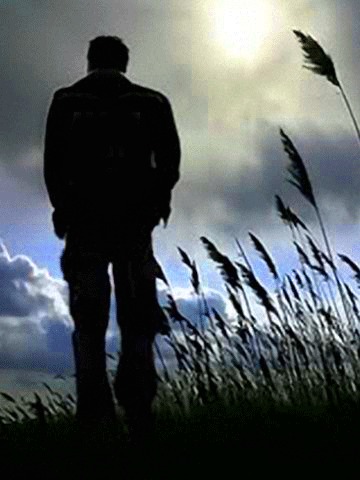 Sad stories will make you cry, but they will also make you contemplate life in a way that can be very rewarding. A strong sad story will make you feel less alone and more aware of the fact that no one's experience of this world is all rainbows and unicorns. We all have to trudge through the darker aspects of existence. Read these sad stories because they're beautiful and because they reflect real life.
18 Two Sentence Sad Stories From Reddit
Language is a wonderful medium. In just two carefully crafted sentences, you can tug at a person's heart strings. Make them think. Move them deeply. In the below sad stories, so much emotion is conveyed with so few words. Brace yourself and read on if you have the strength.
1. I found the love of my life.
She didn't.
2. He promised he would wait for her forever.
She kept him to his word.
3. It was a lot.
It just wasn't enough.
4. He woke up, rolled over and reached for her.
She wasn't there and never would be again.
5. They told me they could save either my wife or my son.
They were wrong.
6. After months of waiting he finally saw his wife. He'd never been happier but he knew he'd have to wake up soon.
7. He never wanted to leave his wife.
But it was getting late and the graveyard gates were about to be closed.
8. My owner won't wake up.
My food bowl has been empty for so long.
9. I pick up your little collar and leash and I almost expect you to come running at the sound. I will never get used to the awful silence.
10. I rock my baby in my arms and sing softly to her. It helps me pretend she is only sleeping.
10 Tragic Love Stories From Literature That Will Break Your Heart
The 14th of February seems happy and harmless. Flowers and chocolates. Sappy notes and shameless rom coms. Obligatory dinner dates. Candy hearts. Lots and lots of pink. But Vals day's contemporary style is as far removed from its origins as your family's Thanksgiving dinner is from your syphilis sharing Pilgrim predecessors. Valentine's Day is rooted in violence and loss. Brutality. Death. The punishment of the innocent. Val Day's always had love notes and flowers. It's just that they were written moments before slaughter and placed carefully next to a cracked skull and a fresh grave.
So in the true spirit of Valentine's Day, here are 10 Tragic Love Stories that Will Break Your Heart. Because as St. Valentine knew better than anyone, the best romances don't end happily and the greatest love stories are tragedies above all.
1. Lolita by Vladimir Nabokov
Yes, it's creepy. But it's also a tragic love story. Perhaps one of the greatest ever written. A pedophiliac road trip that turns into a suburban farce, it features an entirely unreliable, endlessly nauseating, yet inexplicably compelling narrator a middle aged lit professor in love with a 12 year old girl. After causing the death of her mother, then driving her across an American wilderness Humbert Humbert is part Walter White part Kevin Spacey in American Beauty. And he's Nabokov's most magical accomplishment, an at once pathetic, frustratingly endearing, unquestionably disgusting figure. His final act is to kill a man who has taken advantage of his now grown Lolita. It is both satisfying and ironic. The story ends as you'd imagine, in complete ruination of everyone involved.
2. Never Let Me Go by Kazuo Ishiguro
Skip the movie despite Carrie Mulligan and Kiera Knightley. Read the book. Ishiguro's sleight of hand will astonish you and 100 pages in you'll feel your stomach drop. Then you'll fly to the end. Teenagers in England, growing up as friends in a strange kind of boarding school are forced to confront the meaning of their short lives and imagine the possibility that love and friendship can make their years mean more than their commodotized bodies. This novel will crush you. And the pleasure of that pain will make you want to read it again.
3. Giovanni's Room by James Baldwin
I read Giovanni's Room for a literature class in college. It is the one novel that has stayed with me after all these years there is no shortage of good quotes. No one gets closer to the essence of human emotion than Baldwin does. He claws at it, pokes and prods at it fully exposes it. He understands pain, forces his reader to feel every last ounce of it along with the characters. It's an intense, fearless love story involving three different people. You'll fall in love with all of them.
4. The House of Mirth by Edith Wharton
Astonishingly contemporary for a book written 110 years ago. Wharton's breakout novel features a young, hot Lily Bart who might as well be a millennial in modern day midtown Manhattan. Caught in a sticky social web of wealth and infidelity, Lily clumsily traverses a world of elite parties and stock market gamesmanship engaging in an endless series of missed connections with the man she's meant to be with. Scandals in New York lead to scandals in Europe. Millions are lost and gained. Yacht trips are taken. This is Gatsby before F Scott. The moral vacuum of the Manhattanite elite before Wolfe was born to write it. Eventually Lilly has her moral awakening. And the man of her dreams realizes he loves her as she him. But in a master stroke of love eternally unrequited. He arrives to tell her so mere hours after she has expired from an overdose of sleeping pills. Ouch.
5. This is How You Lose Her by Junot Diaz
This novel like Drown and The Brief Wondrous Life of Oscar Wao features our favorite reckless bad boy, Yunior. While Diaz's two other novels focus mainly on Yunior's childhood and formidable years, in this is How You Lose Her we zoom in on his tumultuous and confused love life. It's a side of Diaz that isn't quite exposed in his other books. We are witness to a different type of hurt caused by Yunior's careless or selfish decisions in his encounters with various women. My favorite line, And that's when I know it's over. As soon as you start thinking about the beginning, it's the end.
6. The Notebook by Nicholas Sparks
If you haven't yet read or seen the movie, I suggest you do either by yourself or with a loved one. It's by far Nicholas Sparks' best novel. It's a story filled with love and loss and finding love again and with characters that you find yourself becoming so completely attached to that you refuse to accept anything but a happy ending. You'll cry a lot. So keep that pile of tissues close.
7. The Woman Upstairs by Claire Messud
This is a book in which nothing happens. And that's why it's magic. For anyone who has ever felt like they are living on the treadmill of the ordinary in a cage built of convention and consumerism and obligation and fear, this book gives you a mirror. A broken woman lost in her regrets and addicted to replaying the inequities of the past offers a picture of the invisible, inconsequential person we all fear we'll become. Reading it forces you to climb deep inside the castle of your own insecurities. Close it and you come back out again, broken and motivated, eyes open to the small tragedies of the lives that stride past you on the snowy sidewalk.
8. The Wings of the Dove by Henry James
If you thought House of Mirth harnessed melodrama to drive a dagger through your heart, just wait until Henry James introduces you to Milly Theale. Pristine in every way wealthy beyond belief, Milly's flaws number only one. she is dying. Tragic news on its own terms but more tragic still when the news reaches Densher, the handsome Londoner that Milly has fallen in love with. But Densher lacking in money or social standing is in love with Kate who is no better off than he. You can guess the plan. Densher will trick Milly into thinking he loves her. They'll marry. She'll die. And Voila, Densher will inherit her cash and then he'll marry Kate. Happily ever after. The brilliant plan failed to account for one detail. Milly's unshakeable kindness, her unflappable spirit. As the con plays out, Densher is won over by the dying woman's moral brilliance and after her death he presents Kate with a terrible choice turn down all the money and marry him or take all the money and lose him. Few novels ask the reader more directly to imagine which they'd choose money or love.
9. The Bell Jar by Sylvia Plath
I know.The Bell Jar isn't your typical lovey dovey romance novel it's way beyond that. This novel is the closest we'll ever get to the true Sylvia Plath. But more than that it's a twisted coming of age story of a young girl trying to chase her dreams in the city known for its glamour, wealth and fame. I view it as being about the importance of learning to love yourself and I don't think Sylvia Plath's Esther Greenwood ever had that chance. Instead, she was locked away in a psych ward essentially pushed into her insanity.
10. Under the Jeweled Sky by Alison McQueen
I had the privilege of reading Under the Jeweled Sky while it was still in draft form and I hadn't read such a brilliant and beautiful, emotionally charged love story in so long. I followed the main character Sophie from her gardens in India to the gloom of London and back again. It's a deep exploration into forbidden love, scandal and leaving a beloved and magical place behind. You'll be teary eyed at the end but you'll have become attached to Sophie, and you'll be better for it.
Content created and supplied by: Beautiful_Vero (via Opera News )