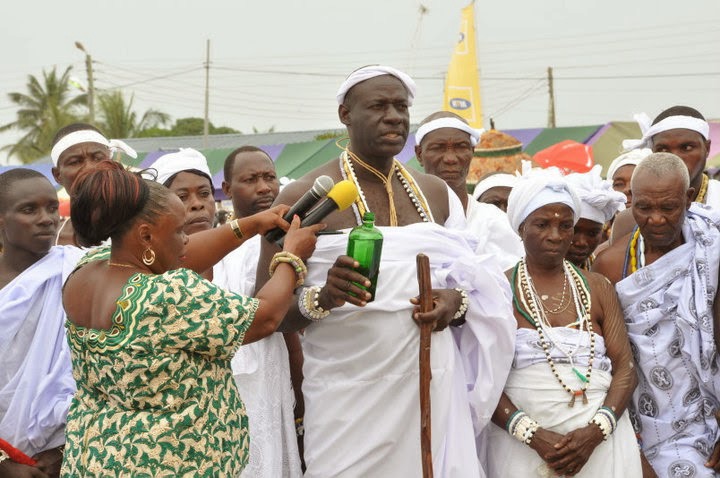 The Ga people celebrate the Homowo festival, which literally means "hooting at hunger." This festival originated several centuries ago. It is celebrated in remembrance of a great famine that hit the Ga people during their journey from Israel through Egypt, Chad, Nigeria, Benin and Togo in the sixteenth century. It is mainly a food festival which celebrates the passing of that terrible period in the history of the Ga people. It takes place in August every year and is celebrated by all the Ga clans.
The Dangbe people from Ada celebrate the Asafotu festival, which is also called 'Asafotufiam', an annual warrior's festival celebrated by Ada people from the last Thursday of July to the first weekend of August. It commemorates the victories of the warriors in battle and is a memorial for those who fell on the battlefield. To re-enact these historic events, the warriors dress in traditional battle dress and stage a mock battle. This is also a time for male rites of passage, when young men are introduced to warfare. The festival also coincides with the harvest cycle, when these special customs and ceremonies are performed. These include purification ceremonies. The celebration reaches its climax with a durbar of chiefs, a colourful procession of the Chiefs in palanquins with their retinue. They are accompanied by traditional military groups called 'Asafo Companies' amidst drumming, singing and dancing through the streets and on the durbar grounds. At the durbar, greetings are exchanged between the chiefs, libations are poured and declarations of allegiance are made.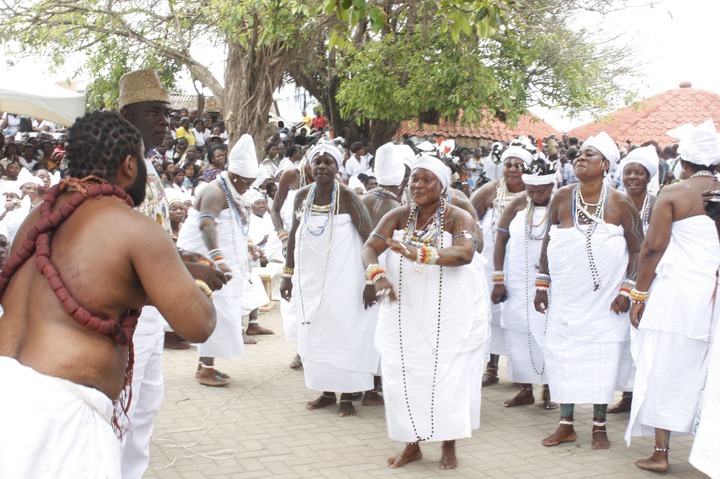 The Dangbe people from Odumase - Krobo also Celebrate the [Ngmayem] festival, An Annual Harvest festival to Celebrate the bounty harvest of their farmers is celebrated by the Krobo people throughout the last week (Seven days) of October with a visit to their famous Ancestral home, the Krobo Mountains [Kloyom] on the last Friday of October with a climax on the Saturday with a grand Durbar of Chiefs and People of the Krobo Traditional Area. the [Konor] who is the Paramount Chief sits in state as the overlord together with his sub-chiefs, Government officials, other traditional Authorities and Invited guests.
The Ga-Dangbe music includes drumming and dancing. One of their traditional music and dance styles (albeit a fairly modern one) is kpanlogo, a modernized traditional dance and music form developed around 1960. Yacub Addy, Obo Addy, and Mustapha Tettey Addy are Ga drummers who have achieved international fame. Music of the Ga-Dangbe people also include [Klama], [Kpatsa] and the Dipo dance all of the Krobo people.
In addition to music, the Ga-Dangbe people are known for their long history and successes in the sport of boxing. The fishing community of Bukom on the outskirts of Accra, is considered as the mecca of boxing in Ghana and has produced several notable boxers. It is the home of many famous boxing "clubs" and gymnasiums. Notable fighters include former WBC champion, David Kotei aka DK Poison, Alfred Kotey, Joshua "The Hitter" Clottey, and former WBA Welterweight champion boxer Ike "Bazooka" Quartey, and former multi-weight class champion Azumah "Zoom Zoom" Nelson aka Prof.
For the Shai and Krobo people, the Dipo is the formal rite of passage. Originally designed as a formal marriage training for mature women in their twenties,Dipo has evolved into a pre-marital sexual purification rite that involves teenage girls conducting traditional religious rituals and putting on dance performances for the public. Initiates are partially nude throughout much of the ritual. In addition, they are each adorned with custom-made glass beads, colorful loin cloths, and various forms of woven headgear. According researcher and author Priscilla Akua Boakye, "[Dipo] was a form of vocational training for young women in which they were taught generally how to assume their roles as responsible women." Despite the ritual being designated for older teenaged girls, it is not uncommon for young pre-adolescent and even toddler aged girls to take part.
The Ga people are known for their funeral celebrations and processions. The Ga believe that when someone dies, they move to another life. Therefore, special coffins are often crafted by highly skilled carpenters since this tradition spread in the 1950s. Pioneers were master craftsmen like Ataa Oko (1919-2012) from La, and Seth Kane Kwei (1925-1992) from Teshie.
The coffins can be anything wanted by relatives of the deceased from a pencil to any animal such as an elephant. Coffins are usually crafted to reflect an essence of the deceased, in forms such as a character trait, an occupation, or a symbol of one's standing in the community.For example, a taxicab driver is most likely to be buried in a coffin shaped as a car. Many families spend excessive amounts on coffins because they often feel that they have to pay their last respects to the deceased and being buried in a coffin of cultural, symbolic as well as expensive taste is seen as fitting. Prices of coffins can vary depending on what is being ordered. It is not unusual for a single coffin to cost $600. This is expensive for local families considering that it is not unusual to meet people with an income of only $50 a month. This means that funerals are often paid for by wealthier members of the family, if such a member exists, with smaller contributions coming from other working members of the family. This is needed as the coffin is only a portion of the total funeral cost that will be incurred. Some people foreign to Ghana are known to have been buried in Ga-styled coffins.
The use of these fantasy coffins is explained by the religious beliefs of the Ga people regarding their afterlife. They believe that death is not the end and that life continues in the next world in the same way it did on earth. Ancestors are also thought to be much more powerful than the living and able to influence their relatives who are still living (lucky as they are). This is why families do everything they can to ensure that a dead person is sympathetic towards them as early as possible. The social status of the deceased depends primarily on the size and the success of the burial service and of course the usage of an exclusive coffin.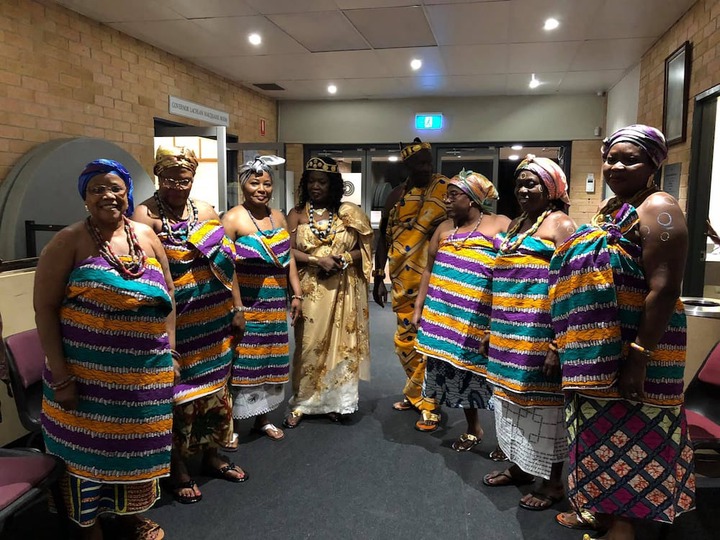 These coffins are only seen on the day of the burials when they are buried with the deceased. They often symbolise the dead people's professions, the purpose being to help them continue with their earthly profession in the afterlife. Certain shapes, such as a sword or chair coffin, represent royal or priestly insignia with a magical and religious function. Only people with the appropriate status are allowed to be buried in these types of coffins. Various creatures, such as lions, cockerels and crabs represent clan totems. Similarly, only the heads of the families concerned are permitted to be buried in coffins such as these.
Many coffin shapes also evoke proverbs, which are interpreted in different ways by the Ga. Design coffins have been used since around the 1950s, especially in rural Ga groups with traditional beliefs, and have now become an integral part of Ga burial culture. Today, figural coffins are made in several workshops in Togo and Greater Accra. Popular coffinmakers are, for example, Cedi and Eric Adjetey Anang of Kane Kwei Carpentry Workshop, Paa Joe, Daniel Mensah and Kudjoe Affutu. Most of the figural coffins are used for funerals, only a few are exported for international art exhibitions.
Content created and supplied by: GreatAlexander (via Opera News )
Opera News is a free to use platform and the views and opinions expressed herein are solely those of the author and do not represent, reflect or express the views of Opera News. Any/all written content and images displayed are provided by the blogger/author, appear herein as submitted by the blogger/author and are unedited by Opera News. Opera News does not consent to nor does it condone the posting of any content that violates the rights (including the copyrights) of any third party, nor content that may malign, inter alia, any religion, ethnic group, organization, gender, company, or individual. Opera News furthermore does not condone the use of our platform for the purposes encouraging/endorsing hate speech, violation of human rights and/or utterances of a defamatory nature. If the content contained herein violates any of your rights, including those of copyright, and/or violates any the above mentioned factors, you are requested to immediately notify us using via the following email address operanews-external(at)opera.com and/or report the article using the available reporting functionality built into our Platform See More