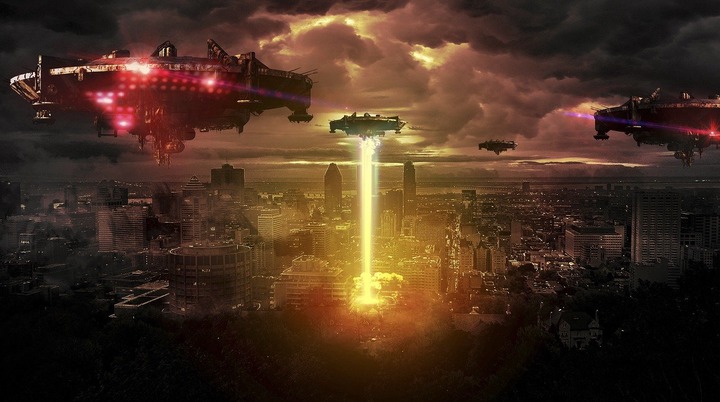 September 3, year 2050. The day Earth will never forgot. The day, of the invasion. Humans witnessed a war they thought could only happen in movies. But unlike the movies, we Lost. We called them the invaders. We couldn't communicate with them. They didn't seem to have a language, or even talked. Its almost like they communicated telepathically. Our bullets ricochet off their armor; our bombs only showered them with dust and debris. We couldn't stand a chance against their technology, their weapons, their ferociousness. By the time the dust had settled, we were conquered.
These were machines unlike anything we could ever imagine before. They had metallic body parts our weapons could not pierce, higher senses we couldn't fathom. Incredible speed and power unlike anything we have ever witnessed before. As we lost the war, Civilization was displaced; the power that rule all went into hiding. Everyone had to fend for them self. The young, old, sick, immobile, not all could make it.
It was only years later we discovered what they came for. It was something in us they wanted, not us as whole. Some called it our life force some said our soul. However, it didn't matter; it destroyed us in the process. Somehow, they used it to generate and refill their energy, energy strong enough to power well, anything! To them we were just batteries waiting to be drained out. Walking energy source! Those who were caught, were drained out completely, and then disposed of. . The ones who survived the draining gradually lost everything. Identity, emotions, memory, all gone. They became aggressive, unstable, and dangerous. Twenty years gone and they had wiped out more than fifty percent of life on earth, and humanity could do nothing.. The ones that survived the initial attack went into hiding, but they were gradually picked off, one by one, and they was nothing we could do to stop them.
On September 3, 2070. They all vanished. All the spaceships they came with, left. Suddenly there was no traced of them any were on the planet. Only damaged war ships and drones weren't taken back.
Humanity was left in shambles. Even though there were no invaders, the population still dwindled. Starvation, limited supplies, radiation.
 Years passed and only a few places were able to rebuild. Civilization was established, walls and buildings were raised. Nevertheless, the doors were shut. If you had nothing to offer from food to items of value, you were not allowed in.
Humanity did what was best, evolve and adapt. They established order, and started to rebuild. That is when the City Of Arcadius was developed. It divide itself into three sectors, the BASICS The few people deemed poor, usually refugees allowed into the gates, They were workers used for hard labor to provide food, means of clean water, and infrastructure. The military region SPARK. Which provided Arcadius with the military power needed to ensure law and order, and to protect the walls of the city. Then there is the NOBLES. The people responsible for ruling, and maintaining order.
On March 5, 2095, a discovery, which changed the course of humanity, was seen. The very first corpse of an Invader was discovered in a damaged spaceship. It was taken, and thoroughly studied. They were able to understand that their intelligence, Strength and abilities came from natural genetic modifications of their brain, ran by their machine parts. Samples were extracted and experiments began. Their aim was to obtain the genetic advancement of the invaders and fuse it to themselves . What better way to fight fire, than with fire. After a long trial and casualties, they were successful!
The achievement was revolutionary. They incorporated this technology into any portable implants and genetic enhancements and sold it to anyone who could afford to by it.
May 10, 2100, when I was born. My parents were Basic, so that made me a basic. They didn't care much, so I had to survive on my own. I was flat out broke, the only thing i had was nothing. So growing much was what you would call a tough childhood. Even from a young age, I was rebellious, always getting into fights, causing mischief where I could. When I was 16, I was arrested for beating up some Noble's kid who came to boss some basics around. I was taken to the commander of the district, turns out it was his son. now the ideal punishment is three days in a cell, but I had the option of a reduced sentence if i apologized to the noble. Instead I head-butted him when he got close and smirked at the soldiers. Now, THAT was EPIC!
The commander walked up to me and said it's been a while since he he'd seen any Basic show resistance like this.
"You have something boy, something that don't come around every day. Something that my Idiot son lacks. Take him to Sparks's district headquarters. He is to join the new 
Content created and supplied by: Wow-News (via Opera News )