WiFi is almost as basic a need as electricity – you tend to notice its existence when it's not working – and then panic sets in.
If you're stuck in such a situation, probably because the WiFi connection keeps dropping, no device can connect, or the network disappears entirely, you don't need to worry. There are several ways to fix these issues.
One of the quickest ways is to connect your computer to a mobile hotspot like your smartphone, and share the internet connection. This way, your phone acts as a router by creating a hotspot, though you'll be using your cellular data in the process.
While there are several dangers to tethering to a cell phone for internet access, sometimes you just urgently need to connect to the internet, which is where a mobile hotspot comes handy.
We're going to show you how to connect your computer to your smartphone's hotspot whether you're using an Android phone or an iPhone .
Your Android smartphone can be used as a WiFi hotspot thanks to the native WiFi data-sharing feature, and the connection shared wirelessly with several other devices including your computer.
You can also share your cellular data via Bluetooth or USB, but check with your mobile carrier before using your monthly data allotment as some limit or charge additional fees for tethering.
Note: The steps in this guide focus on a Samsung Galaxy S8 Plus on Android 9 (Pie). If you have a different phone, the processes and interfaces may differ depending on the device manufacturer.
Steps ::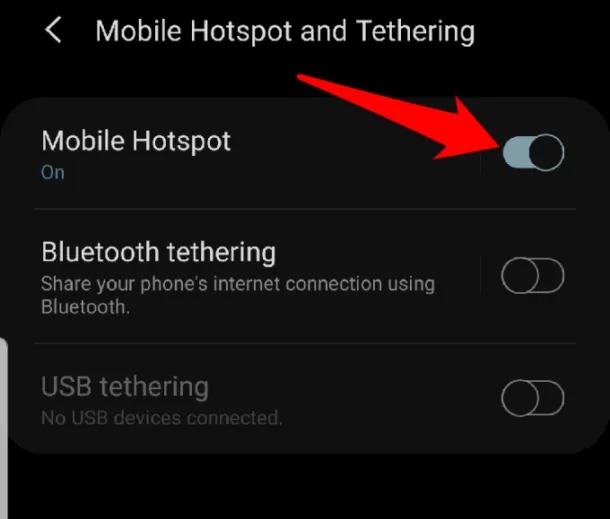 Turn on the WiFi hotspot by going to Settings and tap Connections.
Scroll down and tap Mobile Hotspot and Tethering.
On the next screen, tap the switch to the right of Mobile Hotspot to toggle it on.
If the switch is disabled, you need to turn off Data Saver to enable it. To do this, go back to the Connections screen and tap Data Usage.
Next, tap Data Saver and toggle the switch to turn it off if it's on.
Once again, tap Mobile Hotspot and Tethering and then toggle the Mobile Hotspot switch to on. Your phone is now a wireless access point, and you'll get a notification when the feature is activated.
You can now connect your computer as you would any other WiFi router to your Android phone's hotspot. Tap the Mobile Hotspot notification to get the hotspot name and view the password.
Note: Be selective about who you share your password with when using your phone as a mobile hotspot, mainly because the data processed uses up your mobile data allotment for the month.
If you want to change the password, tap Password and enter a new one.
Content created and supplied by: GreatWriter (via Opera News )