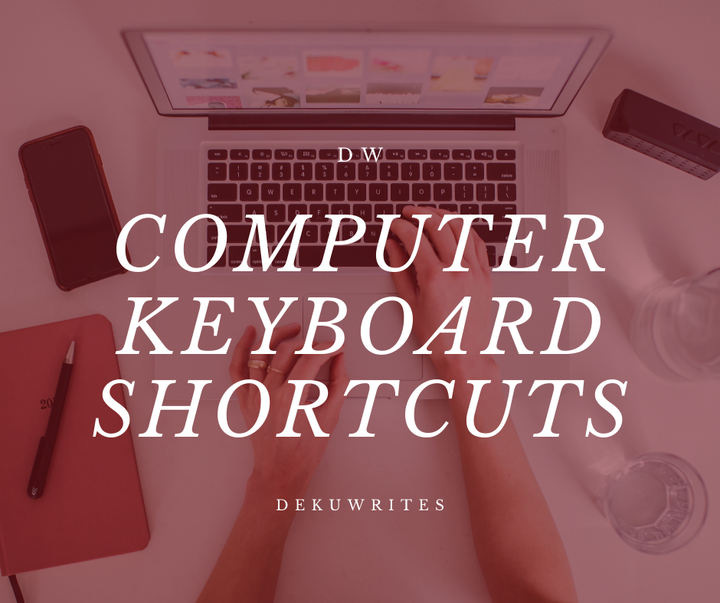 GENERAL KEYBOARD
Ctrl + C (or Ctrl + Insert). Copy the selected item
Ctrl + X. Cut the selected item
Ctrl + V (or shift +Insert). Paste the selected item item
Ctrl + Z. Undo an action
Ctrl + Y. Redo an action
Shift + Delete Delete the selected item
F2. Rename the selected item
Ctrl + Shift with an arrow key. Select a block of text.
Ctrl + A. Select all items in a document or window
Alt + Enter. Display properties for 5he selected item
Ctrl + Esc. Open the start menu
Esc. Cancel the current task
DIALOG BOX KEYBOARD
Tab Move forward
Enter. Replace clicking the mouse for many selected commands
WINDOWS LOGO KEYBOARD
Windows logo key. open or close the start menu
Ctrl +shift+ N. Create a new folder
Ctrl +Alt +spacebar. Preview the desktop in full screen mode
PAINT KEYBOARD SHORTCUTS
Ctrl + P. Print a documents in word or a picture
Ctrl +Z. Undo a change
Ctrl Y. Redo a change
Ctrl F4. Close a picture and it's paint window
Ctrl+ X. Cut a selection
Ctrl + C. Copy a selection from the clipboard
Ctrl +V. Paste a selection from clipboard
Esc. Cancel a selection.
WORD DOCUMENT
Ctrl +B. Bold selected text
Ctrl I. Italicize selected
Ctrl U. Underline selected text
Ctrl + N. Create a new document
Ctrl S. Save changed to a document
Ctrl + A. Select the entire document
Ctrl + P. Print a document


Content created and supplied by: DekuWrites (via Opera News )