Supercars is here once again not with top car models this time but with cars yet to be released on the market. Designing a car is not a very easy task that is why Apple has spent seven (7) years in designing one car. The fun fact is that the seven years is not even enough as Apple asks for another three to five years before the release of their first car. The car is believed to go with the design name " the project Titan" with the product name being" Apple Car" .
Apple Inc
Apple as an American multinational technology company has been in function since it was established on 1st April, 1976 in Cupertino, California in the United States of America. If you ask someone who is the founder of apple, the person only mentions Steve Jobs which is true but he was not the only person who founded the Apple Inc since it was founded by three people. He may be the brain behind it or the actual founder so let me just say apple was founded by Steve Jobs with the help of Steve Wozniak and Ronald Wayne. Tim Cook is the current CEO of the company. He resumed office on 24th August 2011.
Front view of apple car
Apple is noted for the developing and selling of consumer electronics, computer software and online services but this time it tries to change itself a little as it adds electric car to the list. There are a lot of Apple products on the market but notable products produced by iPhone, Apple Watch, Apple TV, iPad, Macintosh, iOS, macOS, iPod among others.
Apple CEO Tim Cook.
The Apple Car
The Apple electric car project is believed to be an electric car project undergoing research and development by Apple Inc. The Apple Electric car is also said to be a self driving vehicle as the company employed more than 5, 000 people to work on the project.
Alexander Hitzinger formerly of Porsche and now said to be working on Project Titan.
Out of the 5, 000 employees, a lot of people have been sacked, some have given up and more have been employed again. Apple has not openly talked about the rumored electric car but the project started in 2014 and it is scheduled to be completed in 2023/2024.
Back view of apple car
The Apple Car project has changed leadership several times and hundreds of employees have been laid off during the course of development.
Collection of apple cars
As I said earlier, apple has changed leadership multiple times and it is currently working with rehired Tesla engineer Doug Field in August 2018. The Car is scheduled to have lots of technology as it will not only be a self driving Electric car but it will also be fingerprint. What I am trying to say is that, the original version of the car would detect its driver via fingerprint and then drive them anywhere without the driver using any steer. How cool is that? .
Side view of apple car
Please let me ask you a question. How much do you think the Apple Self driving Electric car would cost? . I guess you couldn' t answer the question so let me change it. Have you ever heard of any apple product which is less expensive or cheap? . If you said no, then I guess you can assume how much the car would be.
Apple car
The price of the car is not yet known but the most expensive cars ever sold are the Bugatti La Voiture Noire at 18 million dollars and the Rolls- Rocye Sweptail at 13 million dollars.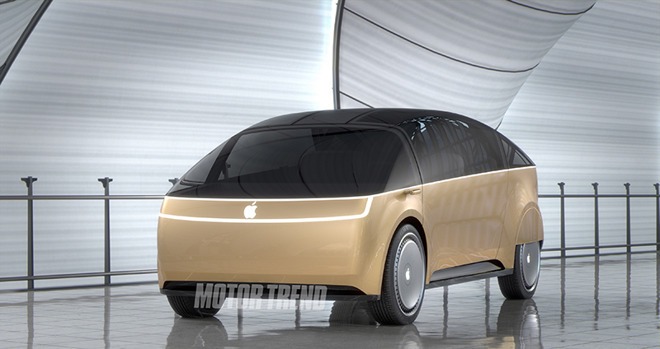 Concept car of the apple vehicle
These were also normal cars with technologies but the apple car has fingerprint, electric car and self driving so I guess you don' t expect it to cost anything less. It will be a big surprise if it cost less.
Let us know your thoughts in the comments section.
Content created and supplied by: Beautiful_Vero (via Opera News )