Scorpions are crab-like arachnids that feed on ground-dwelling arthropods and small lizards, which they grasp with a pair of frontal pinchers and paralyze by injecting venom from a stinger on the tip of the tail.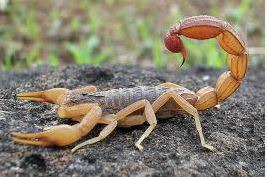 Painful but relatively harmless scorpion stings need to be distinguished from the potentially lethal envenomation's that are produced by about 30 of the 1000 known species and cause more than 5000 deaths worldwide each year. Scorpions feed at night and remain hidden during the day in crevices or burrows or under wood, loose bark, or rocks on the ground. They seek cool spots under buildings and often enter houses, where they get into shoes, clothing, or bedding or enter bath tubs and sinks in search of water. Scorpions sting human beings only when disturbed.
Prevention
 In scorpion-infested areas, shoes, clothing, bedding, and
towels should be shaken and inspected before being used. Removal of
wood, stones, and debris from yards and campsites eliminates hiding
places for scorpions, and household spraying of insecticides can deplete their source of food.
Content created and supplied by: Dnartgh (via Opera News )