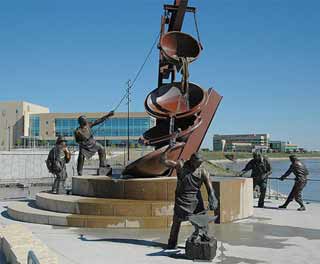 Labour in its generic term is the effort that people put in to contribute to the production of goods and services. Labour is part of the global resources which include the work done by the plumber who fixes our broken taps, the engineer who designed the bus that transports our kids to school, the teacher who imparts knowledge into the learners for a meaningful future and so on and so forth. 
Labour economics has become increasingly important to every endeavour of our economy and even more pressingly essential in this modern world. Among other things, labour economics is needed in the job market to make way for a better result-oriented organizational framework across the length and breadth of the business world.
There are so many significance of labour economics to human resource and the management of every institution who are interested in making progress and the required profits through targets set.
The following are the significance of labour economics to the management of my company;
First and foremost, every HR needs to have some sense of the cost of hiring and the level of appropriate pay to offer the right sort of people that the organization needs and those who are market driven to a large extent. For all what is needed, such as what competitors pay, and even as what they are intending to pay as hires become harder to find, they still become obliged to attract and sign on or less all who come along for a business rapport. These and more are relevant to me as a business owner so that when the economy capsizes, competent people could be found easily for the task ahead. How well one needs to understand labour economics and its related dynamism in detail depends on how far into the future my organization wants to plan or predict and whether we are entering new markets where the economics may be different towards our favour or whether the odds may be against us, etc.
Secondly, there is the need for the knowledge of labour economics as the owner of a business to help one ascertain the productivity level of all staff on my payroll. To really monitor how competent staff are and how committed they have been towards their expectant outputs on their respective jobs, one should be privy to the ins and outs of labour economics.
Also, the labour economics is important because it helps entrepreneurs and management alike to understand labour related problems such as issues on fair wage or salaries of long serving workers, welfare of workers and workers' safety, gender related matters. It is paramount for every single worker's wellbeing to be the worry of the paymasters whose main onus should be about how to make the workers comfortable in order for them to deliver at their very best all the time! This helps in projecting the organizational objectives all the time. 
Another point is job security/ satisfaction. Another importance of labour economics to management is the issue of job security and satisfaction. Job security as the probability that an individual will keep their job also directs management to take the right decision all the time. Under normal circumstances, a job with a high level of security is such that a person with the job would have a small chance of losing it and so he or she would do anything to keep the said job. Trade Unions and other labour related organizations for instance also strongly influence job security of its members. This and many other factors looked at under labour economics must direct the path of the management to do the right thing for the progress of their individual establishments. 
Furthermore, another importance of labour economics to management is viewed in providing data for economic planning and policy in the contribution of labour services to
people's income and other related services and/or benefits. There is evidence that in most
economies, labour input is the most essential of economic resources and serving as an overall key member of management and hooking unto these tenets better help in working things out for a better tomorrow.
Lastly, labour economics help management to understand nature of the
market in which labour services are bought and sold. In some economies like that of Ghana, since the informal labour sector is larger than that of the formal one, there is less possibility of chasing graduates to get results for available jobs as the hierarchical top-notch personnel since those with even no certificates can equally fill in for some technical jobs such as masonry, carpentry, fashion design (tailoring) and so forth. With this in mind and more, there is no need to have any serious hunt for graduates of certain calibre of personnel before some technical positions could be occupied and some tasks executed. Even though this isn't a research based narration, one reason why it could be seen as a probable idea is that of the former Founder of Unique Trust Bank. Dr. Kofi Amoateng, just after the collapse of his UT Bank for instance, had granted several interviews and vowed not to employ graduates with First Class certificates if he gets the chance to form another company. With this as a trending saga, it is quite clear that studying labour economies as a business owner could be the single most important facet of my managerial role which could help me to gather the needed workforce intelligence for the brighter organization tomorrow. 
In summary, labour is indispensable in the delivering of economic commodity and labour economics has come to stay since businesses need to study such dynamics to make an informed decision towards their progress.
Content created and supplied by: Ghanashowbiz (via Opera News )