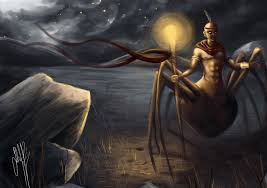 Once upon a time, there lived in a village a man called kwaku Ananse.. He lived with his wife, konole and their son ntikuma.
There was famine in the village so Ananse and his family decided to make a big farm. They worked all day day without rest.
However, Ananse did not work as hard as his wife and son. He often complained of being ill and stayed at home to smoke his pipe.
One day Ananse went to the farm and saw how everything has grown beautifully. The maize, vegetables and cocoyam has all matured. At that moment he thought of a secret plan.
Ananse went home singing an old festival song. Upon reaching home he called his son and wife to his bed room and said to them "I, Kwaku Ananse will not live forever. one day I will die and when that happens promise to do what am going to tell you"
When I die burry me in the center of our farm. Put the following in my coffin : a pot, a spoon,a knife, a laddle, a box of matches, a charcoal and kerosene. Add some salt, dried fish and palm oil.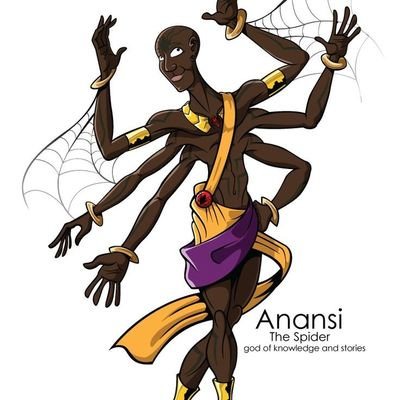 He lit his pipe and continued. "my last wish is that after you have put my coffin in the grave do not cover it with sand but leaves and flat wood. Do not forget to add my pipe"
He breathed deeply. "These things which am asking you to for me will help me find my way to heaven. I almost forgot one thing use a simple coffin and do not nail the lid." he concluded. His wife and son accepted his wish. They wondered what was wrong with Ananse.
The next day Ananse fell ill, he grew worse with each passing day. Finally at the end of the week he died. The whole village gave Ananse that befitting burial, all his wishes were fulfilled. After the burial his wife and son thought it was time to harvest the farm and enjoy the fruits of their labor.
Surprisingly, each morning, when they arrived on the farm, they noticed that someone has stolen some of their crops. This went on for sometime until they could no longer bear it. OKonole wondered, "ntikuma what can we do to stop the thief".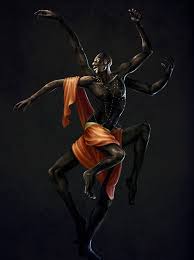 Ntikuma thought hard and offered a solution. "Let us make a gum Statue and place it in the center of the farm to frighten and possibly catch the thief"."it's a good idea said okonole".
The next morning the gum statue was made and placed at the center of the farm. Ananse woke up at midnight to continue what he has being doing for the past weeks since his burial in the farm. Which was stealing as much food as he could eat. He would make fire, cook and eat before morning with the items he was buried with. He could always eat to his satisfaction and smoke his pipe under the moonlight.
That night as soon as Ananse woke up he saw someone standing in a distance, what he thought was that since the farm belongs to his family he could challenge anyone who comes there at night. "who are you" he shouted and went a bit closer to frighten the intruder.
"what are you doing here" he yelled again but there was no answer. He got closer again and screamed. "If you do not answer me I will beat you severely". Again there was no answer. He got frustrated and slapped the gum statue with all his strength. His right hand got stuck so he threatened if you do not leave me I will slap you with my other hand, so he slapped with the left hand and both hands got glued to the statue. He then used his legs and head. He totally got stucked.Realizing that he was stucked, Ananse began to beg please let me go, I will give you anything you want in this farm. He was covered in sweat.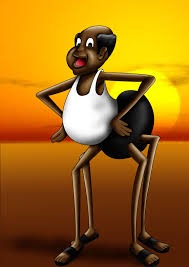 The next morning as the sun began to rise, his wife and son arrived on the farm. From a distance they saw someone glued to the gum statue. They run back to the village and informed everybody. When the villagers arrived on the farm they were surprised to find Ananse whom everyone believes was dead stucked to the gum statue.
The villagers jeered at him. As soon as he was freed Ananse ran as fast as his tiny legs could carry him and hide in the ceiling of a room. He has remained in the ceiling of rooms to this day.
Content created and supplied by: Eyooor (via Opera News )