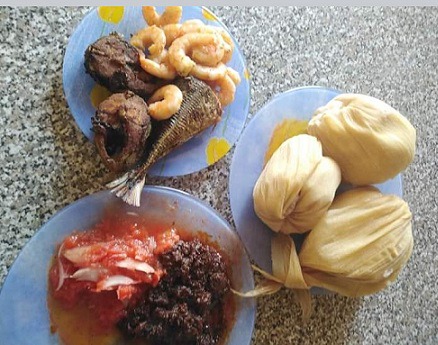 One of the most popular delicacies in Ghana is Kenkey.It is enjoyed by people all over the country irrespective of their age and gender. It is best enjoyed with fried fish and sourced pepper. Even though its preparation is tedious, many Ghanaians enjoy it so much because it is usually prepared and sold by vendors, not really a delicacy which can be prepared regularly for home consumption.
The Ga's, whose delicacy it is, call it 'otim' or 'kormi'.
The name 'kormi' however has an interesting story behind how it came into existence and be associated with the delicacy called 'otim'.
Prior to the advent of machines which could prepare the corn, the natives prepared the corn grain by grinding it between two stones or mill.
However, during the tenure of Brigadier General Gordon Guggisberg as governor of the Gold Coast in the 1920's, there was the introduction of the corn mill machine which was used in milling grains.
Many people however had difficulty with the corn mill machine and opted for the stone mill in preparing the corn for kenkey.
The name 'corn mill' became associated with kenkey prepared with the corn from the mill machine. The people's reference to 'corn mill' eventually turned to 'kormi'. That is how eventually, 'otim' also became known as 'kormi '.
Content created and supplied by: Megg_NewsGH (via Opera News )