In 2020, there were reportedly 2,095 billionaires on Earth, with an estimated total net worth of $8 trillion. Of this amount, the top 10 wealthiest people in the world account for $1,128.50 billion, or roughly 14.11%, which is impressive when you consider that they represent around 0.48% of billionaires.1 2 Below are the 10 individuals currently considered the wealthiest at the time of updating this article—Jan. 19, 2021—according to Bloomberg's Billionaires Index.
KEY TAKEAWAYS
Elon Musk is the CEO and co-founder of Tesla; CEO, leader designer, and founder of SpaceX; CEO and founder of Neuralink; and founder of The Boring Company. With an estimated net worth of $197 billion, he is the richest man in the world.
Jeff Bezos is the CEO and founder of Amazon, the world's largest retailer, and founder of Blue Origin. His estimated net worth is $182 billion.
Bill Gates is the co-founder of Microsoft, the largest software company in the world, and the co-chair of the Bill & Melinda Gates Foundation. His estimated net worth is $132 billion.
Bernard Arnault is the chairman and CEO of LVMH, the world's largest luxury goods business, and chairman of its holding company, Christian Dior SE. His estimated net worth is $109 billion.
Mark Zuckerberg is the CEO, chairman, and co-founder of Facebook, the world's largest social networking service, as well as co-CEO and co-founder of the Chan Zuckerberg Initiative. His estimated net worth is $95.6 billion.
1. Elon Musk
Age: 49
Residence: Austin, Texas4
Co-founder and CEO: Tesla (TSLA)4 5
Net Worth: $197 billion3
Tesla Ownership Stake: 20% ($141 billion)3
Other Assets: Space Exploration Technologies ($18.7 billion private asset)3
The current richest man in the world, Elon Musk has had his hands in several different companies over the years.2 Originally enrolled at Stanford University, Musk deferred his attendance to launch Zip2, one of the earliest online navigation services.4 6 A portion of the proceeds from this endeavor were then reinvested to create X.com, an online payment system that later became PayPal. While both of these systems were eventually sold to other companies, Musk has maintained his status as CEO and lead designer of his third project, Space Exploration Technologies (SpaceX), which aims to make space exploration more affordable.7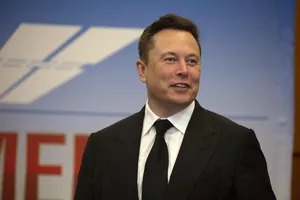 In 2004, Musk became a major funder of Tesla Motors (now Tesla), which led to him being retroactively declared a co-founder and his current position as CEO of the electric vehicle company.5 7 In addition to its line of electric automobiles—which include sedans, sport utility vehicles (SUVs), and the "Cybertruck" announced in 2019—Tesla also produces energy storage devices, automobile accessories, merchandise, and, through its acquisition of SolarCity in 2016, solar power systems.6 8 In 2020, Telsa's stock price experienced an astronomical surge, having risen 705% from the start of the year to mid-December.9 It joined the S&P 500 that same month, the largest company added thus far.10
Image courtesy Getty Images/Saul Martinez.
In 2016, Musk founded two more companies, Neuralink and The Boring Company, with him serving as the CEO of the former.6 11 12 Neuralink is developing brain-machine interface devices to help individuals suffering from paralysis and potentially allow users to mentally interact with their computers and mobile devices.13 The Boring Company, meanwhile, develops boring machines for the purpose of drilling tunnels for underground public transportation systems, which would mitigate traffic congestion in major cities.14 It also (briefly) sold a handheld flamethrower.15
2. Jeff Bezos
Age: 57
Residence: Seattle, Wash.17
Founder and CEO: Amazon (AMZN)17
Net Worth: $182 billion16
Amazon Ownership Stake: 11.1% ($165 billion)16
Other Assets: Blue Origin ($7.15 billion private asset) and $9.55 billion in cash16
In 1994, Jeff Bezos founded Amazon.com in a garage in Seattle, shortly after he resigned from the hedge fund giant D.E. Shaw.16 18 In fact, he had originally pitched the idea of an online bookstore to his former boss David E. Shaw, who wasn't interested.19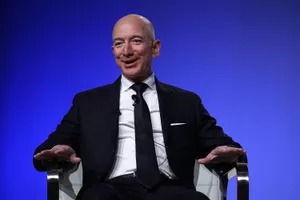 Though Amazon.com originally started out selling books, it has since morphed into a one-stop-shop for everything under the sun, and is arguably the world's largest retailer.18 At any rate, it is hard to dispute its self-description as the "earth's most customer-centric company."20 Its pattern of constant diversification is evident in some of its unexpected expansions, which include acquiring Whole Foods in 2017 and launching its own branded over-the-counter drugs in Feb. 2018.21 22 In 2020, Amazon's share price skyrocketed on the heightened demand for online shopping as lockdowns forced consumers to stay home.23
Jeff
Image courtesy Getty Images/Alex Wong.
Bezos originally took Amazon public in 1997 and went on to become the first man since Bill Gates in 1999 to achieve a net worth of more than $100 billion.24 25 Bezos's other projects include aerospace company Blue Origin; The Washington Post, which he purchased in 2013; and the 10,000-year clock, also known as the Long Now.16 26
3. Bill Gates
Age: 65
Residence: Medina, Wash.28
Co-Founder: Microsoft Corp. (MSFT)28
Net Worth: $132 billion27
Microsoft Ownership Stake: 1.3% ($22 billion)27
Other Assets: Cornerstone Building Brands equity ($11.3 billion public asset), Republic Services equity ($10.2 billion public asset), John Deere equity ($9.31 billion public asset), Ecolab equity ($6.47 billion public asset), Givaudan equity ($4.42 billion public asset), FEMSA equity ($2.11 billion public asset), Waste Management equity ($1.67 billion public asset), Berkshire Hathaway equity ($1.52 billion public asset), Diageo equity ($1.45 billion public asset), AutoNation equity ($1.37 billion public asset), Arch Capital Group equity ($1.20 billion public asset), Sika AG equity ($1.19 billion public asset), Signet Jewelers equity ($696 million public asset), Televisa equity ($260 million public asset), Vroom equity ($249 million public asset), Liberty Global equity ($216 million public asset), First Cobalt equity ($182 million public asset), Western Asset/Claymore Inflation-Linked Opportunities & Income Fund equity ($167 million public asset), Otter Tail Corporation equity ($145 million public asset), Coca-Cola FEMSA equity ($121 million public asset), Western Asset/Claymore Inflation-Linked Opportunities & Income Fund equity ($89.3 million public asset), Owens Corning equity ($38.8 million public asset), and $55.1 billion in cash27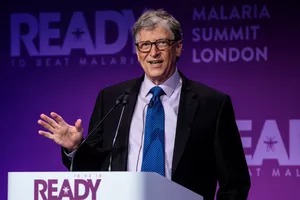 While attending Harvard University in 1975, Bill Gates went to work alongside his childhood friend Paul Allen to develop new software for the original microcomputers. Following this project's success, Gates dropped out of Harvard in his junior year and went on to found Microsoft with Allen.29
In addition to being the the largest software company in the world, Microsoft also produces its own line of personal computers, publishes books through Microsoft Press, provides email services through its Exchange server, and sells video game systems and associated peripheral devices.30 31 32 Originally Microsoft's chief software architect, Gates later transitioned to the role of the chairman in 2008. He had joined Berkshire Hathaway's board in 2004.33 34 He later stepped down from both boards on March 13, 2020.35 36
B
Image courtesy Getty Images/Jack Taylor.
In 2000, Gates' two philanthropic organizations—the William H. Gates Foundation and the Gates Learning Foundation—were merged to create the Bill & Melinda Gates Foundation, of which he and his wife, Melinda Gates, are co-chairs.33 Through the foundation, he has spent billions to fight polio and malaria.37 Additionally, he pledged $50 million in 2014 to help fight Ebola. In 2020, the foundation promised to spend $300 million to combat the COVID-19 pandemic.38 In 2010, alongside Warren Buffet, Bill and Melinda launched the Giving Pledge, a campaign encouraging rich individuals to commit to donating the majority of their wealth to philanthropic causes.39
4. Bernard Arnault
Age: 7140
Residence: Paris, France41
CEO and Chairman: LVMH (LVMUY)41
Net Worth: $109 billion40
Christian Dior Ownership Stake: 97.5% ($92.8 billion)40
Other Assets: Moelis & Company equity ($18.9 billion public asset), Hermès equity ($2.12 billion public asset), Carrefour equity ($1.30 billion public asset), and $4.50 billion in cash.
French national Bernard Arnault is the chairman and CEO of LVMH, the world's largest luxury goods company.40 41 This business owns some of the biggest brands on earth, including Louis Vuitton, Hennessey, Marc Jacobs, Sephora, and many more.42 The majority of his wealth, however, actually comes from his massive stake in Christian Dior SE, the holding company that controls 41.2% of LVMH.43 His shares in Christian Dior SE, plus an additional 6.2% in LVMH, are held through his family-owned holding company Group Arnault S.E.40 44
An engineer by training, Arnault's business chops became apparent while working for his father's construction firm, Ferret-Savinel, which he would take control of in 1971.44 He later converted Ferret-Savinel to a real estate company named Férinel Inc. in 1979.45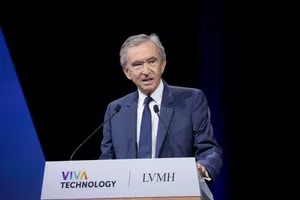 A
Image courtesy Getty/Christophe Morin.
Arnault remained Férinel's chairman for another six years, until he acquired and reorganized luxury goods maker Financière Agache in 1984, eventually selling all of its holdings other than Christian Dior and Le Bon Marché.46 He was invited to invest in LVMH in 1987 and became the majority shareholder, chairman of the board, and CEO of the company two years later.44
5. Mark Zuckerberg
Age: 3647
Residence: Palo Alto, Calif.48
Co-founder, CEO, and Chairman: Facebook48 49
Net Worth: $95.6 billion47
Facebook Ownership Stake: 13% ($92.5 billion)47
Other Assets: $2.88 billion in cash and $225 million in real estate47
Mark Zuckerberg first developed Facebook alongside fellow students Eduardo Saverin, Dustin Moskovitz, and Chris Hughes while attending Harvard University in 2004.49 As Facebook began to be used at other universities, Zuckerberg dropped out of Harvard to focus entirely on his growing business.47 50 Today, Zuckerberg is the CEO and chairman of Facebook, which had more than 2.7 billion monthly active users as of Q3 2020.51 52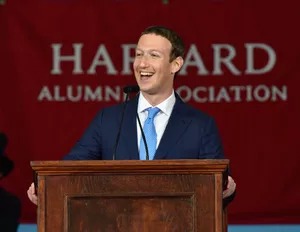 Facebook is the world's largest social networking service, enabling its users to create a personal profile, connect with friends and family, join or create groups, and much more. As the website is free to use, most of the company's revenue is generated through advertising.49 Facebook (the company) is also host to several other brands, including photo-sharing app Instagram, which it acquired in 2012; cross-platform mobile-messaging service WhatsApp and virtual-reality–headset producer Oculus, both acquired in 2014; Workplace, its enterprise-connectivity platform; Portal, its line of video-calling devices; and Novi, its digital wallet for the Diem payment system.53 54 55 56uckerberg and his wife, Priscilla Chan, founded the Chan Zuckerberg Initiative in 2015, with each of them serving as co-CEO. Their charity seeks to leverage technology in order to fix societal ills, such as improving the access and quality of education, reforming both the criminal justice system and the United States immigration system, improving housing affordability, and eventually eradicating all diseases.
Content created and supplied by: AmoahPaula (via Opera News )
Opera News is a free to use platform and the views and opinions expressed herein are solely those of the author and do not represent, reflect or express the views of Opera News. Any/all written content and images displayed are provided by the blogger/author, appear herein as submitted by the blogger/author and are unedited by Opera News. Opera News does not consent to nor does it condone the posting of any content that violates the rights (including the copyrights) of any third party, nor content that may malign, inter alia, any religion, ethnic group, organization, gender, company, or individual. Opera News furthermore does not condone the use of our platform for the purposes encouraging/endorsing hate speech, violation of human rights and/or utterances of a defamatory nature. If the content contained herein violates any of your rights, including those of copyright, and/or violates any the above mentioned factors, you are requested to immediately notify us using via the following email address operanews-external(at)opera.com and/or report the article using the available reporting functionality built into our Platform See More