Africa as a whole is a diverse world of itself with every inch of it full of different dialects, clothing,food and entertainment. Ghana is just like the others with unique and diverse culture spread on an area of 238,535 km2 .
But in all this diversity is the question of who owns the credit of kente Ashantis or Ewes ?. Historians maintain that kente cloth grew out of various weaving traditions that existed in West Africa prior to the formation of the Asante Kingdom. These techniques were appropriated through vast trade networks, as were materials such as French and Italian silk, which became increasingly desired in the 18th century and were combined with cotton and wool to make kente.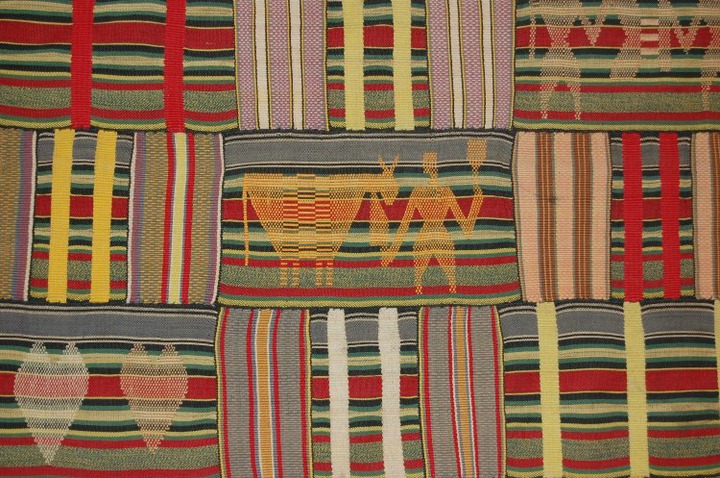 The sole root of the craft have multiple stories some wholly asserting the Ashanti's to be owners of the craftmanship. To them hunters in the kingdom went hunting one day and strangely had an encounter with the spider who was making it web. Been astonished by the act bargained with the spider and spent the whole night learning. They latter came home to spread it.
Far contrary story tell it to originate from La Cote d'ivore) formerly known as Ivory Coast. To them the Ashanti chief Osei Tutu I in 1697 selected members to go to the neighbouring country to learn the skills. Upon returning added their own unique style to it to make it what is globally known as the Ashanti kente.
Although none of the most popular stories points to the Ewe's but some believe with their talent in weaving originated the style which was latter adopted by the Ashanti's after conquering the Ewe kingdom.
Originally, the use of kente was reserved for Asante royalty and limited to special social and sacred functions. Even as production has increased and kente has become more accessible to those outside the royal court, it continues to be associated with wealth, high social status, and cultural sophistication. Kente is also found in Asante shrines to the deities, or abosom, as a mark of their spiritual power. Kente cloth is also worn by the Ewe people
Since the Ewe were not centralized, kente was not limited to use by royalty, though the cloth was still associated with prestige and special occasions. A greater variety in the patterns and functions exist in Ewe kente, and the symbolism of the patterns often has more to do with daily life than with social standing or wealth.
Content created and supplied by: Dihyab (via Opera News )