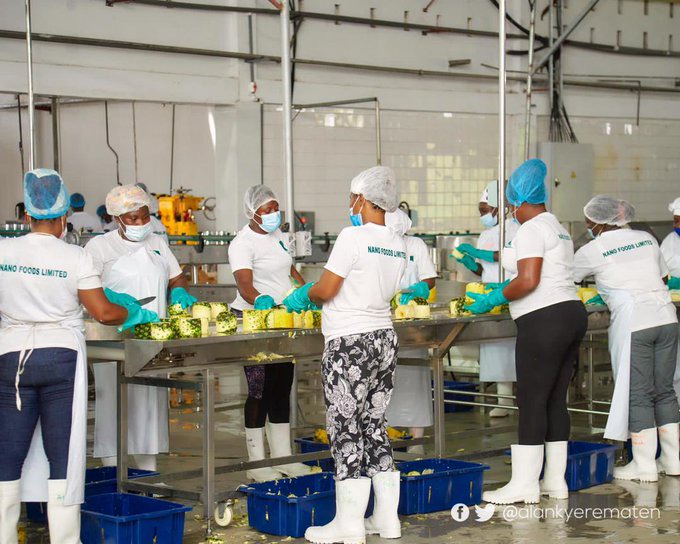 Covid-19 literally took all of the year 2020 for everyone. Nations were forced to their knees. Even the almighty United States witnessed her longest recess during the Covid. This is the reason why I have taken it upon myself to highlight the top twenty Post-Covid business ideas that should be considered for their numerous reasons in Ghana.
Below are a list of them.
20
Start up a groundnut paste processing plant.
It may be a big shot, but starting up a groundnut processing plant does not require so much of a capital. One can start at the comfort of their homes if they cannot afford a structure. One of the major machines needed is a good grinding machine. This business idea is found on the list because of the nature of peanut butter (groundnut paste) and how often Ghanaians eat it. It is used as the main ingredient for cooking groundnut soap and many a time spread on bread as a delicacy.
19
Venturing into organic fertiliser production.
The rush for organic food has increased for the past years in Ghana.It does not look like it will decrease soon.Organic farmers spend a lot of money in purchasing organic fertilisers, and more and more farmers are considering organic farming. Organic fertilisers are by products of animal excreta and vegetable compost. It may look like a stinking business to venture into but it is not so. One could get raw materials from farmers and process them. Most importantly, it requires less capital and a space to store the raw materials.
18
Starting an industrial cleaning agent.
Though it is majorly called industrial cleaning agent, but that is not entirely the use of Sodium Hydrochloride. CoasticSoda (Sodium Hydrochloride) can be used for the thickening of Ice cream, paper production, plastic wraps, paint stripper, chocolate, poultry scalding and soda. It can also be used for soap making and other washable materials like oven cleaning. This falls on number eighteen on the list because of its numerous usage.
17
Starting a Porta-Potty rental business.
Waste management in public gathering is a business to venture into but considering the fact that social gatherings are still on the limited edge, a porta-potty rental business is quite lucrative. The requirement of porta (portable) potty (toilet) in public gatherings is unending. All that is required is the procurement of modern portable modern ladies and gents, the proper marketing of it and strategic transportation and installation. This is a life long investment plan.
image source: Wikipedia
16
Starting a PET production.
As much as I do not want to include this to the list because of the environmental defects it causes. I am tempted to. Polyethylene terephthalate commonly called PET or PETE is used in numerous packaging materials for bottled drinks considering the hot environment. PET production just requires a machinist, which can be employed, a blower machine and some raw materials that can be imported. This falls to sixteen on the list because of its unending high demand.
15
Starting a metal/plastic scrap plant.
This has been the most expensive so far on my list because of its technicality, need for more staffs, heavy-duty machines, land, and so on. The profit, though, is quite higher than expected. This will need some planning and time to establish.
14
Owning a welding and fabrication workshop.
This may look a bit tricky, but one does not really have to know how to operate any welding machines to own one. It does not require much space if one can strategise. The business has unlimited opportunities, and it is also in high demand due to the longevity and durability of metals.
13
Cocoa production.
Many cocoa farmers in Ghana do not process cocoa. The majority of our finished cocoa goods are imported. It is a big shot, but worth while. Cocoa can be processed to chocolate (seeds), animal feed (cocoa husk/pod), Potash for fertilisers (burnt husk/pod), soap products from dried burnt potash (husk/pod), medicinal soft soaps, cocoa liquor (fermented cocoa seeds), cocoa butter to mention a few. Though, this production may need some strategic process to actualisation, but it is worthwhile and very lucrative. The government may also render a grant to any such company.
12
Investing in other people's dream jobs.
As awkward as it may sound, investing in startup businesses, business ideas or already established businesses is quite profitable and appreciable. Startup businesses may not have a choice other than striking a deal in other to acquire capital, but one should be meticulous and considerate so that the startup don't drop one off when they reach their dream height. I have set this at twelve because of the infinite opportunities in it and the long time plan it holds.
11
Maize Farming.
Ghanaians consume more of maize products than one could imagine. From snacks (popcorns) to table food (banku balls, kenkey etc.) to poultry feed are the unending demands for maize. Waste maize can also be used as organic fertilizers. Due to the climate change and relatively hot weather condition one may require a proper irrigating system before venturing into this business or just plant twice in the year.
10
Poultry Farming.
Quick money business that should be sorted out by all Ghanaians is poultry farming. The increasing desire for eggs (kosoa) by children and many a time adults is unending. Six weeks old cockerels and pullets are also desired as pets for many locals. The adult chicken is eaten as food. A poultry farm that can always be expanded is one of the most important things that is needed. Sophisticated machines are not at all needed.
9
Gold, Oil and Gas.
Owning ones own oil and gas firm (filling station) is something that may seem quite challenging but very profitable and lucrative. One does not really have to own one, many a times, but investing in an oil and gas industry is just as much as profitable as owning one. With the increasing demand for fuel and fuel related products in Ghana oil and gas has found its way to number nine on the list.Gold mining is quite lucrative too.
8
Transport services.
Taxis, Vans, and other motor vehicles for the road transportation is something that can never seize. We will soon be going to the normal life Pre-Covid era after the end of the vaccination process in Ghana. Investing in the transport business will be quite lucrative. If one can just afford to purchase one or two taxis for the road such a person should expect at least one hundred Ghana Cedis (GH₵ 100) per day returns. This business idea is as high as number eight because it leaves room for the running other businesses.
7
Food production.
Having a restaurant or catering business with local dishes in Ghanaian society has always been lucrative in Ghana. Investing in this kind of business is a safe ticket to day-to-day income and subsequent profits. The preservation of food is something a lot of Ghanaians don't like. Thus, management is key in this business idea so as to avoid running at a relative loss.
6
Vegetable farming.
Though, Ghanaians enjoy the African delicacy more than Foreign food. One should not forget that we use quite a handful of vegetables in the preparation of our own food.Vegetables like tomatoes, pepper, okra, cabbage, coco yam leaves(kotomire) and so on are some of the vegetables in high demand in the country. This can never change, because Ghanaians must eat.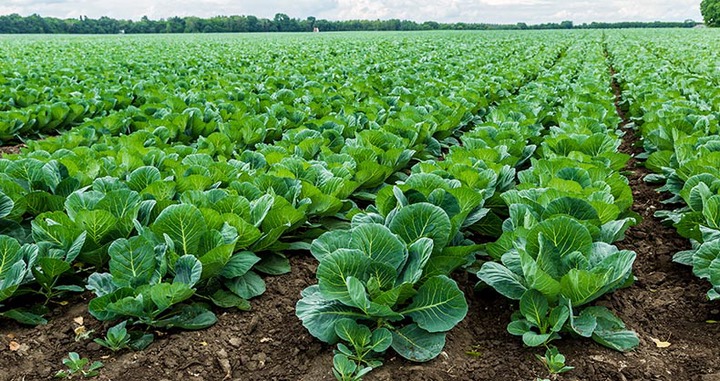 5
Microfinance and lending business.
Having a micro-finance and money lending institution in Ghana is quite lucrative. Bouncing back, many Ghanaians will require soft loans to keep their business going. Many Government workers too demand loans prior to their delayed salary payment. Seizing this opportunity is brilliant and also a means to help the citizens of Ghana.
4
Tourism.
The tourists sites in Ghana are quite many. Investing in the right tourist site is one thing to consider. Ghanaians will most likely want to pay a visit to the urban tourist's site and less likely visit the caves and mountain tops. These the locals are used to already. The foreigners on the other hand will want to visit the rural areas and ancient knowledge centres in Ghana not what they already have. In a long run, own would just relax and get paid from investing in tourism.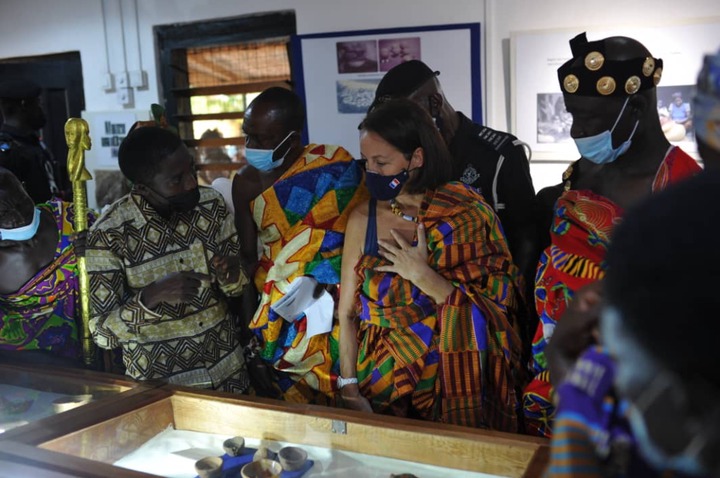 Image: Ambassor of France in our Tourist site.
3
Investing in Digital money.
This just requires stores at busy environment. A small kiosk could earn a minimum of two thousands (GH₵ 2 000) to three thousand (GH₵ 3 000) per month. It is popularly known as mobile money and the highest paid network is the MTN Mobile Money. This business requires not much capital to begin, but the returns are usually high relating to the location/ site.
2
Buying and selling
True. Good old buying and selling is the second on the list. Well, it depends on some factors to make a very good income from this kind of business. Having a relatively high starting capital can affect the business positively, a very good permanent site, a very good sense of marketing and a presentable receptionist are some of the things that can make the business boom.
1
Investing in ICT
This may not be what you will be expecting to see at the first on my list but, it really is. Are you not reading this from a gadget, be it a phone, laptop or desktop computer? Computers are every where now a days. One could make a living out of the repair of gadgets, selling of it or make a life earning from building mobile applications or computer software.
Content created and supplied by: NouvalDavid (via Opera News )
Opera News is a free to use platform and the views and opinions expressed herein are solely those of the author and do not represent, reflect or express the views of Opera News. Any/all written content and images displayed are provided by the blogger/author, appear herein as submitted by the blogger/author and are unedited by Opera News. Opera News does not consent to nor does it condone the posting of any content that violates the rights (including the copyrights) of any third party, nor content that may malign, inter alia, any religion, ethnic group, organization, gender, company, or individual. Opera News furthermore does not condone the use of our platform for the purposes encouraging/endorsing hate speech, violation of human rights and/or utterances of a defamatory nature. If the content contained herein violates any of your rights, including those of copyright, and/or violates any the above mentioned factors, you are requested to immediately notify us using via the following email address operanews-external(at)opera.com and/or report the article using the available reporting functionality built into our Platform See More