Ghana is so blessed with young people who are naturally innovative and talented. There have been series of marvelous innovative works by young Ghanaians especially in the area of technology. However, financial difficulties have been a major impediment for the development of their talents.
Recently, a young undergraduate student of the Takoradi Technical University by name Frank Darko have successfully built a floating bicycle that could be used to cross small streams when they are full. From the model of the bicycle, it is less costly and manually operated by paddling just like the normal bicycles.
This good news was share by Africa Story Live on their official Twitter page on 30th March, 2021. With two images of the bicycle, a short message read "Ghanaian student, Frank Darko built a floating bicycle. He is a student of Graphic Design at the Tarkoradi Technical University. He has designed a water cycle to help Ghanaian children living in villages throughout the Volta region. https://t.co/hZpBKhPuwL
From images shared about the bicycle, it would make movement across small streams and rivers easy for school children especially when they have to sometimes undress in trying to cross rivers on their way to school.
Reacting to the post, some Twitter users have expressed mixed reaction about the innovative work by the young student. While some are commending him for his great idea, others are questioning the safety of young people who would opt to use the floating bicycle. Others are also of the view that such innovative works could have gained some funding from government and some redevelopment done to make it better and safer. However, that is not the case in Ghana, they lamented. See below photos of the bicycle.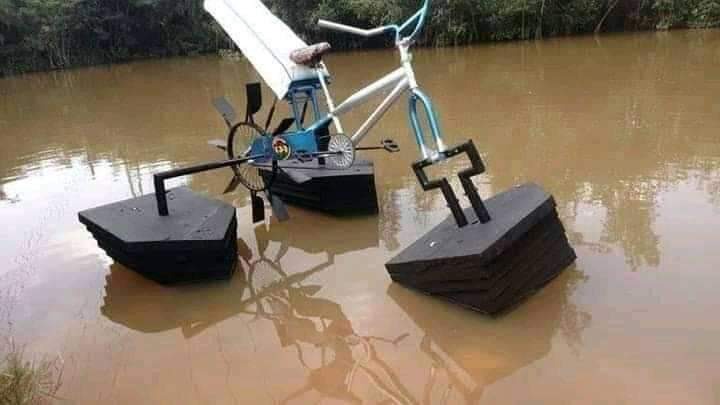 Content created and supplied by: PoliticalNewsRoom (via Opera News )