We came across this throwback picture of the celebrated Ghanaian lawyer, Tsatsu Tsikata.
It is known that he glided through school with relative ease. We also know, through his biography that he gained admission to Mfanstsipim school, a highly coveted and prestigious school at a very young age of 10.
The same can be said about his exploits at the University of Ghana where he entered at age 16 and was awarded a first class after pursuing his LLB. He won a scholarship to Oxford University where he earned his Masters in Civil law, again coming out with a first class.
But prior to that, a tender age of 9, he won a scholarship from United African Company (UAC), a scholarship scheme put in place by the firm for children of employees. At this point he was schooling at Accra New Town Experimental, where he had been jumped from year two to year three thereby catching up with his elder brother Fui Sokploi Tsikata. Interestingly, during the interview for the scholarship, Tsatsu placed second to his brother Fui, who came first. Both were awarded the scholarship and went ahead to Mfanstsipim School.
They appeared in a journal, which spoke highly of the then 9 year old Tsatsu as the youngest person ever to win the scholarship. He expressed great ambition even at that age, telling the panel of his dream to become a lawyer and subsequently a judge.
He obviously knew what he wanted in life from day one.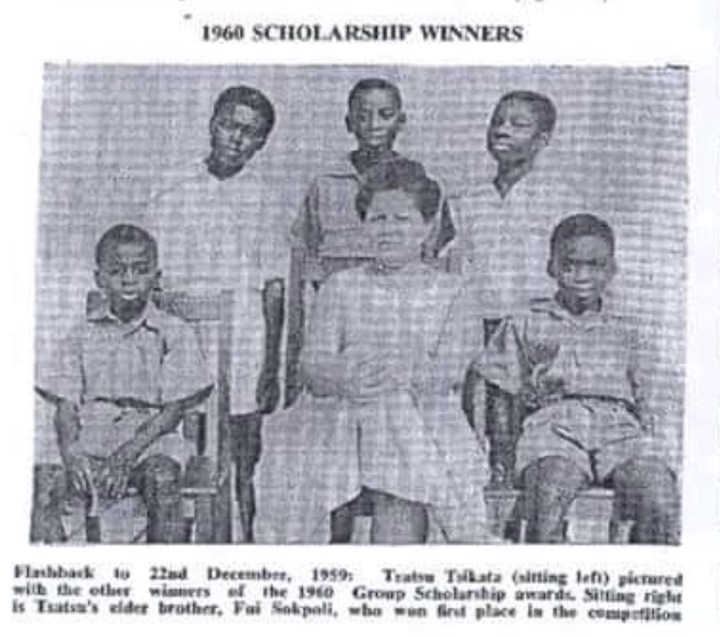 (Winners of The UAC Scholarship, seated on the left is 9-year old Tsatsu Tsikata. Fui, his elder brother is seated on the right)
Content created and supplied by: Fruit4taught (via Opera News )