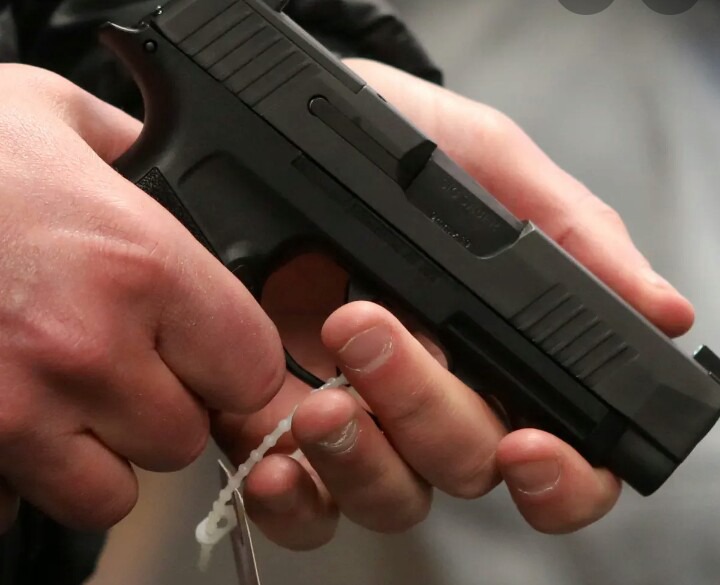 A beautiful chief executive officer (CEO), known as Augustina Abbey in Obuasi is shot to death at office.
Augustina Abbey was just an average student in senior high school. After completing high school in 2004, she worked for a private company for three years, from 2004 to 2007. In those three years, she went through private classes and again sat the examinations in two subjects that she needed to qualify her for polytechnic: Elective Maths and Physics. She passed the examinations and entered the polytechnic to study Mechanical Engineering.
After graduating with the Higher National Diploma (HND), she worked in the engineering department of a company for 3 years, thus, from 2009 to 2012. While working working for that company, Augustina Abbey took distance course in Mechanical Engineering. To qualify for B.Sc. degree in Mechanical Engineering, she took a post-HND degree course at the university. After the university degree, she returned to the company and worked for them for three more years, from 2013 to 2016. At the end of the three years, Augustina Abbey enrolled in a university overseas to study for a two-year master's degree, specializing in the repair of industrial machines.
At the age of thirty-eight, Augustina Abbey returned to Ghana and established a small business that repaired boilers and other heavy machines for industries. After three years, thus, from 2018 to 1 March, 2021, the business changed its status from private enterprise to a limited liability company with twelve investors, and with Augustina Abbey as the CEO. The company which is situated in Obuasi, and Augustina Abbey as the CEO, handles a lot of machinery repair work for many companies in Obuasi and Kumasi.
But the sad news is that, just today on 24 March, 2021, around 8:00am, Augustina Abbey was at her home when she had a call from her male secretary. She was told to be at her office as soon as possible. Augustina Abbey left for her office around 8:50am. When she got there, she was told by her male secretary that some guests from Dunkwa are at the reception waiting for her to discuss a certain matter. Augustina Abbey went to see them, and because she knew them, she immediately took them to her office to welcome them and discuss the matter.
Just about twenty minutes, the guests from Dunkwa came out from Augustina Abbey's office and seek from the secretary to leave. After they had gone, the secretary was waiting for the CEO to come out because, she has to go home. He waited for about fifty minutes but she never came out. "What has happened?" The secretary asked himself. "I have to check her office" He said.
The secretary in few minutes entered Augustina Abbey's office and found out that she is shot at her chest. He immediately called out for help, and all the workers rushed to the scene. They quickly took her to a nearby hospital but the doctor confirmed that she is dead.
After this, they called Augustina Abbey's family and informed them about the incident. As I speak, her family is on their way from Abuakwa to Obuasi to see their relative and to take her to the mortuary. But they have already made a police report about the crime
Content created and supplied by: Angela_Mensah (via Opera News )