There is a reason why people do not joke with the taking of pictures. As it is often said, photographs capture speeding moments and keep them still forever. They tell all kinds of stories, be it the ones we want to relish for the rest of our lives or the ones we want to quickly erase from our memories if we had the power to.
For most people, the memories photographs give us and their accompanying moods are reasons enough to always take shots especially doing special occasions.
There is also the bit about lessons they provide. Because they capture past moments and keep them still for almost forever, photographs are usually a great source of reference be it for academic purposes or for general life lessons. For instance, it is able to motivate young people to believe in themselves and their abilities, especially when they see old pictures of accomplished people in the society in all spheres of life.
They come to the realization and belief that, many people they consider as 'accomplished' in society grew up under circumstances which were similar to theirs or even dire than what they experience and hence gives them that nudge to push harder.
We chanced on an epic throwback picture of journalist, lawyer , MP and current Minister of Information, Hon. Kojo Oppong Nkrumah, during his days as a student of Pope John Senior High School in Koforidua. Taken in October, 2000, he is seen receiving an award from Dr. Ekow Spio-Garbrah who was a minister of state then. There are two teachers in the shot as well.
The award Mr. Oppong Nkrumah and his colleague took was for emerging as winners of a national debate competition . He was part of the Pope John team which won the competition.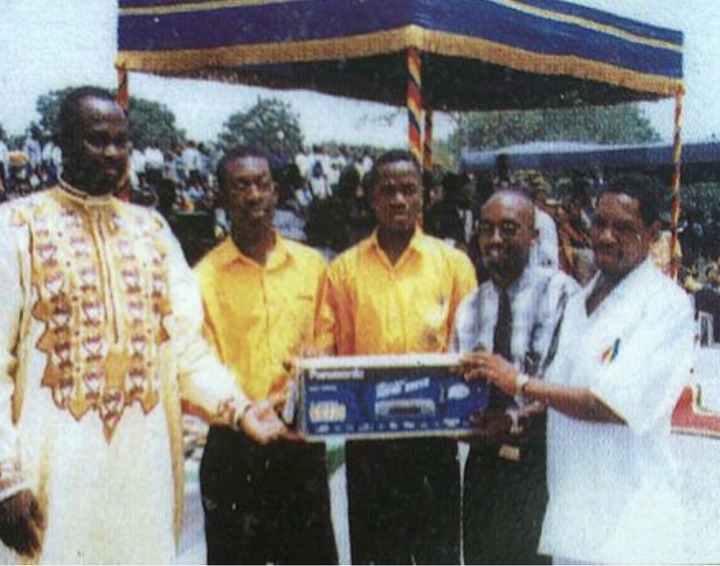 (Mr. Oppong Nkrumah (Second from left) receiving the award with his team member and teachers)
This probably gives an idea of where his communication skill developed from.
Content created and supplied by: Fruit4taught (via Opera News )