Many dreams and aspirations have been thrown out of the window of life and left to go waste, irrespective of the talents and gifts many people had. The accounting reasons vary. There are many people who abandoned goals they had dreamt of all their lives because the circumstances and the environment they found themselves did not help.
Many people put away their dreams due to dire financial challenges. For someone, they had to abandon ship because they had so many responsibilities as young people so much so that, it became impossible to pursue whatever dream they so much cherished.
Others May have their dreams cut shot because of health issues. Consider a talented footballer like Ali Jarrah, one of the most talented goalkeepers in his youthful days. He could not pursue a promising career in football because he developed a spinal problem which led to his early retirement.
Even though there are exceptions to this category of people, it is a little bit understandable because, there was close to nothing these people could do about their situation.
There is however a group of people whose pursuit of dreams came to an end because of the discouraging remarks they received from people who were most important in their lives. Some of the things said can so much cause serious damage, that not only do they cause people to abandon chasing their dreams, but they also make them give up on life. They are made to feel worthless and as such they see nothing good in themselves. Unfortunately, such spirit-dampening utterances come from influential people in their lives, like teachers and parents.
One young man however challenged himself and made sure whatever his teachers said about him never came to pass. He took those utterances as motivation to work hard to prove them wrong. He is a medical doctor now.
He stated in a tweet that some of his teachers, from junior high school through to medical school did not see him succeeding in all the fields he aspired to reach. He however remained focused to see his dream of becoming a doctor materialize. Considering how tough it is to get into and successfully complete medical school, we can only imagine the effort he had to put in.
He tweeted: "My JHS teacher told me I can't study Science in SHS but I did. My Chemistry teacher told me I can't get admission into Med. School but I did. My Anatomy teacher once told to me I can't complete Med. School but here I am. I (am a) proud DOCTOR. With God on your side anything is possible."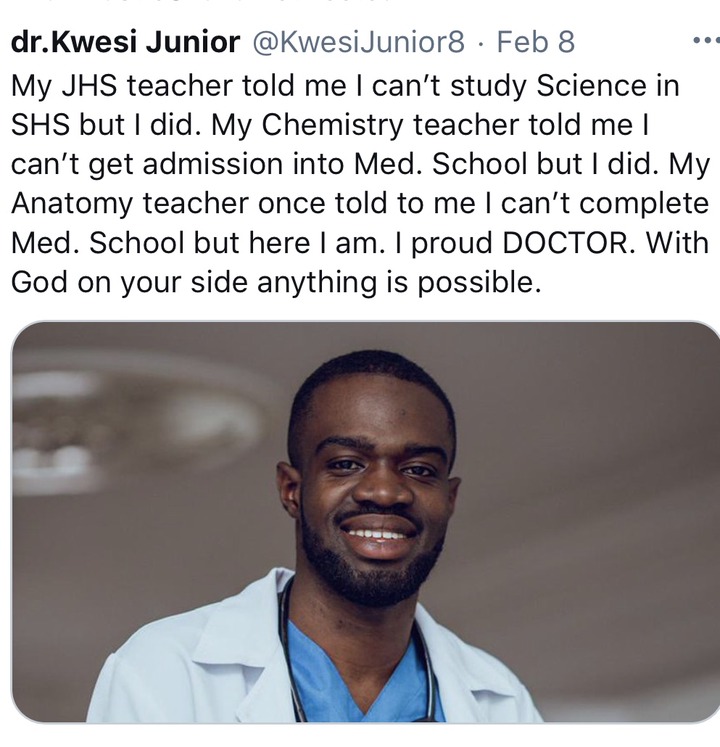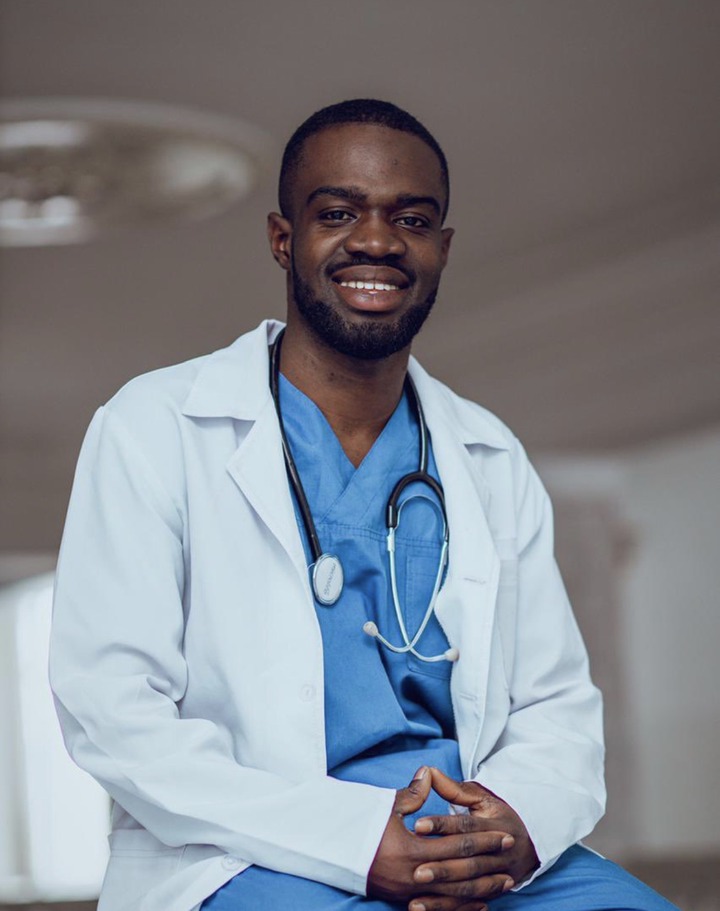 Lesson from this story: DO NOT LET ANYONE KILL YOUR SHINE, REMAIN FOCUSED.
Thank you very much for reading this post. Watch this space for more.
Content created and supplied by: Fruit4taught (via Opera News )