Covid-19: Students Takes Of Nose Masks After School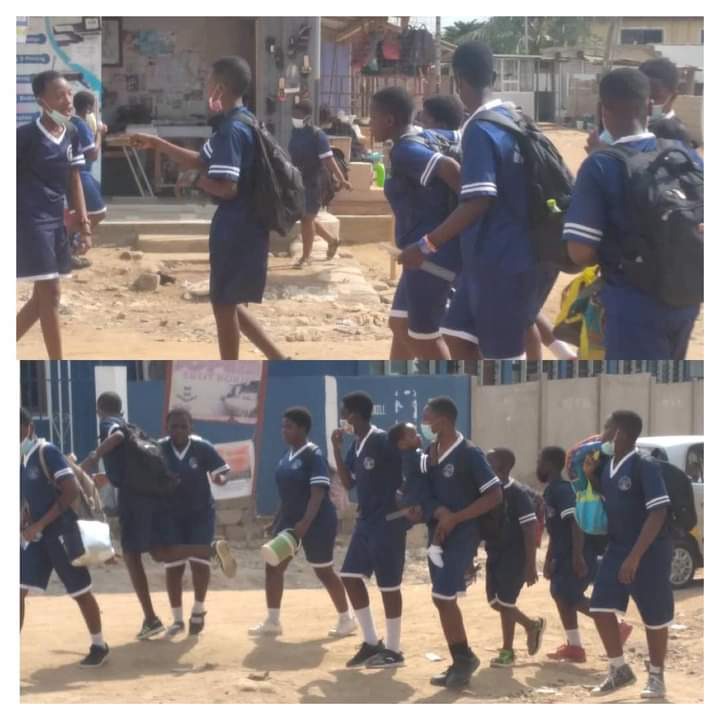 Some school children take off their nose masks after school closes around the Teshie area.
Majority of school children around Teshie have been spotted neglecting the wearing of nose masks as safety protocol in the spike of Covid-19. Most of them are without or with nose masks inappropriately worn while they play around on their way home after school.
Interacting with some parents, some shared their views while others expressed panic about the safety of these children.
Interacting with Akua Addo, she seems to have no problem with the children taking off their nose masks after school closes.
According to her, the children are very young and most likely naive. They cannot put on the nose masks the whole day so definitely they will take it off.
She said, "these are kids who spend almost half of the day in class wearing nose mask. They will find difficulty in breathing during these hours in class and the kind of activities they indulge themselves in, makes them worn out".
She added that, "they can take it off after all the COVID-19 doesn't affect kids".
Speaking to a waakye vendor, Maa Mary, she says, she has about 5 children in school, she panics anytime she goes to pick them up.
She said, "right from the school's gate to the main junction, it seems the children are "left to their fate". Seeing how scattered they are on the road exchanging nose masks, throwing nose masks away and some using it as dusters for their footwear, it is worrisome and it feels disheartened to continue allowing my kids go to the school".
She also added that, none of the school teachers are out there to direct the children and make them adhere to the protocols.
Since the presence of COVID-19, the wearing of nose masks has been one of the major protocols being used in Ghana and worldwide to fight the virus. Currently, the cases in Ghana keeps increasing and the President has urge every Ghanaian observe these protocols to help the fight against COVID-19.
Content created and supplied by: Togeh (via Opera News )