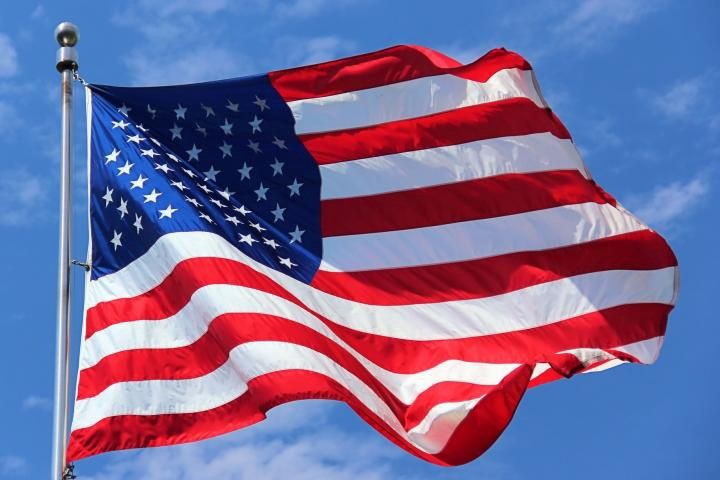 There are more than 4,000 accredited colleges and universities in the U.S. which enroll over 15 million students and grants over two million degrees a year.
Hawaii is the only state that is not geographically located in North America, is completely surrounded by water, and does not have a straight line in its state boundary.
Liberty Cap is a 40-foot (12-meter) cone of a dormant hot spring thought to be 2,500 years old and named by the Hayden Expedition in 1871 after the peaked hats worn during the French Revolution
North Dakota's state capitol is 242 feet high. It is the tallest building in North Dakota and the 3rd-tallest capitol in the country. The original capitol burned to the ground on December 28, 1930
Famous bush pilot Wiley Post and humorist Will Rogers crashed and died while landing at Barrow, Alaska, in 1935. The Barrow International Airport is named today the Wiley Post-Will Rogers International Airport after the two men
From September 1942 to September 1945, 7,926 American planes—fighters, bombers, and cargo—were ferried along the Alaskan/Siberian Ferry Route (ALSIB), which was an air ferry system supplying the Russians with American aircraft during World War II
The term "college" is from the Latin collegium meaning "community, society, guild" and, literally, "association of collegae". It was first used to describe an academic institution in the late fourteenth century in relation to Oxford and Cambridge
Oberlin College was the first college to grant degrees to women in 1841. It was also the first college to grant a bachelor's degree to an African-American woman in 1862
In 1987, North Dakota passed a bill making English the official state language
Admiralty Island, in the Alexander Archipelago, supports North America's largest concentration of grizzly bears. An estimated 6,000 grizzly bears inhabit the Alaskan island, outnumbering Admiralty's human inhabitants nearly three to one
Admiralty Island, in the Alexander Archipelago, supports North America's largest concentration of grizzly bears. An estimated 6,000 grizzly bears inhabit the Alaskan island, outnumbering Admiralty's human inhabitants nearly three to one
Hawaii is the only state in the nation that grows coffee, has tropical rainforests, and is made completely of islands
As late as 1940, fewer than 1 in 20 adults held a B.A. degree. From 1945-2000, the number of B.A degrees awarded annually rose almost eightfold, from 157,349 to approximately 1.2 million
Hawaii has its own time zone and does not observe Daylight Saving Time
Rhode Island, the smallest state in the US, could fit inside North Dakota 46 times
Approximately 2.94 million U.S. students graduate from more than 27,000 high schools each year, meaning each college applicant is competing against 27,000 valedictorians, 27,000 salutatorians, 27,000 student government presidents, and 27,000 editors-in-chief
On January 15, 1883, Henry Teller, then Secretary of the Interior, officially prohibited hunting within Yellowstone
The first visitors' presence in the Yellowstone area at least 11,000 years ago was suggested by the discovery of an obsidian projectile point at Gardiner, MT, near the north entrance to the park in 1959
In the spring of 1958, Dr. Edward Teller, a Hungarian-born physicist, spearheaded an effort by the AEC (Atomic Energy Commission) to set off a nuclear explosion to excavate a deep-water harbor between Nome and Barrow, Alaska. Project Chariot, also known as Project Plow Share, was abandoned due to concerns raised by the U.S. Environmental Committee
Approximately 90% of the world's recoverable helium is located in the ground under Amarillo, Texas
The 47-mile (76-km) road east from Mammoth to Tower-Roosevelt junction and beyond to the northeast entrance to Yellowstone is the only highway in Yellowstone open through the winter
In 1946, a consortium of like-minded Alaskan musicians looking for a musical outlet founded the state's first symphony orchestra, The Anchorage Symphony Orchestra
Yellowstone entrepreneurs George Henderson and Ole Anderson started and then perfected the one-of-a-kind curio business by using Mammoth Hot Springs to coat trinkets like pine cones and tin toys. These items were placed onto racks under the flowing water of Mammoth's most active terraces and removed a few days later coated in travertine. Anderson coated a wide variety of items, including vases, statues, and decorative horseshoes and sold them in his store known as the Specimen House. Eventually, the curio business was banned
The most popular tourist spot in North Dakota is the Wild West town of Medora, which was founded in 1883 by the Marquis de Mores, a French nobleman. According to the 2010 census, its population is 112 people
Originally established as the Alexander Archipelago Forest Reserving 1901, Tongass National Forest covers almost the entire southeastern Alaska panhandle, making it the largest national forest in the United States
A $60 million treasure of gold plundered by Coronado is believed to be buried on an 80-acre pasture at the Sems Ranch near Clyde, Texas
During 2008-2009, colleges were expected to award 731,000 associate's degrees, 1,603,000 bachelor's degrees, 649,000 master's degrees, and 61,7000 doctorate degrees
Hawaii became the first state in the union to legalize abortion on demand in 1970, three years before Roe v. Wade. (Colorado legalized abortion in 1967, but only in cases of rape or incest or to save the life of the mother.
The top three schools with the most males are United States Air Force Academy (82% male), California Maritime Academy (82.5% male), and Berklee College of Music (73% male)
John Colter, a member of the Lewis and Clark Expedition, was the first white man to see Yellowstone in 1807. He got permission to leave the group and, while looking for Indians to trade with, he passed through Yellowstone
Gambler Tex Rickard gained notoriety in the saloons of Circle City, Alaska, in 1895 at the age of 24. He later went on to build Madison Square Garden in New York City
In 2008, Alaskan governor Sarah Palin ran for vice president with presidential candidate John McCain. Elected in 2006, Palin was Alaska's youngest and first female governor
Cape Saint Wales in Alaska, the site of the Eskimo village of Wales (pop. 150), is mainland North America's farthest west point and is just 56 miles from Cape Dezhnev, mainland Asia's farthest east point
The phrase "Six Flags over Texas" refers to the six countries that ruled over Texas territory. The first flag belonged to Spain (1519-1821), the second was the royal banner of France (1685-1690), the third was the flag of Mexico (1821-1836), the fourth belonged to the Republic of Texas (1836-1845), the fifth was the flag of the United States (1845-1861 and 1865-present) and, upon secession, Texas replaced the U.S. flag with one for the Confederate States of America (1861-1865). The term "Six Flags" has been incorporated into theme parks (Six Flags), shopping malls, and other venues
The island of Maui was named after the demigod who taught Hawaiians to make fire, invented spears, and created a giant fishhook from his dead grandmother's jawbone. According to the legend, when he fished with the hook, he brought the Hawaiian Islands up from the sea
In 2008, the unemployment rate for high school graduates not enrolled in college was 26.7%, compared with 14.9% for graduates enrolled in (either two- or four-year) colleges
Harvard was named after Reverent Mr. John Harvard. The surname Harvard is cognate with Hereward, literally "army guard.'
Yellowstone's Old Faithful did at one time erupt at an average of every 60 minutes. Due to earthquake damage to its "plumbing" over the years, the geyser now "performs" every 88 minutes (+/- 10 minutes on average), with a minimum gap of just under an hour and a maximum gap of three hours
The "father" of Texas is Stephen Fuller Austin (1793-1836). He and his father helped move 300 American families ("The Old 300") to Texas
The March 27, 1964, Good Friday Great Alaska Earthquake—a mega-thrust earthquake measuring 9.2 on the Richter Scale—was the largest earthquake ever recorded on the North American continent and the second largest recorded by seismograph. It did $113 million in damage
In 1741, Danish explorer Vitus Bering, commanding the St. Peter, sailed southeast from Kamchatka, came up south of the Aleutians, passed Kodiak, and sighted Mt. St. Elias on the Alaskan mainland. Bering died from scurvy and was buried on what is now Alaska's Aleutian Islands
If a high school student is passionate about going to a particular school but doesn't have the grades, scores, or competitive credentials, he or she may try to apply with a major that is less popular or harder to fill
In June 1942, Fleet Admiral Isoroku Yamamoto, commander-in-chief of the Japanese navy, ordered a diversionary thrust at the Aleutian Islands, and Japanese carrier-based airplanes struck twice at Dutch Harbor, a large new U.S. naval base in Unalaska Bay. The Japanese also later attacked and briefly occupied Attu and Kiska Islands during WWII
Jane Long (1798-1880) has been called the "Mother of Texas" because of her bravery and the widely held belief that she gave birth to the "first white child" in Texas. However, by her own admission, she was not the first English woman to bear a child in Texas
Called "the Great Race of Mercy," the Iditarod Trail experienced a surge of glory in the winter of 1925-1926 when a relay team of 20 dog mushers rushed Diphtheria serum 674 miles from Nenana, Alaska, to Nome in 127½ hours, a record at the time
North Dakota has only one abortion clinic and has been rated as the worst state in the country for women
The world's largest hamburger was eaten in Rutland, North Dakota. It weighed 3,591 pounds and more than 8,000 people were invited to the meal
Hawaiians considered the shark (mano) a god and treated it with great respect
Gardner's Hole is the second oldest place-name in Yellowstone, having been named after a brutal, illiterate trapper named Johnson Gardner, who discovered the valley either in the fall of 1831 or the spring of 1832
Alaska is the only U.S. state to produce platinum. Half a million ounces have been placer mined from southwestern Alaska since the first platinum nugget was discovered there by an Eskimo named Walter Smith in 1926
Yellowstone covers 63 air miles (101 km) north to south and 54 air miles (84 km) east to west and is larger than Rhode Island and Delaware combined
The deadliest natural disaster in the U.S. was the Galveston hurricane of 1900, which killed between 8,000-12,000 people
U.S. colleges with the lowest acceptance rates, in order, are Curtis Institute of Music in Philadelphia, PA (4.0%); Jarvis Christian College in Hawkins, TX (4.5%); Rust College in Holly Springs, MS (7.6%); Juilliard in New York, NY (7.6%); and Harvard University in Cambridge, MA (7.9%)
Eagle Peak, with an elevation of 11,358 feet (3,462 m), is the highest point in Yellowstone
Most of the pasta in America is made from North Dakota durum wheat. Grand Forks holds a huge pasta party each year in honor of the crop
Hawaii is the only state to honor a monarch, celebrating King Kamehameha Day on June 11th since 1872. Kamehameha is known for uniting the Hawaiian Islands in 1810
The bowie knife is named after the Alamo hero Jim Bowie (1796-1836). His brother, Rezin, designed the hefty weapon
Juneau, Alaska, with over 3,000 square miles (192,000 acres) within its boundaries, has the largest area of any North American city. The North Slope Borough, at 88,000 square miles (5,632,000 acres), or slightly larger than Idaho, is the largest municipally governed entity in the world
The term "maverick" is derived from the name Samuel A. Maverick (1803-1870), an early Texas lawyer and pioneer
The first commercial flight in Alaska, from Fairbanks to Nome, occurred in 1927, two years after the dedication of the Alaska Railroad
The first Caucasian foreigner known to have died on the islands was William Watman, a member of Captain James Cook's gunnery crew who was killed by a paralytic stroke in January 1779 at Honaunau
There are more than 70,000 miles of highway in Texas, of which 40,985 are paved farm and ranch roads. Along Texas roads, there are more than a million signs and markers. Texas uses 1.6 million gallons of white and yellow paint each year to paint stripes along its highways
French Canadian explorer Pierre Gaultier de La Vérendrye led the first group of Europeans to explore what is now North Dakota
The number one country of origin of foreign college students in the United States is India, followed by China and South Korea
The first national fraternity was Sigma Phi (1827) at Hamilton College in Clinton, NY. It is the second oldest Greek fraternal society after Phi Beta Kappa
North Dakota has had several nicknames, including Flickertail State, Roughrider State, and Peace Garden State
It is said that only Texans would have fought the Battle of the Alamo, where Mexican troops far outnumbered the 187 men in the mission-turned-fort. All 187 men died
Yale was chartered in 1701 and was originally named the Collegiate School at New Haven. It was created by a group of Harvard alumni who were alarmed at their alma mater's decline in Puritan orthodoxy
U.S. colleges with the most transfer students are University of Phoenix online campus (35,515); Excelsior College in Albany, NY (16,541); Arizona State University in Tempe, AZ (5,446); University of South Florida in Tampa, FL (4,623); and University of Central Florida in Orlando, FL (4,455)
The "rotten egg" smell at Yellowstone's Mud Volcano comes from hydrogen sulfide gas. Sulfur, in the form of iron sulfide, gives the Yellowstone features their many shades of gray
Several members of the Harvard class of 1767 were sent home to be cured of "The Itch," the outcome of "associating with, countenancing, and encouraging one or more lewd women.'
The four remaining all-male, four-year colleges are Wabash College, Hampden-Sydney College, Morehouse College, and St. John's College
In the seventeenth century, Harvard created the Indian College to educate and Christianize Native Americans. It was disassembled in 1693
Nome, Alaska, was named when a cartographer marked its unnamed location on a map as "? Name" and a second cartographer misread it as "C. Nome.'
In 1790, the volcano Kilauea erupted on the Big Island of Hawaii, killing over 5,000 people and making it the most deadly volcanic eruption in the United States. Kilauea is one of the most active volcanoes in the world
North Dakota produces enough canola oil every year to fill the state capitol's 19-story tower 19 times
Yale has the second largest academic library in the nation, boasting 9.5 million volumes. Harvard's is the largest, with 13.6 million volumes
Yellowstone has the world's largest collection of geysers with approximately 10,000 thermal features and more than 300 geysers
Less than 1% of North Dakota is forest, the smallest amount of any state
Yellowstone National Park is also a designated World Heritage Site and designated Biosphere Reserve
Hawaii is 2,390 miles away from the nearest continent (North America) and is considered the most isolated population center on earth. Early in its history, seeds and plants were brought to the barren island by wind, water, and birds
After the popularity of the song "Luckenbach, Texas," so many road signs were stolen that the government stopped making them
Geologist Bob Christiansen uncovered with NASA high-altitude photos the ancient, massive Yellowstone caldera (created by an earth-shattering "super volcano" eruption 640,000 years ago), which spreads out 45 miles (72 km) by 30 miles (48 km), over half of Yellowstone's area
At Lincoln University in Oxford, Pennsylvania, students with a BMI (Body Mass Index) of 30 or higher are required to take a physical education class before they are allowed to graduate
At 28,000 square acres (44 square miles), Yellowstone is the largest intact temperate ecosystem in the world
Texas still owns all of its public lands. If the federal government wants to create a park or cut a stand of timber, it must first ask the state's permission
Ancient Hawaiians believed that the heavier a woman, especially a chieftess, the more beautiful she was
The 50th anniversary of the State of Alaska marked the end of an indigenous Alaskan Native language, Eyak, which became the first Native Alaskan language to lose all its speakers when Chief Marie Smith Jones died in January 2008
The first explorers to report on Yellowstone's marquee attraction, Old Faithful, were members of the Washburn Expedition who tramped into the Upper Geyser Basin on September 18, 1870. Henry Dana Washburn, leader of the group, named the geyser himself
In the 1960s, astronauts trained for moon voyages by walking on Mauna Loa's hardened lava fields, which resemble the surface of the moon
U.S. colleges with the most students in sororities are Clearwater Christian College in Clearwater, FL (100%); University of the South in Sewanee, TN (88%); Washington and Lee University in Lexington, VA (77%); DePauw University in Greencastle, IN (68%); and Wofford College in Spartanburg, SC (57%)
Early Christian missionaries to Hawaii (circa 1820) were shocked to find that Hawaiian mothers practiced infanticide if the babies were deformed or diseased or if there were already too many children. They were also shocked by the extreme displays of grief (such as knocking out their own teeth or tattooing their own tongues) after the death of a loved one
It's illegal to go dancing in Fargo with a hat on. It is even illegal to wear a hat at a party where other people are dancing. It is also illegal in North Dakota to take a nap with your shoes on. After 11 pm, it is illegal to set off fireworks at Devil's Lake in North Dakota
The smallest city in North Dakota is Maza, with a population of 5 people. North Dakota does not have towns or villages. Each place is officially a city, no matter how small it is
In the United States, there is little difference between the terms "college" and "university." However, the term "college" in other countries, such as Canada, refers to a junior college or trade college, where as a "university" is larger, more research focused, and usually contains multiple colleges
Texas is the largest petroleum-producing state in the U.S. and if it were an independent nation, it would rank as the world's 5th largest petroleum-producing nation. Only 34 of Texas' 254 counties have no known natural gas within their boundaries. However, no major wells have been discovered for a half-century or more
Secretary of State William H. Seward purchased Alaska on March 30, 1867, for the all-time bargain-basement price of $7,200,000 (2 cents an acre), and the American flag was hoisted over Sitka at the Baranof Castle on October 18, 1867
Yale selects a freshman class of 1,300 from nearly 20,000 applications each year
The first intercollegiate football game took place on November 6, 1869. Teams from Princeton and Rutgers met in New Brunswick, New York Each team had 25 players. Rutgers won 6-4
The popular T.V. series Lost is shot in Hawaii. At the end of the credits is a note thanking the "people of Hawaii and their Aloha Spirit.'
Texas was an independent nation from 1836 to 1845. When it was annexed in 1845, it retained the right to fly its flag at the same height as the national flag
The first college established for African-American students was the Ashmun Institute on April 29, 1854. It was named after Jehudi Ashmun (1794-1828) an American ,minister who helped establish Liberia. In 1866, Ashmun Institute was renamed Lincoln University
If one student has high grades but low test scores and another has low grades but high test cores, the first student is far more likely to get accepted into a better college. Colleges prefer the "bad test-taker" to students who don't apply themselves
Students often ask if it is better to get an A grade in a regular course or a B in an AP course. While an A in an AP course is important, grade average remains more important for college admission than the degree of challenge.
Oscar, the Academy Award statuette, was named for Texan Oscar Pierce, whose niece worked in Hollywood for the Academy of Motion Pictures Arts and Sciences. When she saw the gold statuette, she reportedly said, "Why, that looks just like my Uncle Oscar.'
The most popular snack foods in Texas are Frito pie (a bag of Fritos mixed with chili, onions, and cheese eaten straight from the bag), peanuts in Dr Pepper, beef jerky, jalapenos, and corn dogs
In 1995 the square dance became North Dakota's official American folk dance. Square dancing combines elements of various European dances, including the quadrille of France.
In 2009, the Delaware Attorney General's office charged University of Delaware fraternity Sigma Alpha Mu with hazing after Brett Griffin, 18, died after the fraternity allegedly pressured him into drinking excessive amounts of alcohol. Fraternity brothers did not call for medical assistance for hours.
Thanks for reading and follow for part two.
Content created and supplied by: Yondaclinznews.gh (via Opera News )
Opera News is a free to use platform and the views and opinions expressed herein are solely those of the author and do not represent, reflect or express the views of Opera News. Any/all written content and images displayed are provided by the blogger/author, appear herein as submitted by the blogger/author and are unedited by Opera News. Opera News does not consent to nor does it condone the posting of any content that violates the rights (including the copyrights) of any third party, nor content that may malign, inter alia, any religion, ethnic group, organization, gender, company, or individual. Opera News furthermore does not condone the use of our platform for the purposes encouraging/endorsing hate speech, violation of human rights and/or utterances of a defamatory nature. If the content contained herein violates any of your rights, including those of copyright, and/or violates any the above mentioned factors, you are requested to immediately notify us using via the following email address operanews-external(at)opera.com and/or report the article using the available reporting functionality built into our Platform See More