Prophet Nigel Gaisie has made a name for himself. Many associate him with political predictions that largely related to the NDC and Former President John Dramani Mahama. His most recent was that, the later will win the 2020 December elections, but as per official declaration by the constitutionally accepted institution that supervise the elections, it was his opponent, the incumbent President Nana Addo who retained victory to continue for another term of office. This results is been challenged at the nation's Supreme Court currently though.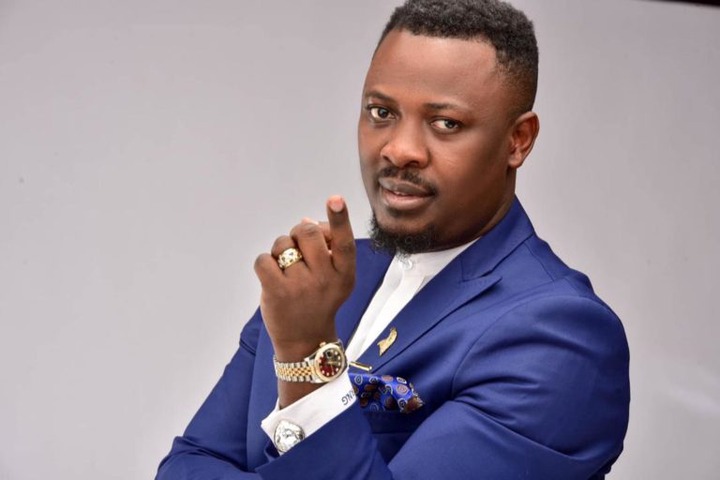 Prophet Nigel Gaisie is the Leader of the Prophetic Hill Church, formerly referred to as the True Word Prophetic Fire Ministries, TWPFM (Grace Chapel) Worldwide with its head office in Accra, Ghana.
He is a Major Prophetic, Word and Healing gift to the body of Christ with a Mosaic Mandate to impact the world and bring the body of Christ back to a place of prayer and restoration of divine destinies via Christ Jesus.
Nigel Gaisie has confessed severally about how his background was not nowhere near having a golden spoon, but by the grace of God, he has lifted him high to where he is now in life and ministry and is always grateful to God.
This post is to unveil another dimension of him you never knew. Nigel Gaisie is a born leader. I him known him personally for over a decade.
As early as first year at the Abuakwa Secondary School, Nigel was one of the few most decent guys on campus. Amongst we the students, we knew he will be our school prefect eventually because, he intentionally comported himself always.
He was particular about how he ironed his dress, how he presented himself and how to engage people in his class and dormitory. This he excelled at, asking him the envy of all persons who desired to be admired and respected. Something he attracted easily from even most teachers.
By the second year in the secondary School, Nigel was a pivotal part of the school's vibrant Scripture Union (SU). And by this time, the leaders were already grooming him to take over as president. He ministered with such power and taught the word of God with pure clarity at the Abusco SU meetings. Nigel was the guy you will fall in love with.
On a typical SU deliverance meeting, usually after classes on Friday around 3pm to 4pm and close just before school super time, you will see Nigel Gaisie with a decent white towel around his neck and in a white shirt with khaki trousers heading to the classroom we met with a bottle of anointing oil.
At this scene, everyone was excited because, power from heaven will fall and lives will be liberated. We saw it all, prophecies, healing, testimonies and the main part, pure deliverance. As at a shout, you will hear mostly the girls being slain in the power of the Holy Ghost and screaming.
He will go to those specific people and minister powerfully to them. H will be shouting, sweating profusely and all, till the program ends. All these happened after he has shred a powerful word from the word of God.
Nigel has this humility around him at that time, he will still carry his plate and head to the dining hall with us all from the halls, when the bell sounds for supper. He was really not the person the bad boys on campus ever liked though. The reasons we could infer and understand,
Soon, it was time for or elections for the students representative council and that was Nigel right there showing interest. It came as a surprise for many as he was tipped to become the SU President, but had ditched that, to become the SRC President. I was personally aspiring for the position of an Assistant Library Prefect and I knew Nigel was going to get my vote in the keenly contested elections.
Eventually Nigel was declared the winner. Nigel's tenure was marked by a level of discipline, never witnessed before. He ensured this always. I recall how at SRC meetings, Nigel Gaisie will conduct the meetings with such assertiveness, candor and excellence.
What's the point so far, for everyone who knew Nigel at those early years of his life, we all knew he was destined to be great and hence, where he is now, and considered part of a few men of God who people can boast of, as being a part of a group of national prophets doesn't come as a surprise at all.
Fast forward, I had gotten admission to study for a Bachelor's Degree in Arts in the University of Ghana in 2007, after I had spent the last three years at the Offinso Teacher Training College, only to meet Nigel Gaisie on campus and undergoing his academic registration as a level 200 student as well.
I was surprised to have met him and someway somehow, due to the loads of respect I have for him, I even felt shy relating to him.
Then it dawned on me, this is an opportunity to get to know him better and learn from him, the many skills set in leadership, public speaking, politics, ministering to Gods people and all and that was exactly the decision I took.
In a seeming good way, the University of Ghana had a policy on residency that gave premium attention rather to first year students in what was called the in-out-out-in policy. To cut it short, Nigel Gaisie approached me confidently and proposed that, I allow him to perch me for the semester at a fee. Something I easily obliged, as he promised to pay me half of my residential fees, even add some more and also buy food from the Mensah Sarbah Hall restaurant for us to enjoy sometimes when we are both free from attending lectures. TO BE CONTINUED!
Content created and supplied by: TommyO'Dell (via Opera News )