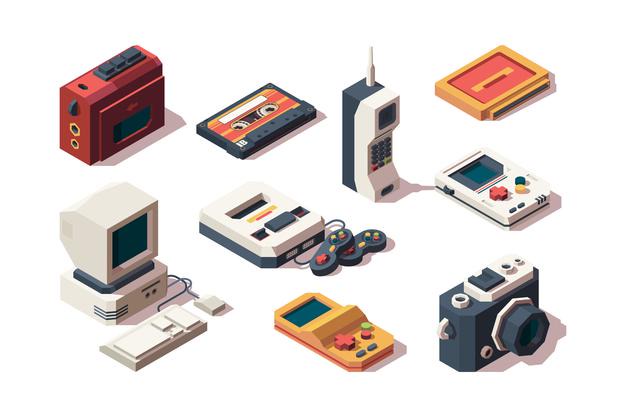 It takes time or there is lag in time when a new technology finally become generally accepted, used or commonplace in society.
Different industries and sectors have their own lag time or period. Some industries, especially the financial are good at accepting or adapting new technology. It's expected because their industry is the most dynamic, affected and impacted by technology. Take block chain, cryptocurrency, e-banking, mobile technology, digital communication and transactions all impact them. Also, financial institutions are well regulated and have the best brains (skilled and talented) and educated workforce. They attract the best because of good incentives, in spite of high demands, targets and expectations from their workforce.
Unfortunately, educational sector which is at the forefront of technological breakthroughs, research and innovations are the least adaptable to technology, just like the construction sector.
In some sectors, the lag time or shift time is days and months. They obey the Moore's law of information technology. In some sectors or societies, it takes years or generations for new technology to become commonplace.
What does it take for societies or industries to make such transition? It requires many things for such a transition to take place. Some include age, knowledge, skills, infrastructure, old or dominant players, culture ( societal, industry or organizational), attitudes, beliefs, misinformation, education and the technology itself can be its own enemy. Also, change itself is uncomfortable, dreaded and associated with huge anxiety and losses for some. People may lose jobs and their livelihood support.
In developing countries like Africa, religious beliefs and attitudes (antagonistic), illiteracy, ignorance and others help to fuel conspiracy theories easily.
The fertile ground for conspiracies, religious indoctrination, misinformation and antagonistic attitudes to new things is uneducated mind. Not illiterate nor unintelligent, but uneducated mind. Uneducated by schools, religion, culture and society against the greater good of themselves or society in general. Such people are fearful and doubtful of technology and other people of different race, tribes, ethnicity or diversity without concrete and sound reasons, scientific evidence and research. Such a description fit myself, society, nation and continent. Hence, we are the last to accept and benefit from every new technology and things. Iam not advocating for blind acceptance or adoption of new things or technology, in the name of supposedly their benefits to society without their costs and impact on good cultural and religious values and norms. What we need is intellectual, intelligent, open minded and unconcluded discussions taking into considerations arguments for and against. What we want is democratic debate with respect for one another and dissenting views, not religious and cultural stands taken against new things. Because religious beliefs differ and the dominant ones think they are the only beliefs, forgetting the minority . Culture is both dynamic and static as well. Cultures change and have been changing in every nation of the world.
What we need in technological transitions is skills training (upskilling or reskilling) and minimizing the adverse distributive effects. It's not a fight, but thinking and training the mind to be ready and able to utilize such technology and to formulate policies that help and reduce negative effects or impacts on society. You can't fight change and technology, because they are driven by the needs of society and times of living. Technology also drives changes. We fight technology and change at our own peril and existence. We can't ignore change and technology happening at the rest of the world as Africans, striving to become developed.
What we need is to create the environment for thinking about technology, to develop infrastructure for technology, to empower the youth to be at the forefront of technology and to change culture and minds where necessary for acceptance of new technology.
Forward ever, backward never. The stone age is past and gone. The age of huge computers as big as storey building is gone, the new era is smart-phones computers. Nkrumah is dead and gone, the new era is Nana Addo and John Mahama.
Forward thinking minds rule the world. Coronavirus virus is real and is being fought with Science and technology. Yes, indeed old habits die hard.
In times of change learners inherit the earth, while the learned find themselves beautifully equipped to deal with a world that no longer exists – Eric Hoffer
It is not the strongest of nor the most intelligent of species that survives, but the one most adaptable to change – Charles Darwin
Content created and supplied by: ProfDan (via Opera News )