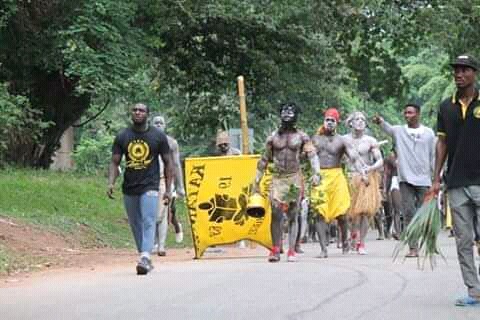 In 2006, there was asthmatic student who was in Katanga hall, he was sent to Knust hospital by three katangees. On reaching there, the nurses on duty refused to attend to the asthmatic student because they failed to bring his student ID.
Unfortunately, the asthmatic student died. The three katangess then went to the hall and reported the unfortunate incident to the Traditional council of Katanga hall. Immediately the Traditional council and a number of Katangees marched to the hospital. When they reached there, they started beating the health workers and destroyed properties at the hospital. Infact, they didn't spared an ant, they discipline them.
The Traditional Council of Katanga and the other Katangees then marched to the office of the Dean of student and reported the incident to him. They gave him 24hr ultimatum to report back to them else things will escalate.
However, the next morning, the authorities of the school went to Katanga hall and had a meeting with the leaders of the hall and the Traditional Council. The Traditional Council then gave the school authorities 3 months to build a clinic for the students since they don't want to be sharing KNUST hospital with the public.
This is how Katangees caused reforms in the university.
Content created and supplied by: EsinamWorld (via Opera News )