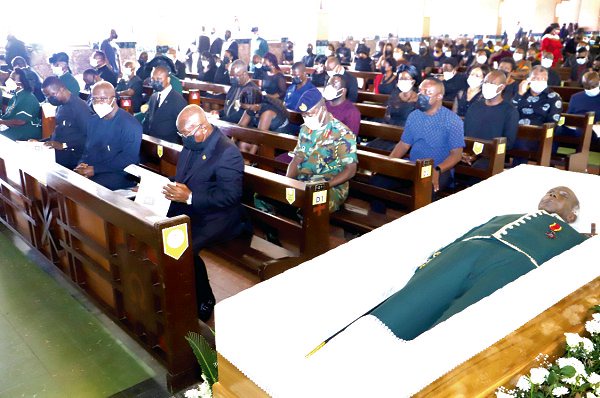 Today March 2021 the University of Ghana (Legon) formal Vice-Chancellor Professor, Emeritus George Kwabena Effah Benneh is laid to rest, in his Hometown at Akrofro near Berekum in the Bono Region.
He died on 11th February 2021 in his residence in Accra East.
The wife, children, grandchildren, great-grandchildren, and all the family members tribute to eulogize the professor.
Death inevitable, it is a phase in life everyone will undergo at some point in life. The gap left behind by our loved ones is usually difficult to be filled but we have to let them rest in perfect peace.
Little Biography of the Prof. Benneh
Professor Benneh was born on 6th March 1934 at Berekum, and the firstborn among four children.
He is an old student of Achimota Senior High School and furthers his education at the University of Ghana Legon in 1954. He had a scholarship from Shell Ghana Independence Scholarship for Tertiary students.
After his degree programme the Mr. Benneh traveled to London where he obtained a Ph.D. at the London School of Economics.
He taught Geography at the Achimota Senior High School In 1961 and also became a lecturer in the Department of Geography at the University of Ghana Legon. He became a full professor in 1989.
The Professor has done really well by serving his nation.
May his soul rest in peace.
Content created and supplied by: ReadForMe (via Opera News )