In today's Supreme Court petition lawyer Tsatsu Tsikata tries to convince the Judges as to why it is so important for Madam Jean Nana Adukwei Mensa to be Cross-examined.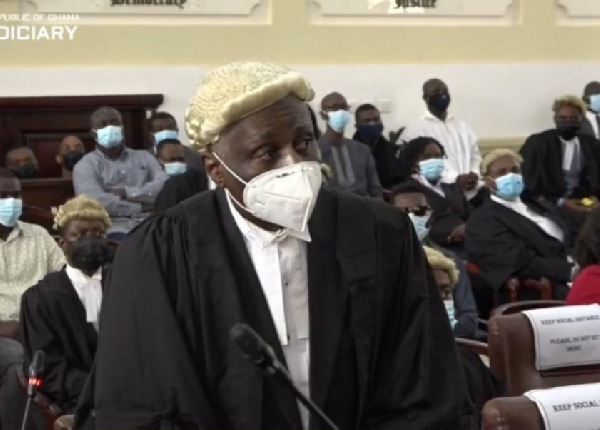 Tsatsu: And the lordship's reverse an order of a single justice and in reversing that order, the lordship's made reference to the terms of this evidence Act and Justice Gbedegbe who's decision was agreed to by the other lordships had this to say at page 539, " by the operations of the effect of the deposition made in the application before the high court. The applicant, that is the respondent bank of Ghana is coat by section 26 of the Evidence Act which is commonly referred to as a staple by own statement of conduct as provided for NRCD 323.
Tsatsu Tsilata: Since the said paragraph 6 and 7 gives rise to a conclusive presumption within the scope of section 24 (1) of the Evidence Act 1975 NRCD323, the court which held the application for leave to adduce further evidence, ought to have come to the conclusion that, the fact in respect to which leave was sort for evidence around to led in the appeal had long been available to the applicant bank of Ghana since the making of the application to set aside before judgement in the matter 18 July 2012. And then Justice Gbadegbe proceeds to coat section 24 and then says further in a view as an application to the trial coat, most before that, makes the Supreme Court obtain leave to adduce evidence".
Tsatsu Tsikata: The inconsistency between the two depositions must adversely affect the credit replace on the subsequent depositions.
Tsatsu: So, my lords, the point am making respectfully is that, in this decision of the Supreme Court, your lordships determined that statement in an affidavit that has been filled in respect of this proceedings, establish a conclusive presumption which could not justify exercising a description to grand leave to adduce evidence.
Tsikata: Now, in this case, we were saying by priority of reasoning that we have a situation where the chairperson of the first respondent has in an affidavit made clear that, the petitioner will in no way be prejudice because the question the petitioner sort to have in his interrogative could be the subject matter of cross-examination.
Content created and supplied by: Glasss (via Opera News )