GES.
Click on the (+)follow button for more news.
As it was told earlier by the Director-General of the Ghana Education Service Prof. Kwasi Opoku-Amankwa, that the Computerized School Selection and Placement System (CSSPS) portal is to be opened today. 
Here is how to check your placement On Phone, Online Through Mobile Money according to the Ghana Education Service (GES). 
These procedures would assist you to access the CSSPS portal for your placement.
NOTE: THIE IS NOT AN ADVERTISEMENT OF ANY KIND OR WHATSOEVER, RATHER GUIDELINES THAT WE HAVE COLLECTED THROUGH RESEARCH TO ASSIST YOU.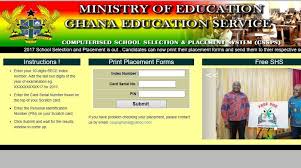 1. First visit the CSSPS result checker online at https://www.cssps.org or cssps.gov.gh
2. Buy the placement checker by selecting buy voucher option on the CSSPS to buy the Placement Checker card through MTN Mobile Money at a cost of GH¢5.00 or you can buy the code before starting the first procedure and that is by dialing *447*160#.
3. After buying the CSSPS SHS placement Checker, click the check Placement Option on the CSSPS portal and wait a while.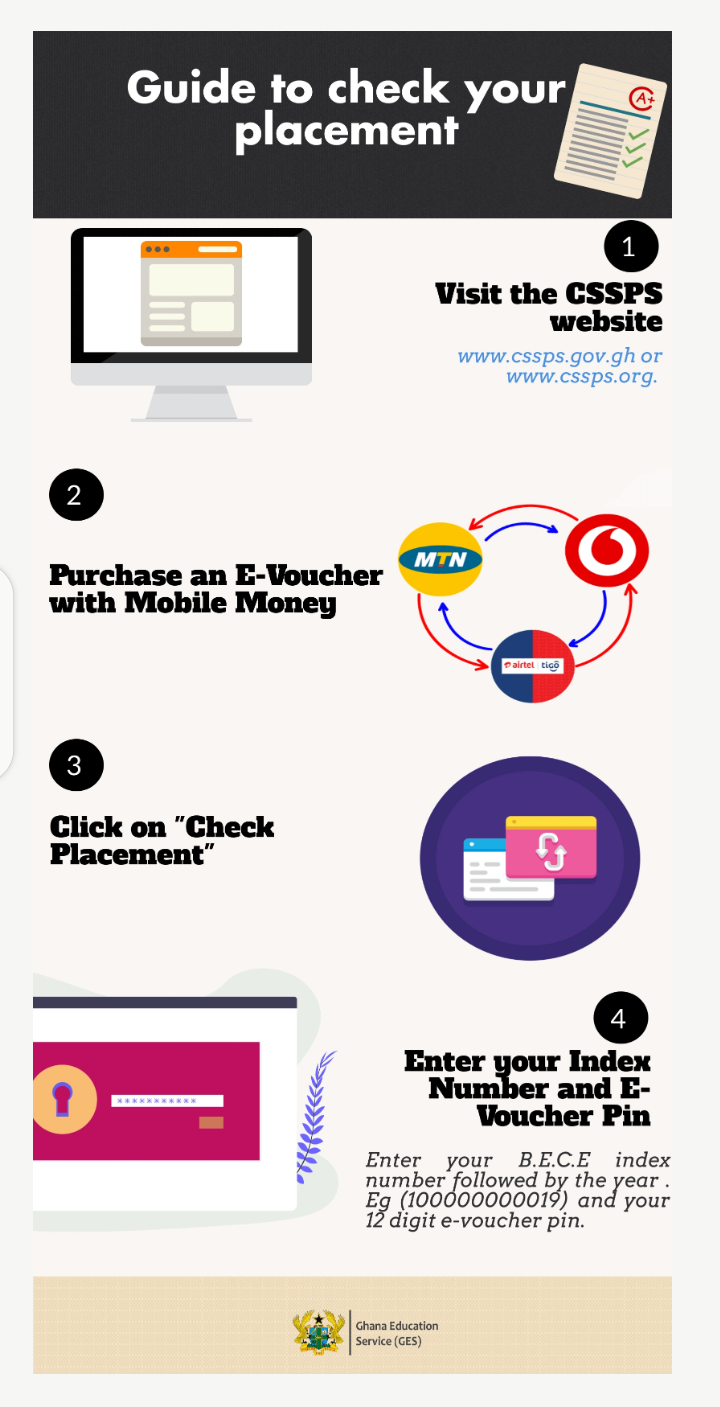 4. Enter your BECE index number and then enter your year of examination with the following format: suppose your index number is 0123456789 and the year of your examination is 2021, then you are to input the index number and add the last two digits of the year as: 0123456789 + 21= 012345678921.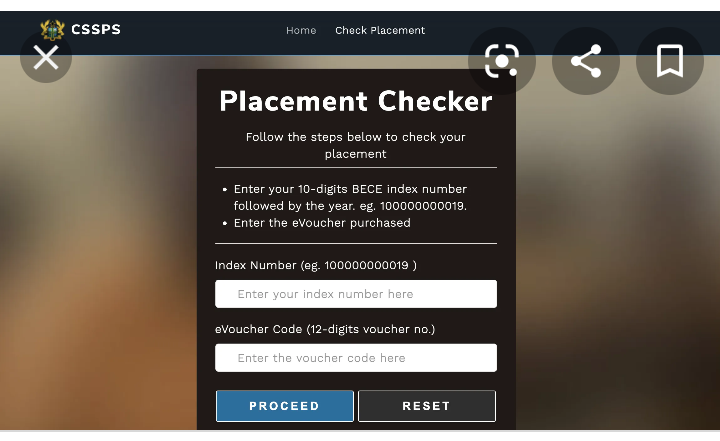 5. Next is to enter the Serial Number and the PIN found on the E-Voucher you Purchased online with the MTN Mobile Money.
6. Finally Click on submit and proceed to see your SHS School placement.
7. Then click the print button to print your BECE SHS School placement form.
Let all your questions be known, we are here for you.
Thanks for reading.
Share to all eligible persons.
Follow GES. by clicking on the (+) follow button for more updates.
Content created and supplied by: GES. (via Opera News )