Do You Know Hawa Koomson Was A Teacher With 21 years Experience?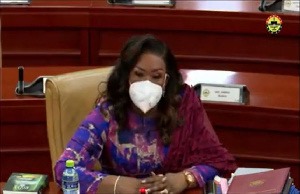 Hon. Mavis Hawa Koomson was born on 3rd February 1966 in Sekondi in the Western Region. She had her Training College Education at Bimbila Training College from 1987 to 1991. She then went to the University of Education where she obtained diploma in basic education from 2002 to 2006. She further pursued a degree course in basic education from 2006 to 2011 where she was awarded with bachelor in basic education (UEW). 
She has been a professional teacher for 21 years from 1991 to 2012 where she was a head teacher from 2005 to 2012, moving through the ranks of assistant superintendant in 1998 to Principal Superintendant in 2011.
She occupied various positions such as president of GNATLAS (Sekondi local) from 2005 to 2006, treasurer for GNATLAS (Western Region) from 2003 to 2005 and also Secretary for GNATLAS (Takoradi local) from 2002 to 2004.
By Nedved 
Content created and supplied by: Nedved (via Opera News )