Before you proceed with this article kindly follow me by clicking on the follow option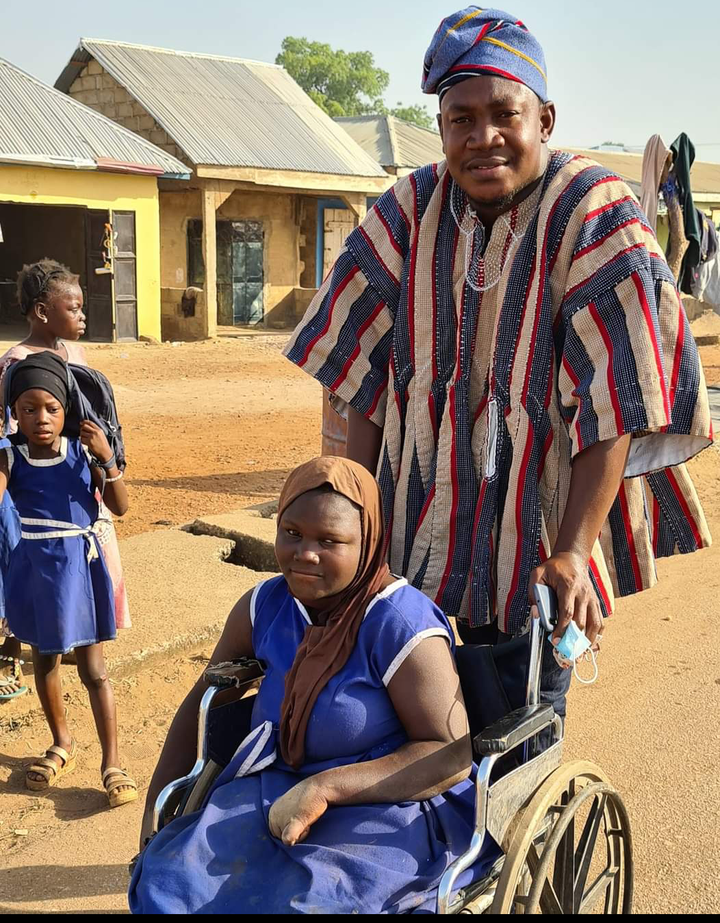 The Wipe Away Foundation is a non-governmental charitable organization which has its main office situated in the Savannah regional capital, Damongo. This organization is built on two pure motives; restoring and reviving hopes in Savannah region and Ghana as a whole. It has its Chief Executive Officer (CEO) being the ever hardworking and humble Mufti Borejinkpr Sohat of Ansasah media on NTV.
The Wipe Away Foundation with its motive being restoring and reviving hopes, on the 13th of February, 2021 visited Abdallah Asana a disabled female student of the Yapei Presby Primary B in the Savannah region of Ghana.
On their visit to Abdallah Asana and her family, they donated a lot of items including foodstuffs and also promise to sponsor her education until she achieves her dream of becoming a professional teacher.
Upon receiving the items and this assurance, the family of Abdallah Asana thanked the wipe away foundation and its pioneers for such a noble and a kind gesture towards them and they pray that, Allah will bless everyone who in one way or the other helped in this adventure of the wipe away foundation to become a success.
And when the organization met the teacher of Abdallah Asana, this is what he said about her; "In the past Asana will only be in school just for few hours and then get back to the streets to beg for alms. She's always absent on Thursdays and Fridays".
Her Grandmother echoed her teacher's statement by saying; "we don't have enough to fend for ourselves and pay her school bills that resulted in her sometimes missing classes just to go and beg".
Abdallah Asana herself expressed in joyous mood and said; "sitting under the scorching sun to beg for alms just to feed and also pay my school bills, is now a thing of the past. My dream of becoming a teacher someday shall come to pass by His Grace.
In conclusion, Mr Mufti Borejinkpr Sohat in his submission gives God all the Glory he deserves and asked for abundance blessings for donors of Wipe Away Foundation.
Thank you for reading my article just complete this by liking and commenting on it below
Content created and supplied by: jjlobationisamaestro (via Opera News )