Management of the Kwame Nkrumah University of Science and Technology and the Student Financial Office have released names of shortlisted applicants who have qualifies to go for interview as part of the 'One Needy Student One Laptop' initiative by the Vice Chancellor. This was announced by the University URO as monitored on their official website on Thursday 11th February, 2021.
Applications were closed on a week ago and names have been shortlisted for the qualities applicants to go to the next stage which-vetting/interview.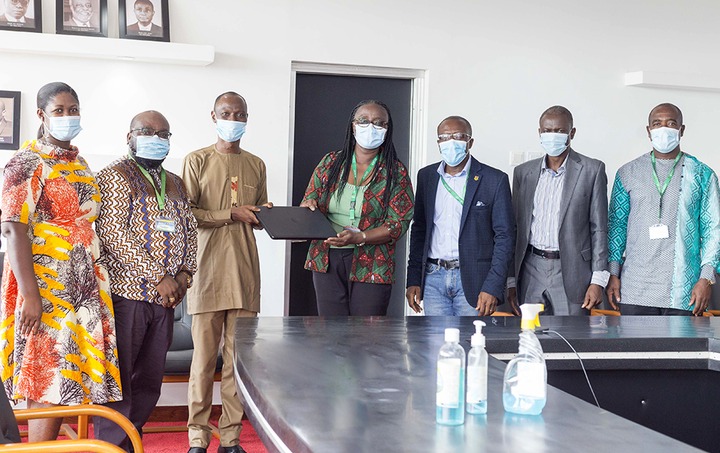 The names, as posted on the official website of KNUST KNUST.edu.gh have nee grouped according to Faculties. The Faculty of Social Sciences 5ops the list with 802 shortlisted applicants with Obuasi Campus recording the lowest numbe of shortlisted applicants, comprising only 67. The initiative by the VC which has received support from major industry players and companies 2ould go a long way to help needy students who cannot afford laptops, thereby improving their academic work.
Below are the links to check your name to confirm whether you are qualified for intervew, which will be conducted in the various colleges soon. Check links below.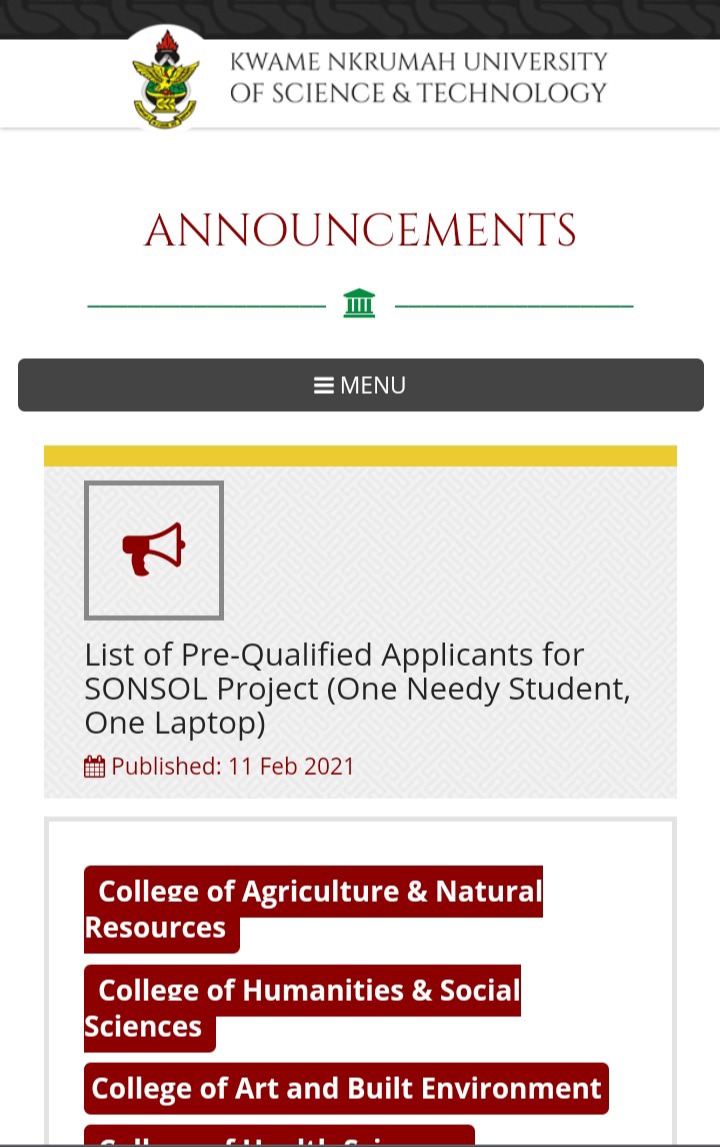 https://www.knust.edu.gh/sites/default/files/2021-02/COLLEGE%20OF%20AGRICULTURE%20%26%20NATURAL%20RESOURCES%20CANR%20-%20SONSOL%20SHORTLISTED%20APPLICANTS.pdf
https://www.knust.edu.gh/sites/default/files/2021-02/COLLEGE%20OF%20HUMANITIES%20%26%20SOCIAL%20SCIENCES%20CoHSS%20-%20SONSOL%20SHORTLISTED%20APPLICANTS.pdf
https://www.knust.edu.gh/sites/default/files/2021-02/COLLEGE%20OF%20ART%20AND%20BUILT%20ENVIRONMENT%20CABE%20-%20SONSOL%20SHORTLISTED%20APPLICANTS.pdf
https://www.knust.edu.gh/sites/default/files/2021-02/COLLEGE%20OF%20HEALTH%20SCIENCES%20CoHS%20-%20SONSOL%20SHORTLISTED%20APPLICANTS.pdf
https://www.knust.edu.gh/sites/default/files/2021-02/COLLEGE%20OF%20ENGINEERING%20COE%20-%20SONSOL%20SHORTLISTED%20APPLICANTS.pdf
https://www.knust.edu.gh/sites/default/files/2021-02/COLLEGE%20OF%20SCIENCE%20CoS%20-%20SONSOL%20SHORTLISTED%20APPLICANTS.pdf
https://www.knust.edu.gh/sites/default/files/2021-02/OBUASI%20-%20SONSOL%20SHORTLISTED%20APPLICANTS.pdf
Students can also visit the website of the School KNUST.edu.gh for further announcement. Meanwhile, applicants are to contact their colleges for time and venue for their interviews
Content created and supplied by: PoliticalNewsRoom (via Opera News )