Nobody would want to be humiliated in public. Well, a certain young man couldn't escape this unpleasant experience as his girlfriend rejected his proposal in public.
Many women in relationships are expecting proposals from their partners but this lady over here grabbed her proposal and dumped it in the trash can
Some people are lucky to be in relationships with people they hope to end up with but sadly, the same cannot be said for others.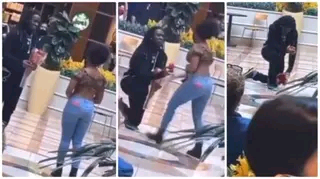 Trending on social media currently is a video of a marriage proposal which went wrong. In the video, the man is seen proposing to his woman in a public place. People around took out their phones and started shooting videos of the lovely experience.
He then goes ahead to propose, with one knee on the floor with the aim of surprising his girlfriend but the response of his girlfriend ended up surprising him instead.
However, it looks he did not quite get the response he hoped for as the girlfriend who appeared to be shocked by his proposal turned him down.
The man couldn't believe what was happening and burst into tears, begging the young lady to accept his ring but she refused it and walked out on him, leaving onlookers amazed.
Apart from the man who pleaded with the lady, eyewitnesses also begged her to accept the young man's proposal.
The day was definitely going to be a memorable one for him but he never expected it would shift from happy to dreadful.
Content created and supplied by: the_Kelvin_guy (via Opera News )