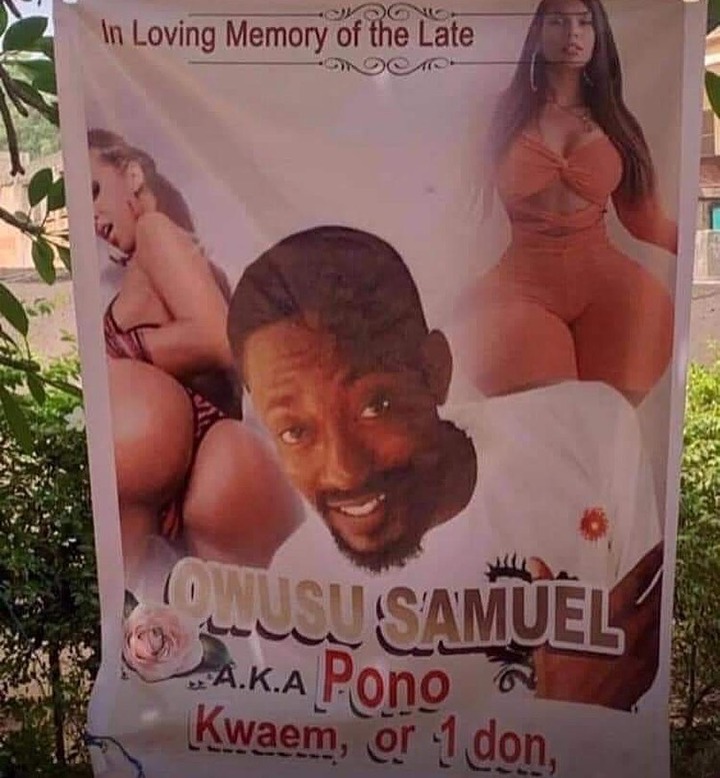 Before you proceed to read this article kindly take a few seconds to follow my page for more daily entertainment news.
All across the country, weekends are known for the time they provide for weddings, out-doorings and of course, funerals.
Funerals in Ghana are very important part of the cultural process.
Ghanaians believe they bid farewell to the dead at funerals. Indeed, in some parts, it is considered some sort of family disgrace if no funeral is held for the dead. Funerals are announced with obituaries.
But the obituaries Ghanaians are known for are more special and in some many cases, more bizarre and even funny.
I bring you this obituary that people are talking about.
The origin of the obituary is unknown. However, the photo of the deceased is trending online because of the design and Nickname given to the young man.
Owusu Samuel a.k.a "Pono", Kwaem or Don 1.
His nickname sends a message to people how he lived his life.It is quite funny why his family will design such a poster for the deceased, for posters are to honour the dead and to give positive image to the family.
People don't respect that anymore so as our culture is fading away.People do not honour the dead anymore.
Our culture is our heritage: no matter what we should learn to keep our culture and observe the rituals on them.
Enjoy reading my stories and don't forget to follow my page for news updates.
Content created and supplied by: ELSUPREME01 (via Opera News )