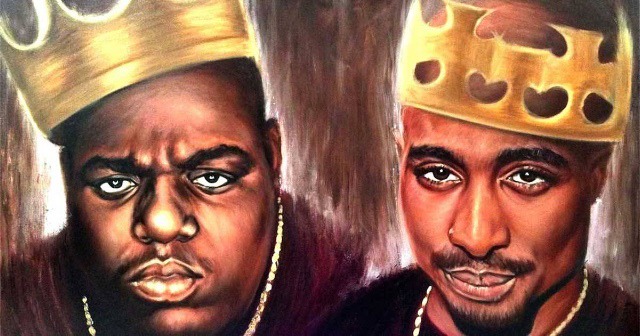 Hip-hop has grown and evolved into this current generation's music genre of choice. The youth have made that quite clear. The genre is extremely profitable and apparent in almost every strategic marketing plan today. Hip-hop is the new pop music, and thus it's driving the culture both musically and socially.
These are some of the greatest hip-hop artists of all time
1. Lil' Wayne
Lil' Wayne is the influence behind this current generation of hip-hop artist, which some could argue is not a good thing but there are few musical runs in any genre that can stand next to the New Orleans-born hip-hop artist. During an interview in the '90s, Lil Wayne stated that he was going to be the best rapper alive and a decade later he proved just that by releasing an insane amount of great music in only a couple years span.
His rise to prominence as a solo artist started with his 2004 album, Tha Carter and after that, he never looked back. He could be considered the mixtape king and one of the hardest working members in the hip-hop community to this very day despite the fact that he's currently being held hostage by his Cash Money record label led by Bryan 'Birdman' Williams. Will Lil' Wayne's Tha Carter V album ever see the light of day? Who knows.


9. Kanye West
Kanye West was once an ignored rapper who was able to curate and produce amazing beats but it wasn't long after that he became the megastar that he is today. In the early 2000s, Kanye was producing smash hits for Roc-a-Fella Records artist, Jay Z and in 2004, released his debut album, The College Dropout, under the same imprint. Many at the record label thought of Kanye as strange and sheltered but he soon proved that there was a method to his madness.
Since then, Ye has gone diamond in record sales worldwide and tours the globe after dropping a project when he chooses to. He's even entered the world of design and has helped adidas become one of the most selling brands in the United States with his YEEZY sneaker collection. After losing his mother in November of 2007, Kanye hasn't been the most stable mentally but hopefully, he finds the right group of people to support and truly care for his well-being.
8. 50 Cent
Prior to officially having a mainstream presence, 50 Cent took the route of the villain of hip-hop but, not before being shot with a total of nine bullets, one of which is still embedded in his jaw to this day and nearly losing his life in May of 2000. In 2005, he released his debut album produced by Eminem and Dr. Dre entitled, Get Rich or Die Tryin' and changed the entire landscape of hip-hop making everyone who was a fan of the genre into their own rendition of a gangsta.
Ever since then, 50 has had an insane following and has dropped tons of hit records and become of the savviest businessmen in the entire hip-hop realm. He became a multimillionaire after selling his stake in Vitamin Water to the Pepsi Corporation and has also become a hit on the silver screen and has even produced his own movies and television shows. His show Power is single-handedly keeping ShowTime afloat and he's currently working on several other acting projects as we speak. Not to mention, he's hilarious on social media.
7. Kendrick Lamar
Kendrick Lamar coming in at the nine slot probably has raised a few eyebrows but the young Compton emcee has accomplished so much in a very short span of time. His independently released debut album, Section.80 dropped with the help of Top Dawg Entertainment in July 2011 and he hasn't looked back since. Kendrick Lamar also known as K.Dot teamed up with Dr. Dre and his Aftermath record label for the release of his second album, good kid, m.A.A.d city which launched him into superstardom.
Since then, he's won a total of eleven Grammys and is not only the first hip-hop artist to win a Pulitzer Prize for his album, DAMN but the first ever pop artist to win the iconic recognition award. There's really no telling what he has next on his list of accomplishments but there's no denying that he can out rap majority of today's hip-hop artists with ease.
6. Snoop Dogg
It's almost hard to believe that at one point in Snoop Dogg's early career he was nervous to even look up or look directly into cameras as he's now probably the most recognized figure in hip-hop ever. Coming on the scene on Dr. Dre's 'Deep Cover' single, Snoop raised several eyebrows with his smooth flow and cadence and later his debut 1993 album, Doggystyle was in heavy rotation around the country. Since then, he's released a total of sixteen solo projects which have all done well throughout his lengthy career.
These days, Snoop is running his very own youth football league and teaching local Los Angeles youth how to live as men and to use their resources to change their position in life. He also has a huge YouTube following, has appeared in tons of movies and television shows, and has entered the marijuana industry. His latest and first gospel album ever, Bible of Love, made it to number one on the Billboard charts. There isn't anything Uncle Snoop can't do.
5. Jay Z
Jay Z is probably the most successful hip-hop act turned businessman in the industry and everyone in the hip-hop realm is chasing to reach his status. Not to mention, he also has one of best flows and most unique voices in hip-hop of all-time. Ever since the release of his debut album in 1996 entitled, Reasonable Doubt, he's been a force to reckon with and has yet to fall off musically throughout his illustrious career. Jay has earned a total of 21 Grammys and a number of other accolades throughout his career but now, he's on a path of ownership.
Jay Z is currently the owner of major music streaming service Tidal, a record label imprint known as Roc Nation, an owner of several liquor brands, and runs a sports agency entitled Roc Nation sports. His lyrical ability and content have grown throughout the years and he's truly the first hip-hop act we've seen grow and not become cliche or unwarranted. Jay is the greatest of all-time in many fans eyes and for obvious reasons.
4. Ice Cube
Many tend to forget how impactful Ice Cube is as a hip-hop artist especially being that he's surpassed the music realm and has so many different types of credits under his belt. Ice Cube was the mastermind behind N.W.A and wrote most of the group's lyrics before breaking off the group and releasing his debut AmeriKKKa's Most Wanted in 1990. Ice Cube is also responsible for one of the greatest diss records of all-time aimed at his old bandmates of N.W.A, especially Eazy-E, entitled 'No Vaseline'.
Throughout the '90s Ice Cube was one of the hardest and unapproachable emcees in the game but things changed when he starred in and released his self-written movie entitled Friday in 1995. Cube already had several acting credits under his belt but with Friday becoming a hood classic it propelled his career into Hollywood which ultimately allowed him to star in and write several major motion pictures. The west coast hip-hop artist has his own production company called Cube Vision and recently started his own professional three-on-three basketball league called the BIG3.
3. Notorious B.I.G.
The Christopher we acknowledge is Wallace and that just so happens to be the Notorious B.I.G.'s government name for those of you who might be confused. Biggie Smalls is one of the greatest to ever touch a microphone solely based on his lyrical ability, unique vocal range, cadence, and witty punchlines. B.I.G. had the ability to bring any group of people together with his music and gave people the confidence to feel great in their own skin and there aren't too many people live that can do that with their music.
With only two full bodies of work, the Notorious B.I.G. is considered as one of the greatest because nearly he verse he performed was curated to perfection. Biggie had songs for everyone ranging from the gentlest of women to the most hardcore street dudes and united hip-hop after he was gunned down in May 1997. We lost one of the greatest emcees ever due to mindless violence and the entire realized that following his passing. Rest in power to the Brooklyn legend.
2. Eminem
Who would have thought that impoverished white kid from the slums of Detroit would become one of the greatest rappers of all-time? Apparently, he did especially being that he grew up reading the dictionary in order to increase his vocabulary for rhymes. With the help of Dr. Dre, Eminem was able to rise to prominence with his 1999 album, The Slim Shady LP, which gained him an insane following selling millions of records. His next album, The Marshall Mathers LP, took listeners on a journey into his dark and twisted mind as he rapped about his struggles with his mother and girlfriend.
Throughout his career, his projects have sparked controversy about domestic abuse and sociopathic behavior but Eminem reassured the public that it was pure entertainment until years later he revealed via his music that he struggled with prescription pain pill addiction that forced him to seek help. Now, the Detroit rapper continues to make music, which some might say is declining but as long as his health is intact and he's mentally stable all is well and he will remain another legend in the culture as well.
1. Tupac Shakur
The moment you've all been waiting for... Sitting at the number one spot is none other than the infamous Tupac Shakur. Tupac might not be the most lyrical or technical hip-hop artist to ever grace the planet but the way that his music impacted people is what makes him as special as he is to the hip-hop culture. Yes, Tupac did have misogynistic and violent lyrical content but with tracks like 'Brenda's Got A Baby', 'So Many Tears', and 'Dear Mama' he knew exactly what his people needed in order to make it another day.
We're all aware that Tupac is no longer with us after being shot several times in Las Vegas September of 1996. And it's amazing that someone with so much talent had so much influence on the world at just 25-years-old, we can only imagine what he would have been able to do today with more knowledge and experience under his belt but with Tupac being another sacrificial lamb to the realm of hip-hop, he will never be forgotten and will forever be a guide for all of us to live better lives. Rest well, Tupac Amaru Shakur.
Content created and supplied by: Benjamin19 (via Opera News )
Opera News is a free to use platform and the views and opinions expressed herein are solely those of the author and do not represent, reflect or express the views of Opera News. Any/all written content and images displayed are provided by the blogger/author, appear herein as submitted by the blogger/author and are unedited by Opera News. Opera News does not consent to nor does it condone the posting of any content that violates the rights (including the copyrights) of any third party, nor content that may malign, inter alia, any religion, ethnic group, organization, gender, company, or individual. Opera News furthermore does not condone the use of our platform for the purposes encouraging/endorsing hate speech, violation of human rights and/or utterances of a defamatory nature. If the content contained herein violates any of your rights, including those of copyright, and/or violates any the above mentioned factors, you are requested to immediately notify us using via the following email address operanews-external(at)opera.com and/or report the article using the available reporting functionality built into our Platform See More