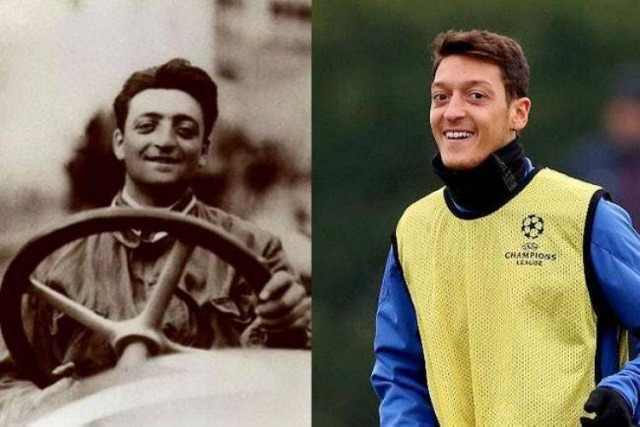 It's a proven fact that there are at least nine people walking this Earth at this very moment that looks nearly identical or very similar to you. Luckily this isn't a Highlander situation where you have to hunt them down and kill them so there can be only one of you. That would definitely kill the vibe here on Earth. See ten celebrities who looks like people from history.
1.Bruce Willis
When it comes to the silver screen there aren't too many dudes out there that wouldn't want to be as bad a** as Bruce Willis has been throughout his illustrious acting career. As the star of the Die Hard series and movies like Hostage, Armageddon, the terrifying Sixth Sense, Pulp Fiction, The Jackal, Sin City, and his latest venture in the upcoming reboot of Death Wish, Bruce has proven that he was one of the best action stars of this current generation and generations past and he's still going at it at the age of 63-years-old.
Surprisingly, most people don't realize that Bruce Willis and the notorious General Douglas MacArthur look seemingly identical. General MacArthur played a prominent role during World War II and earned the Medal of Honor for his services in the Philippines Campaign. It's literally baffling how similar both General MacArthur and Bruce Willis looks like. Hollywood should consider Willis starring as the General himself in an upcoming WWII film for sure.
2.Keanu Reeves
Keanu Reeves is one of those people that has such a unique aesthetic it's hard to tell what exactly his ethnic background is made up out of. Apparently, his mother is English and his father is of Chinese, Irish, Portuguese, Native Hawaiian, and English descent. Many probably wouldn't have thought that the guy from Bill and Ted's Excellent Adventure would become one of the world's biggest movie stars but he did and ended up starring in action films like Speed, the revolutionary Matrix trilogy, Constantine, and the John Wick series.
So, how could someone with such a complex background possibly look like anyone else on this planet? We're not sure but Keanu Reeves has a doppelganger in French painter and illustrator, Louis-Maurice Boutet de Monvel who was known for his realistic portraits and children's books illustrations. If someone as peculiar looking as Keanu Reeves has a look-a-like then there's no reason in the world to doubt that you too have one as well.
3.Eminem
Eminem, one of the biggest acts in the hip-hop community has dug himself out of the trenches of 8 Mile Road in Detroit, Michigan to a lifestyle of milk and honey that any and everyone wishes to live and experience. Eminem is arguably the most skilled emcee to walk the planet but has had some questionable artistic direction and projects as of recent. That still doesn't stop the fact that he starred in one of the biggest music-based films of all-time in 8 Mile, which many assumed was an autobiography but was really just a well-written fictional story about his childhood hometown area.
Eminem also shares a look-a-like with Roman emperor, Severus Alexander, who was the last emperor of the Severan dynasty after he was assassinated which sparked a collapse in the empire's economy, foreign invasions, and five decades of civil wars. Eminem might have a dark history but at least he didn't have to go what Severus went through and he'll be honored as one of the greatest to ever touch a mic.
4.Mark Zuckerberg
Mark Zuckerberg's revolutionary idea to connect people all around the world via his social media platform entitled Facebook has single-handedly made him wealthy, making him worth over $74 billion. Unfortunately, when it comes to running platforms with millions upon millions of users, corruption can become imminent and his platform has been infiltrated with bots, hackers, and propaganda that torn the online platform apart. Now, Zuckerberg is scrambling to save face, no pun intended, by saving his empire.
Speaking of empires, Zuckerberg does share an insane resemblance to King Philip IV of Spain. The pouty lips, oversized ears, curly hair and lazy eyes are too many similarities to ignore about the two, yet the both of them have/had more power of people than the average Joe and that's definitely not a coincidence at all as well.
5.Leonardo DiCaprio
Leonardo DiCaprio is literally on top of the world, there isn't a woman in the world that wouldn't take a shot at him and there isn't a guy alive who wouldn't want to be a part of his inner circle. The Wolf of Wall Street star has found his way to an Oscar for his amazing performance in The Revenant for Best Actor after starring critically acclaimed films like Titanic, Shutter Island, Inception, Gangs of New York and more. His performance for playing an autistic child with a unique family dynamic in What's Eating Gilbert Grape is what put him on the map and led him to a road of superstardom.
What many don't know is that Dicaprio has a doppelganger in the form of a woman known as Judy Zipper. Nobody really knows too much about Zipper other than the fact that she looks like a 1960s version of the megastar actor but at least she's gained some type of notoriety after death. Shout out Judy and the Zipper family.
6.Mesut Ozil
It's World Cup time so you know we gotta represent for all of the football/soccer fans out there with this next entry none other than Mesut Ozil. Ozil is known for agility, creativity, finesse, versatility, and keen technical skill while on the field and has the field awareness to set up any of his teammates for success. Not to mention he's played for overseas football clubs like Real Madrid and Arsenal but when it comes to World Cup events, he returns to his mainland of Germany in order to hold his country down.
Mesut Ozil is a beast of a midfield attacker but he also shares a striking resemblance to the notorious luxury sports car creator, Enzo Ferrari. The name says it all itself, and Ferrari is known as the premier producer of luxury sports automobiles. With Enzo Ferrari being from Italy and Ozil being from Germany, one could have a strong argument that the two are possibly closely related.
7.Sylvester Stallone
Sylvester Stallone's willingness to hold out and get paid a minimal rate for both writing and starring in the classic boxing film, Rocky, knowing that it was going to be a hit is proof of his own undying confidence in himself and knowing that he would be one of the world's biggest superstars. And to this very day, at the age of 71-years-old, Stallone still has a heavy impact on the film industry starring in movies like The Expendables series, Escape Plan, and the Rocky spinoff series in Creed.
Even though Sylvester Stallone is an international hit in this current era, he definitely wasn't as famous as his doppelganger in Pope Gregory IX and that's obvious with how huge of a following the Catholic Church has and what they're able to get away with... Let's just hope that Pope Gregory IX didn't have the same speech impediment as Sylvester Stallone's lazy mouth.
8.Channing Tatum
To all the men out there, let your lady step out with their friends to go see the latest Channing Tatum film but, never let her attend an event where the strapping multi-millionaire is set going to be located, it could be the end of your relationship. Surprisingly, Tatum got his big break with the release of the dance film, Step Up in 2006 and since then has gone on to star in a wide array of films including the Hateful Eight, This Is The End, G.I. Joe, the rebooted 21 Jump Street series, and of course, the Magic Mike films as well. Heck, Tatum even has some voiceover work done for The Legos Movies series as well, there isn't a revenue stream in Hollywood that Tatum doesn't have his hand in.
But what he doesn't have his hand in is the reality his World War I doppelganger had to face. Who knows what type of vile carnage that man had to endure and witness, there's no telling on whether or not he made it through battle but with Tatum existing today, there's a good chance he either survived or had a younger brother with strong genes to keep hope alive.
9.Jay Z
Jay Z is literally the blueprint and aspiration of every hip-hop artist out today. Prior to pursuing music, Shawn Carter, better known by his stage name today, Jay Z, was a hardcore drug dealer who thought of hip-hop artists as corny being that he had already accomplished what many artists in the late '80s wanted to acquire financially. These days, Jay Z is married to the largest act in music in Beyonce, owns all of his masters and a music streaming service in Tidal, his own record label, and more.
Hov is the futuristic of the doppelganger of the gentleman on the right who probably lived during an era where people of his ethnicity had to move very carefully and probably didn't have access to ownership or a pipeline that would allow him to own as much as Jay Z does today. Now, with inspiring figures like Jay in abundance more than ever and being a reality, young black men have multiple avenues of inspiration when at one point in time, there might not have been any at all.
10.Eddie Murphy
Eddie Murphy was the face of comedy during his historic run in the '80s which helped shaped his blockbuster Hollywood career that is finally slowing down in the 2010s. From the Beverly Hills Cop series, Coming To America, Harlem Nights, Boomerang, and his still highly sought-after comedy releases in Delirious and Raw, there wasn't a man alive who didn't want to rock one of those tight leather suits and be just like Eddie. Even though Murphy might have gone on to participate in some lackluster movies including the embarrassing Norbit, he's still mentioned with some of the greatest comedy acts of all-time.
And from the looks of things, he might have a long, lost ancestor that might have had a joke or two up his sleeve as well. The pork pie top hat, tiny bow tie, and pinstripe suit let us know this guy was the life of the party wherever he went and Eddie might have picked up those genes and maximized them to their full potential.
Content created and supplied by: Benjamin19 (via Opera News )
Opera News is a free to use platform and the views and opinions expressed herein are solely those of the author and do not represent, reflect or express the views of Opera News. Any/all written content and images displayed are provided by the blogger/author, appear herein as submitted by the blogger/author and are unedited by Opera News. Opera News does not consent to nor does it condone the posting of any content that violates the rights (including the copyrights) of any third party, nor content that may malign, inter alia, any religion, ethnic group, organization, gender, company, or individual. Opera News furthermore does not condone the use of our platform for the purposes encouraging/endorsing hate speech, violation of human rights and/or utterances of a defamatory nature. If the content contained herein violates any of your rights, including those of copyright, and/or violates any the above mentioned factors, you are requested to immediately notify us using via the following email address operanews-external(at)opera.com and/or report the article using the available reporting functionality built into our Platform See More