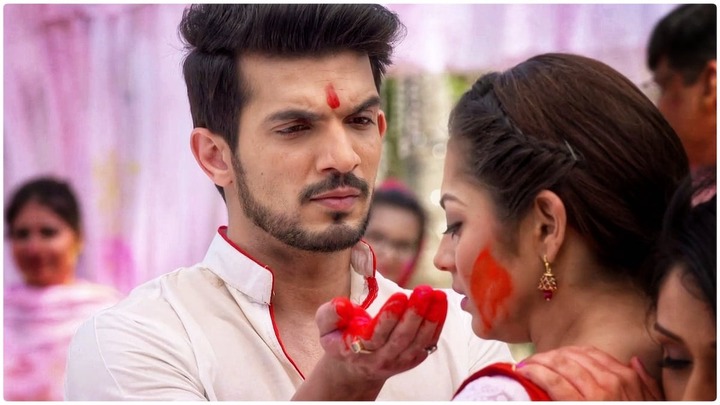 The Episode starts with Naina saying that girl will regret to refuse to you. He ends call. She thinks maybe someone came, I will call later. He sees Sanjana and says you here. He recalls Dadi beating him.
Sanjana says it was my mistake that you had to hear all that, sorry, you are a good person, I was drunk and felt you are trying on me, we girls have sixth sense and I did that for my safety, I m really sorry, can we make a new start friends.
He thinks, she asks will you not talk to me by a single incident, I don't want to lose a good friend. He shakes hands. She sneezes. He says bless you and smiles. She says sorry and goes.
Chanchal asks Naina did you get ready, Veer can come anytime to take you, why do you become bahenji like this, wait, you are going on date with Veer, not on satsang, wear something good, one piece or short dresses, I have jeans too, wear anything.
Rajeev comes and hears them. Chanchal says when I met Rajeev before marriage, I used to wear short clothes. Rajeev asks her to stop it. Naina smiles. Chanchal asks him to go. Chanchal says girls keep guys in control by beauty, you will learn this and keep Veer on fingers, you will wear what I decide. She chooses a dress for Naina.
Veer and Raghav come to meet Naina. Naina comes downstairs wearing a short dress. Veer sees her and asks Raghav to go, I need privacy. Veer compliments Naina's looks.
Kal ho na ho plays as Veer gets close to her and makes her sit in the car. They leave. Chanchal waves them bye and asks Veer to include them in his rich family. It all turns out to be Chanchal's imagination.
Naina comes to her and asks did he recall her and Rajeev's dating time. Chanchal says no, it was boring, Veer's car has come, he will be shocked seeing you. Raghav comes to pick Naina.
Naina pulls her short dress down. Raghav greets them. Chanchal looks for Veer and asks Raghav. He says Veer had urgent meeting, he has sent me to pickup Naina. Chanchal asks whats this, does anyone ditch date like this.
Raghav says he had urgent business work. Chanchal says Naina will come later. Naina asks Chanchal why can't I go. Chanchal asks why will you go with Raghav. Naina says Raghav is Veer's brother, its not a tension thing.
Chanchal asks her to take care and Naina goes, Raghav tells Naina that she will not feel bored by Veer's stories. They leave and reach market. Naina says you are always with Veer, I m sure you know many interesting stories related to Veer.
He says a lot, are you not feeling cold. She says I m feeling much cold. They say it together and smile. He covers her with the jacket and says I m wearing much clothes even after lending jacket to you. She says I love snow.
She says I will buy something for my best friend Zeenu. He asks her to buy. He smiles seeing hearts pendant. She asks who came yesterday that you disconnected, its same girl by whom you were sad, please tell me, I promise.
He says there was a girl. She says I know. He says she does not love me, its one sided story, we stay in same house, but I can't even see her. She says it hurts when heart breaks, be it one sided or two sided love story, mine was two sided story and even then he broke my heart.
He says it hurts that she moved on, problem is their heart is like mind, and our mind is like heart. She says I m lucky to get a guy like Veer, you will also find some nice girl, when jigsaw puzzle completes, it makes senses and picture becomes complete, there will be someone, who will not fit in your life, but gradually she will fit in your life.
He says maybe, she apologized to me, and maybe its a new beginning. She says you never know and for this, lets take a pic so smile. Rajeev meets Balraj on the way. Balraj says you are late for office, its our company. Rajeev says i m under qualified for this job, it means its family offer, not business offer.
Balraj says its purely a business offer, you can get this job if you stop Veer and Naina's relation, you will get job and high salary, its your benefit. Rajeev thinks does he think I m fool to stop this marriage and work hard all my life.
He says for me, family is imp, job and money do not matter. Naina is marrying Veer, why to come between her happiness, thanks for offer, I will go. Balraj says well done, I was just acting to check you, we have much money and we think if anyone is getting related for money, you passed in this test. Rajeev asks so shall I think this job is mine. Balraj says welcome aboard.
Raghav and Naina are in market. He says I will buy oranges for her, it has vitamins. She asks how can you gift her oranges, give rose, its better than vitamins. He says rose get dry, oranges have vitamin C.
She says give it to Veer, but give her a rose, she took first step, you take second step, do something for her. He asks will she like it. She says girls like small surprises than costly show off gifts, you trust me right, then give this to her. Raghav smiles and says Veer is very lucky.
Sudha is angry seeing Pam chilling around and playing on her tab. She goes and asks Pam to have apple. She says Veer is marrying Naina, she is so tacky, now no one will get good proposal, we just have Sanjana's option now. Pam asks really.
Sudha says yes, but there is no plan its tough. Pam says its not tough, I will plan. Chanchal comes to them and likes the house. They see Chanchal. Chanchal greets Dadi. Pam says she is same pregnant lady on whom Veer drove over the car, I have seen her somewhere.
Chanchal talks to Dadi and says Rajeev is busy in work. Dadi asks when will he take care of you. Chanchal says yes, my baby also did not hear Rajeev's voice since long. Dadi says no, I will call Balraj.
Pam says see Sudha, she is planning to make us leave from here. Naina feels cold and asks where are we going now. Raghav says you like ice, I will show you beautiful sight of Tirole today. He shows the mountain.
She says no, actually I don't like ice and snow so much, we will go on long drive, I like roads. He asks you trust me, she nods. Kal ho na ho play and he smiles. Raghav taking Naina to the sky cab. She says I m scared of heights, the cab is open.
He says you made me free of injection phobia, you also get free of your fears. She chants Ram's name. He says its air, you just feel it, you won't get to see such sight, fly like this. She smiles and feels the air.
Kal ho na ho plays as she enjoys. He shows her the ice mountains and says we reached to the top, nothing happened, I told you your height phobia will go. She says I had fun, if mum was here, she would have ask me why am I in fear.
He shows her the beautiful sights. She smiles and says its beautiful. She plays with snow. Raghav smiles seeing her. He says the real fun is still left, come and see. Veer is with a Austrian girl.
Rajeev is at office and talks to Chanchal on phone. He asks are you sure, work got less, shall I come home. She says yes. He says okay, I will tell Veer and come. He goes and looks for Veer.
He spots Veer with the girl and shouts Veer, whats happening, who is this girl. Veer gets shocked seeing him. Naina and Raghav walk on the tall bridge and like the sights. Chanchal meets Pam and Sudha.
She compliments Pam by her sugary talks. Sudha asks are you the one from girl's family, who talks in loud tone. Chanchal says yes, I m Chanchal, many people know me. Pam says I m sure you won't even get waitress job, I have seen you somewhere.
Chanchal says I know rich people. Pam asks do they know you. Chanchal says I mean I saw them in magazines, I met you in parlor, I burnt your hair. Sudha smiles. Pam asks what, my hair took lots of time to grow back. Chanchal says you could apply castor oil, I lost the job.
Pam says you deserved it. Chanchal says I will do your free haircut and colouring. Sudha says yes, she is Veer's aunty, you can do that. Chanchal says I will make curls for free too, I will leave now, will meet later. She goes.
Naina sees the ice and asks Raghav am I dreaming, there is lots of ice. She signs her to sit on the ice throne. She stumbled. He worries for her. She signs she is fine. He signs her to smile and takes her pics.
She checks pics and smiles. He says I told you, no need to be scared, such ice art can't be seen anywhere. She thanks him. A lady sells snacks and goes. Naina and Raghav have that Austrian special snacks. She asks about Veer.
He says I think he is in meeting, I will call her. Rajeev asks whats happening, you have to pay for this. Veer asks him to listen once and Rajeev says I will tell this to Naina.
Veer says I don't want to marry Naina, I did not cheat anyone, Dadi wants me to marry Naina, you say anything to Naina. Rajeev says this is too much and leaves. Raghav says I will get Veer and come, you see the other things here and hee leaves.
Veer says this had to happen sometime, its good its happening today. He drinks and leaves with that girl. Raghav comes office and finds out Veer is not in his office. He asks a man.
The man says Veer is in his private lodge. Raghav goes there and finds Veer working. He sees the girl's sandal and looks around. Veer asks how did you come here, what are you finding.
Raghav asks were you with any girl, Naina is a nice girl, you can't do this with her. Veer asks what. Raghav shows the sandal and asks whose sandal is this. Veer lies about the company product.
Raghav asks were you busy in work. Veer says yes, did you think I was with some girl. Raghav says Naina was waiting for you. Veer says yes, but I m sure you managed, you came here to accuse me, where did you leave Naina.
Raghav says she is in ice palace. Veer says go to her, she is alone, I will call her and say sorry. Rajeev has hidden the girl on Veer's saying. Veer sends the girl. Rajeev says you got saved because of me, I saw Raghav coming.
FB shows Rajeev telling Chanchal that he has to tell Naina. Chanchal asks are you mad, Naina is marrying in rich Mehra family. He says this is wrong and he says its fine if you want to tell everyone, the marriage will break, you will lose new job too, cool down and think about us, our baby.
Rajeev sees Raghav coming. FB ends. Veer asks Rajeev why did you do this favor. Rajeev says don't worry, marry my sister, small things happen, you owe this one to me, remember. They shake hands. Rajeev leaves.
Naina talks to a couple and clicks their pic. She says life is strange, one who is unknown to you gets linked to you that you get a new home in foreign land, he takes care of you so well, you realize that stranger has become your sole support.
Raghav comes to her and asks Naina to come as he drops her home. Naina is sad. He thinks why did she get serious, maybe because Veer did not come.
He tries to cheer her up and asks how was the ice palace, send pics to mummy because she will be surprised. She nods and he says I will leave. They see each other as Kal ho na ho plays.
Content created and supplied by: akrofitv (via Opera News )
Opera News is a free to use platform and the views and opinions expressed herein are solely those of the author and do not represent, reflect or express the views of Opera News. Any/all written content and images displayed are provided by the blogger/author, appear herein as submitted by the blogger/author and are unedited by Opera News. Opera News does not consent to nor does it condone the posting of any content that violates the rights (including the copyrights) of any third party, nor content that may malign, inter alia, any religion, ethnic group, organization, gender, company, or individual. Opera News furthermore does not condone the use of our platform for the purposes encouraging/endorsing hate speech, violation of human rights and/or utterances of a defamatory nature. If the content contained herein violates any of your rights, including those of copyright, and/or violates any the above mentioned factors, you are requested to immediately notify us using via the following email address operanews-external(at)opera.com and/or report the article using the available reporting functionality built into our Platform See More