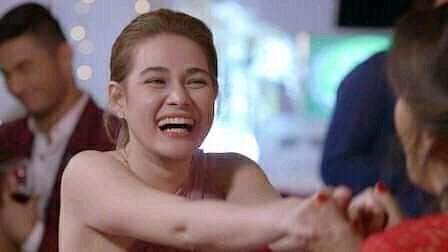 We started with Andeng having lunch with her family. Mameng did not join them because she was still upset about the house. Andrew was released from prison and one of the Aunts tried to criticize him. Andeng however asked them to let the issue go since it was already resolved.
Anton gave Lucas a guitar as a gift. He told Lucas that he would allow him to be in a band as long as his grades were good. He added that Lucas was not allowed to play in bars or in places where people drank alcohol.
Anton later met up with his friends for a meal and Tom teased him about the charity auction. Anton told them that he found himself in the situation and Miss Agoncillo (Andeng) convinced him to go along with it. Tom asked Anton if he liked Andeng but he did not give a straight answer. Instead, he said that she was pretty and intelligent.
When Anton got home that evening, his parents were visiting. They sat down for dinner but his father Tony criticized Anton for auctioning himself. He also mentioned that his board members were complaining about his leadership. Anton told Tony that his company was his business. Tony said he was still his father. Anton however told him not to talk to him in such a manner in front of his kids. He walked out and went to have a drink. His mother joined him and Anton told her that he did not appreciate being treated like a child.
Andeng went out with the winner who won the bidding at the charity ball. She was one of the board members at his company and went there to warn him that people were not happy with his leadership. She wanted Anton not to do the Tech fair and allocate the funds for something else but Anton refused. The lady therefore told him to find loyal people that would help him in the company.
Andeng decided to pull out of Anton's project after the incident at the charity ball. She therefore asked to be assigned to another project and Mimi took over the tech fair. Anton agreed to have Mimi take charge of the event if Andeng turned it down. He however had problems with her because she did not know anything about the project so they constantly had to consult with Andeng. When Mimi called her, Anton took the phone and told her to meet him at his office.
When Andeng arrived, she told Anton that she had made a lot of mistakes working for him and she did not want their company to lose the project because of her. Anton told her not to make assumptions about him. He went on to explain that he was upset with her because she did not meet with him when he was their biggest client. He said he wanted her back because she knew everything about the project so Andeng agreed to work for him.
Andeng met some members of the members in the company's engineering team. One of them; Tracy had successfully designed a microchip and would be accompanying Anton and Andeng to Germany for the presentation.
Anton prepared for his trip in Germany and left Chloe in charge of Kitty and Lucas. When he flew to German with Andeng and Tracy, his secretary received information that the Company owner Mr. Hoffman wanted to push the meeting to a week later. Anton only learnt about it when he landed in Germany.
Lucas was pressured by his band members to perform at a bar but he did not want to because of his father's rule. They said they would find another singer so Lucas decided to sneak out of the house. Chloe found out about it later and decided to go look for him.
Andrew ran a triathlon and won 30,000. He gave it to Aunt Baby (Andeng's mother) to help pay for the house but she refused it saying that Andeng would take care of it. Andrew however insisted so Aunt Baby took it and said they would use it to buy Mameng a present. When they were having lunch though, they all realized that Mameng was missing.
Back in Germany, Mr. Hoffman's secretary, Yohan refused to tell Anton where he had gone to. Anton had to return to the Philippines in time for Kitty's play so he would not wait for a week.
Andeng lost some stuff at the airport and went back to look for them. She did not find them but ran into Yohan instead. She asked to speak to him and begged that he tell them where Mr. Hoffman was because their lives depended on the success of the project. Yohan seemed to like Andeng and invited Andeng to dance with him so that he could tell her where to find Mr. Hoffman.
Anton walked in on them dancing but walked out. Andeng went after him and explained why she had danced with Yohan. Anton however said that he never asked her to find out where Mr. Hoffman was. Andeng teased him and said that she knew where to find Mr. Hoffman but she wouldn't tell Anton because he did not ask. Anton was taken but he ended up asking her where to find him.
As they were leaving, Yohan said he would join them to help them find the Inn Mr. Hoffman was staying at. Andeng went to sit in the front with him but Anton said he wanted to discuss something with her. Tracy was asked to sit in front while Andeng took the back seat beside Anton.
Content created and supplied by: Basoah (via Opera News )