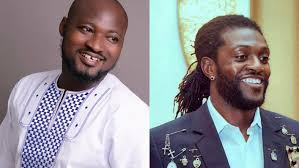 His name is funny face in the movie and music industry as well as well respected by many including I myself.
Others call him children president because of the love he has for children.
Funny face is a funny person full of jokes and people should know that FIRST before mingle or playing with him.
Funny people speak funny words but you might think such person is serious about his or her words but may just be joking.
Listening to the account of what happened to our dear brother funny face, it seems he was not taking his words seriously but the the opponent took it seriously whiles forgetting who funny face was and that resulted misunderstanding between them.
Again funny people always want to be happy and have fun with anyone whom they come into contact with and they dislike to be laughed at.
So in conclusion before we play or come into contact with people who are funny like funny face our dear brother, we must first know 70 % of their words are not that serious when having fun or wants to have fun.
Funny face didn't meaned to act as such as it cliams to be so but seemed the opponent pushed him to the wall with knowing who funny face was and that resulted the whole unfold drama.
So please let us know whom we are mingle with, being a serious person or a funny person before we act . Thank you. My opinion.
Content created and supplied by: P.PCloudtv (via Opera News )