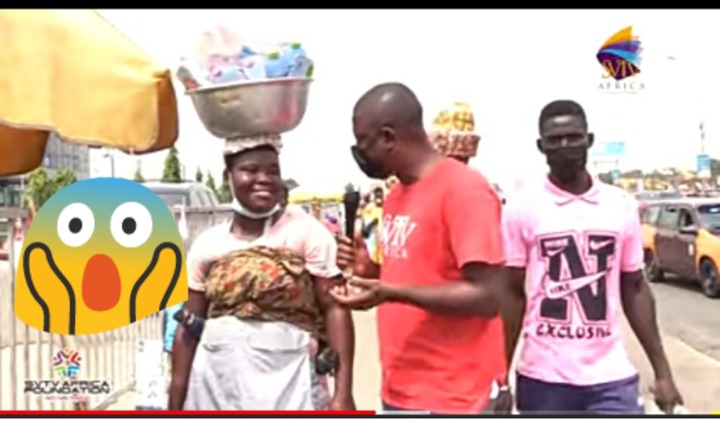 For more trending news in Ghana click the +Follow Button and get access to all my newly published articles.
The lady is very happy and you can see it from the photo above, She said they gave her huge amount of money for free.
From the presenter, The lady wanted 1,500 to start up a business to release stress and take good care of her young baby.
Just last week Friday that SVTV # Daily hustle found a lady named Gifty on the street selling water with her young baby at her back, moving on a scorching sun. 
The presenter made it clear that, they felt very bad for the lady so they posted the video on their social media handles. But God being so good, a woman was able to have that awe for the young girl and her baby. So she donated the 1,500 to the lady.
This incident happened on 13th March 2021, and the money was released just yesterday that is 16th March 2021.
I will say it's a good habit and through this program, they've been able to change the life of the young girl with her year old baby at her back. 
From the presenter, they have taken the lady as their sister, so they will be paying her a visit from time to time.
So is it right giving the money to the lady as physical cash, or they rather need to set up the whole business and hand it over to her ?
Share your views in the comments section below thank you, will reply you soon.
Next article, Terrible experience: Prophetess Narrates How Long She Has Been a Priestess and The Number of People She Has Killed Before Coming into The Prophetic Ministry.
Thanks for reading my article. Please do me a favor by clicking on the +Follow button in order to get access to all my newly published articles.
Like
Share
Follow
Comment
Content created and supplied by: Davidographix (via Opera News )